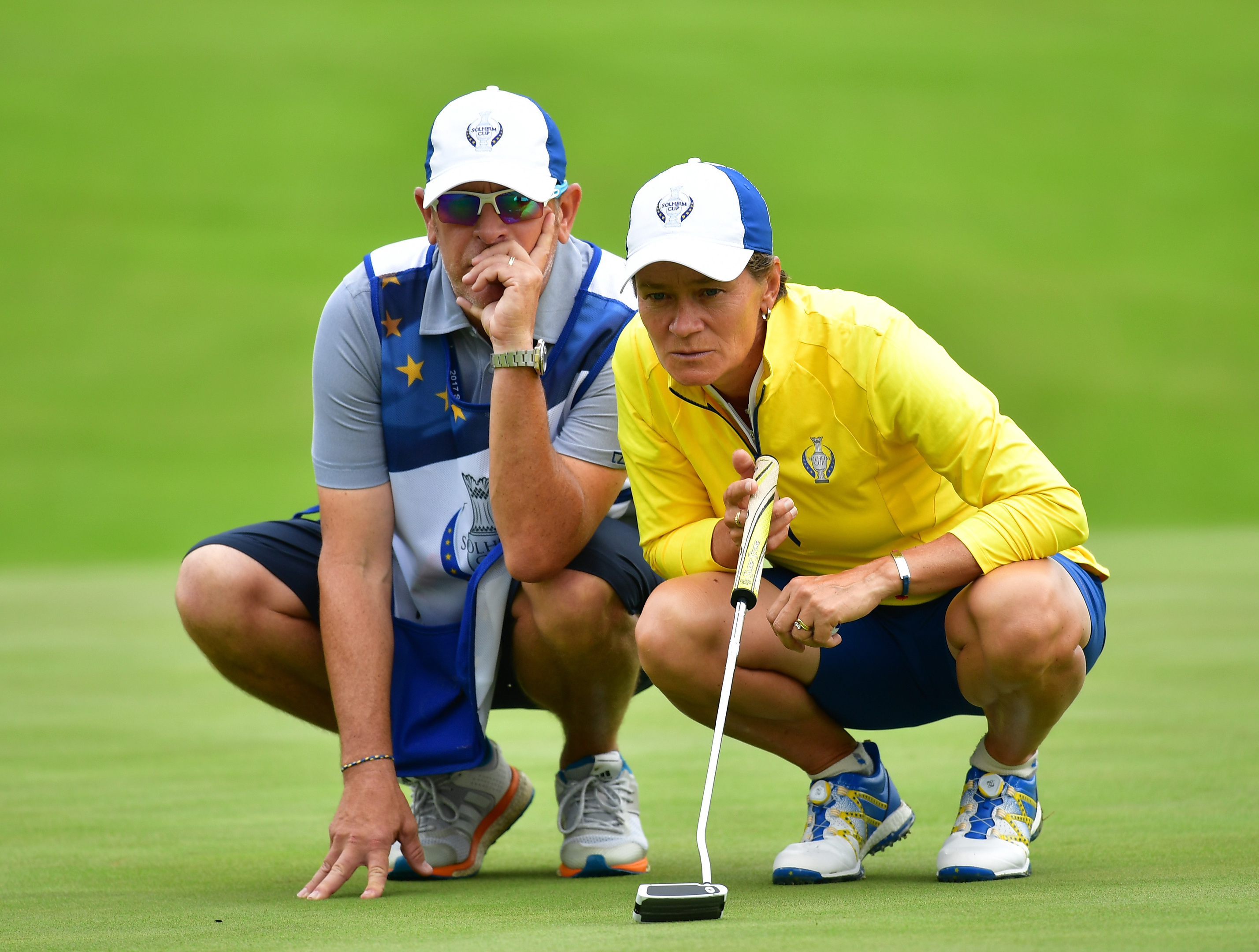 Catriona Matthew once again shone for Europe in foursomes but the USA consolidated their three point advantage in the Solheim Cup with a halved session in muggy Des Moines this morning.
Matthew and partner Katrine Icher once again came up with a win for Annika Sorenstam while Anna Nordqvist and Georgia Hall won the other point as they had done on Friday.
However the Americans won both the other two ties handsomely and Julie Inkster's team maintained a 7 ½ to 4 ½ lead going into the Saturday fourballs.
Inkster was delighted, noting a 2-2 fourballs result is actually better than the US usually does in the format.
"I'll take a draw in foursomes any day, that's a win for us," she said.
In humid, overcast conditions Matthew and Icher followed the path of their match on Friday, falling behind early but gradually reeling in the previously unbeaten Danielle Kang and Michelle Wie.
A birdie two at the eighth and a three at the 10th put them in charge, eventually securing the second point of the weekend.
"I think that was a huge point," said Matthew. "We certainly didn't want to lose another session.
"Ideally we wanted to win that session, but to come out with a draw, hopefully we can come out all guns blazing this afternoon and get more points.
"I think Karine and I are both pretty similar personalities. We're the older ones on the team, and we both play a similar game, similar personalities. I think it just works."
Icher said that she and Matthew "don't talk much" as a partnership.
"In a Solheim Cup you need experience, that's a big factor," she said.
Sorenstam has opted to split her winning partnerships for afternoon fourballs and Matthew will play with Georgia Hall.
Meanwhile Inkster put out two groups who had failed to shine yesterday in the first two foursomes, gambling that they'd be fired up to make amends after their team-mates' successes on Friday afternoon.
And the US captain was vindicated as lead pairing Cristie Kerr and Lexi Thompson were transformed from Friday's tentative partnership, in which the World No 2 had seemed completely out of sorts.
Jodi Ewart Shadoff and Caroline Masson went behind on the first but kept it close until the turn, when the American duo birdied three in a row to move from one-up to four-up. Another birdie at the long 15th closed out the point 5 and 3.
Similarly, Paula Creamer and Austin Ernst had been beaten on the first day but Mel Reid and Emily Pedersen had a disastrous run after the 11th, losing three successive holes to pars and finally losing out 5 and 3.
That left Sorenstam badly needing points from the bottom two games just to stand still on the morning play, with her two winning pairings from Friday of Hall and Nordqvist and the partnership of Matthew and Icher.
And the Swede and the English rookie came through, winning key holes at the 10th in birdie and the 13th in par against Stacy Lewis and Gerina Piller, Hall's eight foot par putt securing the match 2 and 1 on the 16th.