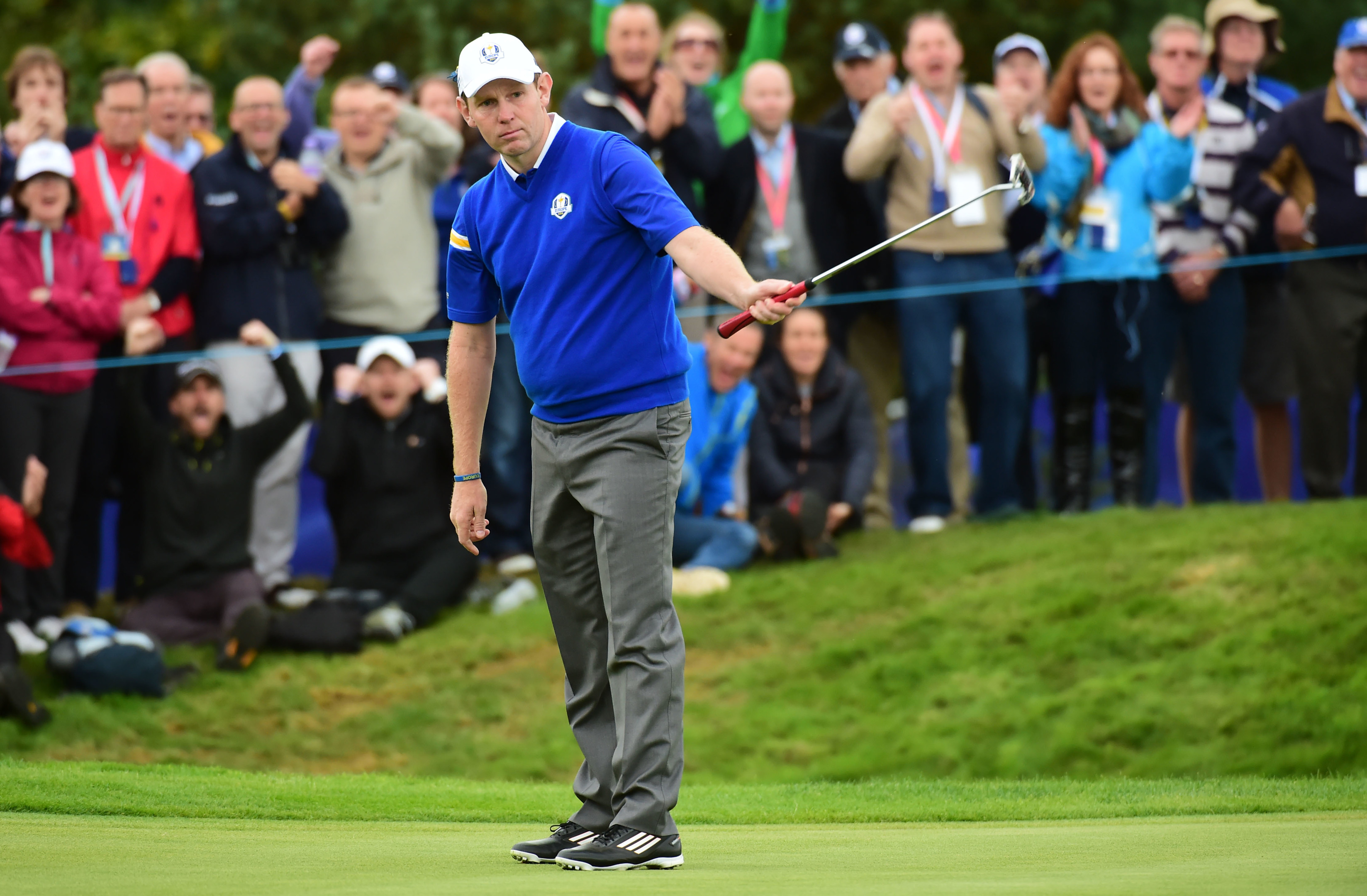 A week after he had to come off in the first round in Portugal with chronic sinusitis, Stephen Gallacher admitted to being "about 80 per cent" after yesterday's British Masters pro-am around the hilly Close House.
Lee Westwood, host for the week, has brought the European Tour to a superb facility which bears his affiliation just 10 miles to the west of Newcastle and just a couple of good strikes from Hadrian's Wall, but a couple of holes involve considerable elevations perhaps more akin to Wainwright walks than Westwood ones.
Those slopes aggravated Paul Lawrie's ankle issues causing him to withdraw, and Gallacher – who was on a drip for dehydration after he withdrew last week – admitted it had been a fair hike.
"I'm about 80 per cent at at the moment," he admitted. "It is a physically demanding course here, and it is going to be a bit of a battle.
"It's a bit like Crans-sur-Sierre (in Switzerland) with the big elevations, but it's in brilliant nick and it's an enjoyable course to play.
"With all the great infrastructure they have for this event and great crowds planned, it is going to be a brilliant week in a part of the country where they they love their sport."
For Stevie, the aim over the next fortnight is make sure he gets to Dubai for the end of season beanfeast.
"My goal is to try and cement a place in Tour Championship," he said. "One good week and you are into everything at the end of the season."
Safely there already is Richie Ramsay, enjoying maybe his most consistent season on tour, but still looking to keep himself motivated..
"It's been a good season, 24th in the Race to Dubai," he said. "There's the WGC in China coming up and it would be good to get into that, if I can stay in the top 30 after Italy.
"These are big weeks coming up for me.  I know I want to go out there and win, but I've got to sit down and assess what I have to do.
"There is that level in that I'm (already) in the Race to Dubai.  That's great , but I've got to set out mini goals beyond that as well."
Russell Knox couldn't get out of a commitment back in the US next week to play in the Dunhill so is making up his tour membership requirement by playing Portugal and this week, and he's glad he has.
"Four holes here are straight up the hill here and four straight down, so it's a bit different," he said. "It's not going to be everybody's cup of tea – there are a few who probably won't enjoy it, but I do.
"Length isn't going to be a massive factor here. There's going to be a lot of mid-irons so someone with great iron play is going to do great this week."
Knox hasn't kicked on as he'd hoped this year, but plans to get out early in the new season.
"It has been a bizzare year," he reflected. "My game feels good. I'm just missing small pieces, the putter needs to co-operate a little more.
"I had moments where I felt really good last week and no reason why I can't keep it going this week."