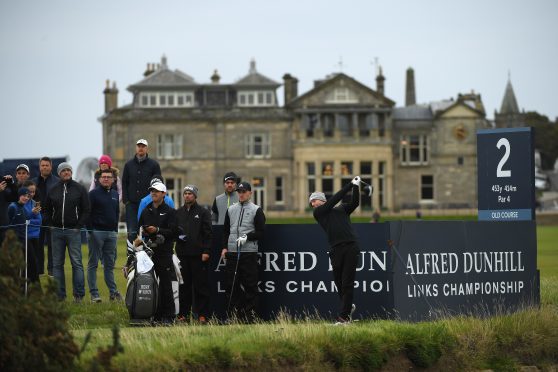 Rory McIlroy's eyes darkened as he recalled the man who blanked him when he asked for an autograph.
"Roy Keane", he said. "He should be one of my heroes, he was a Man United player."
Instead, he is Rory's example why he always tries to sign for anyone who asks and why he'll give away several balls a round – each with "Rors" marked on them – to any kid he sees behind the ropes.
A short clip on Twitter of the surprise and joy of one small boy when this happened at Close House in the British Masters last week went viral, much to Rory's surprise, but it reminded him of his encounter with the former Man U and Ireland captain as an autograph-hunting kid himself.
"I remember I went and asked for his autograph at the Portmarnock Links Hotel when he was with the Ireland squad and he said no, and it just sort of stuck with me," said McIlroy as he returned to the Alfred Dunhill Links Championship for the first time since 2014.
"I'm sure he's all right, but he didn't give it to me and I've never liked him since. So that's why if a kid asks me for an autograph, I always try to do it.
"Would I give him my autograph if he asked for it now? Only if he gave me his first!"
As McIlroy says, such gestures should be no big deal for the pros and done by most of them nowadays.
"I remember going to the World Match Play at Wentworth every October, and getting golf balls from Mark O'Meara or Sam Torrance, and I remember how I felt when that happened," he recalled.
"I mean, I must use between six and nine balls a round, and every time I need a new one, I look for a young kid in the crowd in between holes to give the old one to.
"It's not anything out of the ordinary.  And it's not just me that does it, basically every golfer on Tour does it, so I was sort of surprised how that little moment last week sort of became so big, because it's quite a regular occurrence.
"But it just shows what such a small thing to me can mean to a kid, and he or she might be inspired to go and play. It's a nice thing to be able to do."
McIlroy laughed as he noted he'd played the best golf of his year finishing second in the British Masters – "good thing this is my last event, eh?" – but he's sticking to his "down tools" plan after this week, in which he plays with his Dad Gerry and fun is the primary intention.
"It's been golf or exercise, I haven't been able to do both" he said. "I'm looking forward to getting back into a routine, sort of feeling like myself again, and getting prepared for next year.
"So for six weeks, there won't be any golf swings. I can putt and I can chip and stuff probably, but for the most part it will be just sort of physical rehab and making sure I'm getting my body in the right place to start to practise again."
"But I think you're always going to have to look for ways to improve because everyone is trying to do the same thing.
"You can't think, okay, if I get back to how I'm played in 2014, it's going to be good enough because it might not be.
"I might able to win some more tournaments and some more majors more than likely.  But I'm not going to settle for that, I want to be better than that."
This week, however, is "a good social week" and about enjoyment.
"My wife has never been to St Andrews, she was supposed to come for the Open in 2015 but I played a certain football game," he said in reference to the ankle injury which cost him his defence of the Claret Jug that year.
"I gave myself a decent chance to win last week, so it's just good to know that there's good stuff in there. I could walk away from the week feeling very happy and feeling like I played well. Sometimes your best isn't quite good enough to get the win.
"It would just be nice to string a few more good rounds together and put in a about performance. That would be a nice way to end the year."