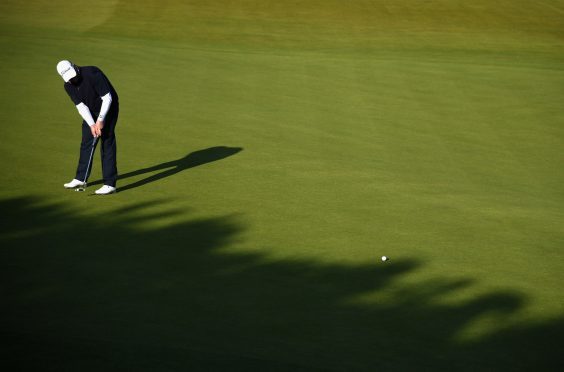 David Drysdale reckons there's a similarity between golfers and rock stars…well, the amount of travelling they have to do at least.
The Scot had a pretty decent rhythm section in his Alfred Dunhill Links Championship group yesterday, with the tournament perennial Tico Torres, drummer with Bon Jovi, and Mike Rutherford, bassist with Genesis, who has been Drysdale's partner for the first two days at Carnoustie and Kingsbarns.
"We had Huey Lewis yesterday and I think we've got a band manager in our group tomorrow," said Drysdale. "Some of their stories, though…pretty much unrepeatable."
Drysdale doesn't think he'll still be playing in his 60s like Rutherford – who still does 50 dates a year – but he's playing some of the best golf of his life in his early forties to lie just three off the lead. There's a lot to be said for settling your tour card early and being able to relax at this event.
"I'm far more relaxed than I was two years ago, that's for sure," said Drysdale, who added a 67 at Kingsbarns to his opening 69 at Carnoustie. "A couple of times in last few years I've needed a result here.
"It's not ideal because you can get done by the draw, so it's not a tournament you want to rely on having to do well in to keep your card. It's nice not to be in that position this year, I can focus more on the tournament."
Drysdale's most extreme Dunhill escape was two years ago when he literally came off crutches for a calf tear on the Tuesday and finished in the top ten.
"I try not to climb out of bunkers the wrong way now," he said.  "I holed a few putts today, I'm still using the arm-lock technique, the Kuchar-style, but it's like everything, sometimes it goes well."
Stephen Gallacher still feels he isn't holing much but went round the Old Course in 67 to stand at five-under, well-placed for the weekend.
"I feel I could have shot 60 today," he said. "It's probably the closest I've ever hit it around here, I think I missed five inside 12 feet.
"I had 36 putts on Thursday and even today I had 32. It's tough but I have to stay patient, it'll come in the end."
Scott Jamieson and Marc Warren are in good shape to make the 60 on Sunday at four-under and three-under respectively, especially Warren, who usually plays the Old Course so well in this event.
Richie Ramsay, untypically for him, had a right rollercoaster at Carnoustie, throwing in a double and two bogeys and one stretch of five birdies in six holes, but settled for a two-under 70 in the end.
The three young fledgling professionals from Scotland all had decent days, Grant Forrest, needing a good one after a slow start, went round the Old Course in five-under to get back in with a chance of getting in the money over the weekend.
Connor Syme followed up his 72 at Carnoustie with a 70 at Kingsbarns, with five birdies in his haul ahead of his visit to St Andrews today. Liam Johnston, making his professional debut this week, is also at two-under after a solid 70 on the Old Course yesterday.