 Chris Kelly found some form at last – and the best end of the draw at Gleneagles – to make an ideal start to his attempt to win a third M&H Logistics Scottish Professional Championship title.
By the time the Stirling pro got into the meat of the King's Course much of the remaining maelstrom of Hurricane Ophelia was petering out in the North Sea, and he made hay with a superb run of five birdies in the last six holes to snatch a commanding three-shot lead with a 63.
Tartan Tour leader Paul O'Hara – like Kelly, he had no bogeys on a difficult day in the still-tricky winds – is in second place on 66 but both the leaders had cause to thank their draw in a first round delayed from Monday's fog.
The first groups set out in the final throes of Ophelia and scores reflected. Reigning champion Gareth Wright, himself hoping for a third Scottish title, was out in the first group and returned a five-over 75.
But as the day progressed the winds slackened, and on the easier back nine some were able to put together some scores, but none as spectacularly as Kelly, previously champion in the championship 2003 and 2015, first on the PGA Centenary Course and latterly on the King's.
"I'm not exactly sure where that has come from because I've been struggling all year," said Kelly, who took up the post at Stirling in succession to long-time pro Ian Collins earlier this year.
"I don't remember the last time I had a round without a bogey. But while it's encouraging, it's also really early days and there's a hell of a lot of rubbish golf that could be played between now and Thursday!"
O'Hara has been the opposite to Kelly, mining a fine seam of form all year that has him in a clear lead in the Tartan Tour Order of Merit, and he continued in that vein on the King's Course, where he finished the championship runner-to Wright up in a play-off last year.
"Just really solid again," said the former three-time runner-up in the Scottish Amateur. "My brother (former Tour pro Steven) played for a few holes yesterday and in the wind and rain this morning and he had it really tough.
"A 72 was a great score then. When I played it was a little easier."
Still Paul was three-under for the first 10 holes into what remained of the wind, and was slightly disappointed not to have made more of the holes coming home other than his regulation two-putt birdie on the long 18th.
"I did have more than a few chances but 66 for the first round I'll take any day," he said.
Only four other players dipped under par on the tough opening day. Largs' Paul Robinson shot a 67, Greg McBain and veteran Jason McCreadie 68s and another former champion, Graham Fox, had a one-under 69.
After the first day disruption the championship has been reduced to 54 holes. 32 players and ties will qualify for the third and final round after today's second round in completed.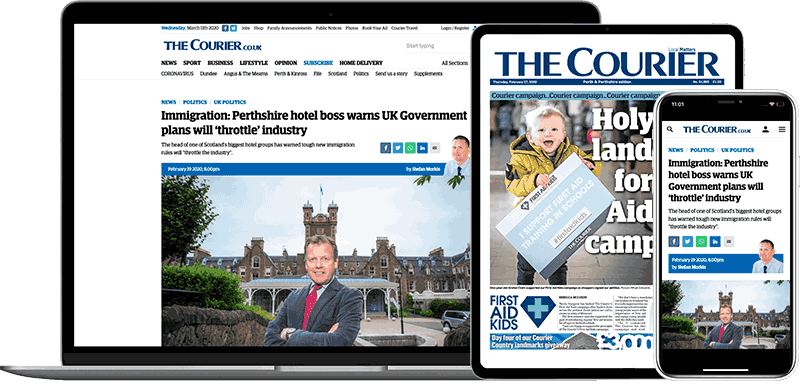 Help support quality local journalism … become a digital subscriber to The Courier
For as little as £5.99 a month you can access all of our content, including Premium articles.
Subscribe