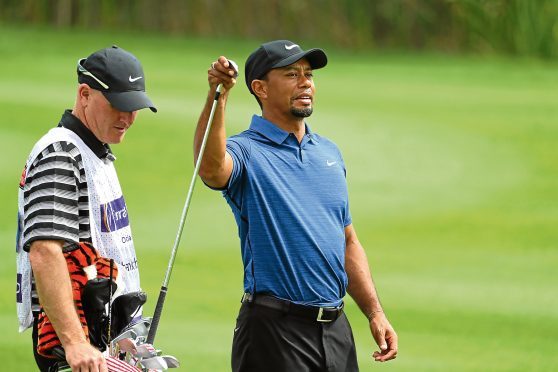 To be honest, it's been a tough few weeks of hard work at the rugby, and it would be have been so, so easy. Many of you might not even have noticed, such is my habit of repeating myself.
But I'm a professional – really – and it would be wholly wrong to repeat last year's T2G at this time word for word. Even though the urge to cut and paste is strong and the actual content is absolutely as relevant 12 months on.
Yes, this week is the Hero World Challenge in the Bahamas and it's Tiger Woods' latest comeback from back surgery and prolonged rehab, exactly as it was last year.
Then there was almost unbearable and hysteric hype about his return. We'd had carefully released proclamations from Tiger Towers that he was swinging pain-free, the short game yips were gone, and he was ready to compete.
The week went relatively well – he finished last but made more birdies than anyone in the 18-strong field – and he announced an ambitious schedule of events for the New Year.
Two events into what was supposed to be a run of five events in six weeks, he broke down again at Dubai. That was the last time we saw him make a competitive swing, and it was not pretty.
So after all the surgical procedures that had previously been proclaimed "successful" (that is, every single one), this time Tiger went back for the definitively final option; fusion surgery.
It's one that's worked before for others, notably Davis Love III. Once again Tiger has taken the entire year off, once again there's been tales of him barely able to walk.
At a press conference at the President's Cup as recently as September, he wondered aloud whether he would ever play competitively again.
Yet just a few weeks later it was announced he was cleared to hit full out again. Who was kidding who and when?
The usual trail of dubious eye-witness reports have been tactically released to wind up the hype, the latest being from Brad Faxon last week who suggested Tiger was beaning drives past Dustin Johnson in a bounce game which also happened to include the current US President.
Trump didn't tweet about how great Tiger was playing, which was very odd because he seems to tweet about everything else. Perhaps he was piqued at being outdriven.
Anyway, one notable difference this year is the hype of Tiger's return has not been quite as enthusiastically embraced, it's fair to say. People are starting to sense a pattern, along the lines of fool me once, fool me twice, fool me five or six times and you're starting to all look complete idiots.
But I can say without fear of equivocation that one thing is the same as 12 months ago; you're not going to get a definitive answer to where Woods is this week, which is basically a made-for-TV knockabout with some mates.
Instead, you're only going to get any kind of idea whether he will be remotely competitive moving forward when he announces where he is playing in proper competitive events. Many think that will be his old favourite Torrey Pines, but don't be surprised if he starts in the Middle East again, at Abu Dhabi or Dubai.
For all the talk about his urge to be competitive, at least part of the reason he's coming back is to promote himself and his brand. And the Emirati are still happy to pay plenty for him to do that.
A comparison that makes no sense
Tiger has recently joined the many in the game calling for the ball at elite level to be reined back, and is a welcome voice among those so minded. There are still a few voices, however, who seem to think that 8500 yard courses are the way we should go.
The most spurious view I saw last week was opined by the usually sound Brandell Chamblee, who announced on Twitter that the argument against distance was just like the the genesis of the Open.
"The reason @TheOpen was first played at Preswick (sic) derives from an argument over the Guttie & the Featherie, between A.Robertson & Old Tom Morris. The Haskell replaced the Guttie. 20 yds improvements each time. Solid Core replaced rubber core balls. I M P R O V E M E N T S!"
It's hard to know where to start. But Chamblee should know the reason the Open actually began was because Robertson had died and they wanted a definitive answer to who was the leading professional of the time. Nothing to do with the gutta and featherie debate, which was essentially decided by then.
Secondly, are we REALLY, seriously comparing golf 150 years ago, when probably about 1000 people were playing and the Open first prize was a leather belt, to today's multi-million worldwide sport?
It's not a serious point. If you're happy with frankly the obscene time taken to play proposed monster courses, the cost to accumulate the real estate and their appalling environmental impact, then say so. Don't make ludicrous analogies.
Thankfully Brandell appears to be a bit of a voice in the wilderness on this. There's continuing signs the USGA and R&A are gearing up to for a rolled back ball. And not before time.