Yes, it's that restorative fortnight when there is no golf anywhere in the world, so it's time for the 11th annual T2G Bungs. No, I didn't think I'd persist with this lame joke for so long either.
But here we are at the end of an odd 2017. Not a classic year – although there were a couple of first class majors in there – but it'll have to do.
I think 2018 is going to be a more interesting one – off course as well as on – but let's look back in anger first.
Player of the Year: If in March someone had predicted this would be anyone other than Dustin Johnson, you'd have imagined he would have to fall down the stairs or something.
Well, of course that's what happened, and DJ was never the same after. Justin Thomas, although I'm still not entirely convinced he'll be a sticker, gets the vote although be aware – we were all imagining great things for Jason Day after he won the PGA in 2015 and he hasn't been close since.
Tournament of the year: Personally, I enjoyed the Scottish Boys and Girls in concert at Scotscraig more than any other event this year, by a short head from the British Masters, where a pretty nondescript course set up for birdies made for exciting competition. The Masters and the Open were great, but they usually are, let's face it.
Round of the Year: I was grumpily dismissive of this when it happened, but time to give credit where it is due. Branden Grace's 62 at Birkdale in the Open, even if the course was accommodatingly laid wide open for it, was the first of its kind.
Shot of the Year: Like Ben-Hur or Titanic at the Oscars, Jordan Spieth at the 13th on Sunday at Birkdale nearly swept the Bungs this year. But his tee shot at the short 14th, in the wake of all that turmoil, nearly went in and showed it had been a catharsis rather than a potential meltdown.
Depression of the Year: Regular readers will exclaim "what, only one?" I thought Jason Day indicating in January he'd play as slow as he wanted and hell mend the rest of you was the worst at the time. Thankfully, it may have been the tipping point; even the PGA Tour seems to be moving – albeit glacially- towards action against slow play now.
Reassurance of the Year: Be honest, people, how many of you thought Sergio Garcia would find a way to lose again in the play-off at the Masters?
But he didn't. In fact, when he needed two putts to get that monkey off his back at last, he took just one.
His unabashed joy made it all the more memorable, and the reassurance is that one of the best – and often despite himself, likeable – players of his generation finally won one of the big ones.
Non-event of the Year: I'm going for not something that was simply underwhelming but a spell when there were literally no events. From April to July, a huge chunk of what should be peak season, there were no tournaments on the Ladies European Tour.
The reasons why have not been adequately explained nor a solution arrived at, despite noises about support from the other main tours. The LET cannot afford another season like 2017, and one awaits their schedule for 2018 with some trepidation.
Trophy of the Year: Regular readers will know this is my favourite Bung, given each year to the worst trophy presented in golf.
As usual a packed field this year, and it seemed the Challenge Tour's Le Vaudreuil Challenge, a concoction of severed club heads welded together like some instrument of medieval torture, was a sure fire winner.
But in the end we go to the USA's ever-reliable Web.com Tour, and El Bosque Mexico Championship. Wesley Bryan's trophy was a "stylised" golden Chihuahua, which was bad enough in itself, but sadly it didn't even make it back through customs – the head broke off after some over-vigorous treatment by baggage handlers.
Stat of the Year: No question here, thanks to Stewart Darling, a board member of Scottish Golf, who revealed that just over 12 per cent of golf club members in Scotland were under 34, and nearly 60 per cent were over 55. We knew it was bad, but that was downright shocking.
Shank of the Year: Sometimes you have to go as low as possible to reach the heights. Jordan Spieth's tee-shot at the 13th at Birkdale was "nearly in Burnley" as my colleague memorably put it, but it was the catalyst to his incredible surge to win the Claret Jug.
Comeback of the year: A few of these; Justin Rose in China last month., and he deserves at least one Bung for an eventful year. But really, only Spieth will do. I thought he was headed for a breakdown after the tee shot on 13. An hour later he'd won by three.
The Torch (for emerging players): I will not give this to our new Tour babies Bradley Neil and Connor Syme because rookies on the European Tour have so much stacked against them it's a triumph of will as much as skill to survive.
Instead, the player who rose like a a comet this season – and somehow was the subject of ludicrous debate about whether he was rookie of the year – was Spain's Jon Rahm. Now watch him train on into a major contender.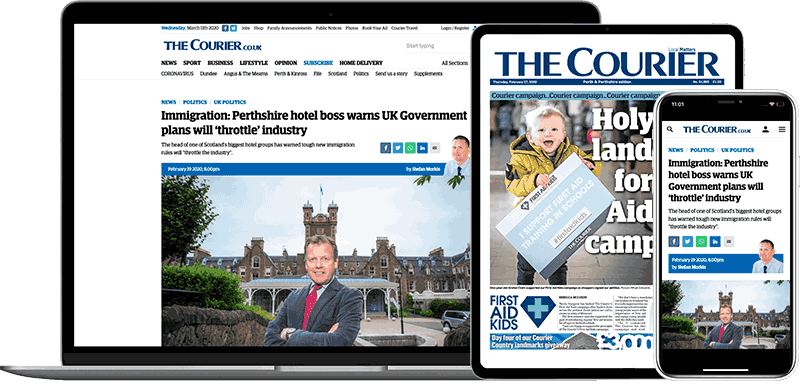 Help support quality local journalism … become a digital subscriber to The Courier
For as little as £5.99 a month you can access all of our content, including Premium articles.
Subscribe