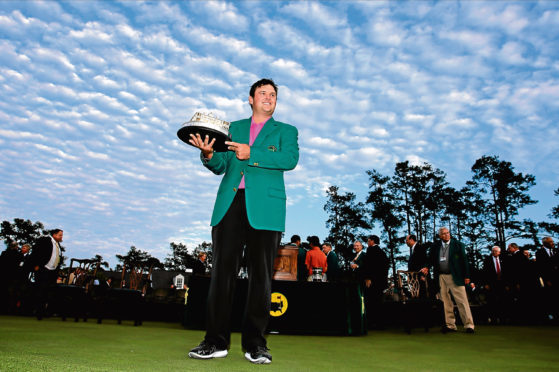 Nothing could live up to the hype of the 2018 Masters. But that didn't stop everyone trying.
Even as Rory McIlroy missed another dribbler, Jon Rahm found the lake at the 16th, Jordan Spieth clipped the treetop, Rickie Fowler's last birdie came too late and Patrick Reed didn't fold as many expected (or even hoped?), there was a general refusal on the airwaves to let go of this being The Greatest Championship Ever Contested.
Even the dear old curmudgeon Peter Alliss – who should really be retired with full honours before he says something on-air that's truly awful – joined in.
After correctly identifying that the first two days had been pretty dull and not very interesting, he got carried away on Sunday proclaiming the finale to be one of the greatest he'd ever seen.
It took another octogenarian curmudgeon, Masters laureate Dan Jenkins, to point out on Twitter that 1) an all-time classic needs a classic finish or it's not a classic and 2) great comebacks are only great if you win.
Even Dan thought it was a "great, great Masters" although not in his personal top ten (he's done 64 so it's not a small sample size). I thought it was merely interesting and not nearly as exciting as last year.
An unpopular winner?
No sooner had Reed finished his admirable 71 to win – two days with the lead in the Masters for a player thought to have closing issues was admirable any way you look at it – than the knives were out.
His colourful past – railroaded out of the University of Georgia, estranged from his family, cheating allegations, his "lone wolf" reputation on tour – was fair game again, as it is whenever he does anything.
All this stuff illustrates who Reed is. But we don't bring up Phil Mickelson's association with dodgy gamblers every time he wins, which makes me think the antipathy to Reed is a little unfair.
The ovation to his victory at the 18th was "subdued" compared to recent years, we were told. Even more than Danny Willett or Trevor Immelman?
Anyway, I'm not aiming to be his friend, so here's what I think of Reed. You simply have to love the competitiveness – the famous "shush" at Gleneagles was the kind of fun we don't get often enough in stuffy golf – and it's great he'll now be regarded as more than the US Ryder Cup team's version of Ian Poulter.
I also like that he's no identikit modern golfer. Not the longest but plenty long, nice putter, clearly likes a carry out more than the gym.
Will he win a bunch more majors? Probably not. But he's been through the wringer now and come out with the Green Jacket. Anything is possible.
The nearly men
Reed withstood some big pressure alright. As a known scoreboard watcher, he must have seen what was happening behind him.
The biggest disappointment – shock even – was Rory McIlroy. His many acolytes were just about ready to pop the jacket on him, but after THAT missed eagle putt on two he was barely a factor.
He might not have as good a chance as this for a while, because Jordan Spieth nearly reclaimed his Augusta aura with that furious final round.
Had he parred 18, it might have been comparable to Gary Player's immortal 64 (course record at the time) to win in 1978. I'd have taken him in a play-off with Reed for sure.
You have to keep your eye on Jordan. He's capable of other-worldly things, like most of Sunday and from 13 onwards at Birkdale last July. But he's also capable of calamities like the treetop.
Jon Rahm has played two Masters and finished T27 and fourth. This year was the necessary payment of some dues.
Rickie Fowler has left major titles in other hands, but this wasn't one of them. From the 7th onwards on Sunday he was the best in the field and has nothing to reproach himself for. Reed just wasn't for folding.
Tiger and Phil?
Sorry guys, as I suspected a few weeks back, this is now a young man's game.
The troubling aspect were the TV viewing figures, up 40% almost entirely because of Woods.
That's frightening, because while I think the appealing young players are brilliant, your casual, occasional fan doesn't seem interested.
Even if he rebounds from this disappointment, Tiger's not got long at the very top left. We badly need someone – or some thing – else to move the needle.
Augusta listening
Not only did Fred Ridley agree to T2G's advice last week and announce a Women's Masters – not exactly what we wanted but close – but it seems Augusta National are onside with the R&A and USGA on distance.
ANGC chairman Ridley made it very clear the club don't want to stretch the course any more. That can only mean one thing.
Three of the organisations that run the four majors now want distance curtailed.
You get the feeling that whatever the opposition of the Tours, a reined-in "major" ball is coming.