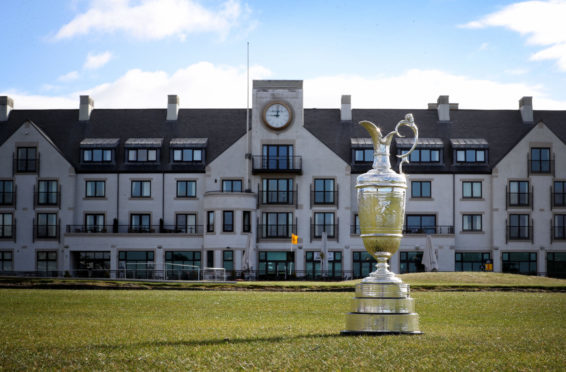 Carnoustie is one of the few golf courses that needs "no protection" from modern technology and big-hitting players, believes the last man to win an Open Championship there.
"It's a championship golf course whether you turn up in July, in April or October," said Padraig Harrington, the champion in 2007 when he edged Sergio Garcia in a play-off for his first of three major titles.
"That's the beauty of Carnoustie, it's a big, strong golf course, you don't need to do anything to it," he continued, after it was revealed the course alterations from 2007 for this year's championship in July will be less than 20 yards, to fit in some new grandstands.
"You don't have to have tricky pin positions, it doesn't need to be tricked up, it's all going to be there in front of you, and the best player will win."
Carnoustie is "a great players' golf course", continued Harrington, speaking at the launch of the championship to be held at the Angus course for the eighth time.
"You're not going to get away with much here," he said. "Almost every shot you're hitting you're threading between big, deep bunkers because if you lay up, it's an extremely long and difficult course.
"You're going to have to play some good golf and take some chances to win at Carnoustie."
There were a lot of holes on the course "that will keep you awake", said Harrington, who won two Alfred Dunhills Links Championships as well as his Claret Jug playing there.
"The last four holes are a beast, and you're never quite sure where you want the wind to be blowing," he said, recalling his double bogey six on the 72nd hole in 2007.
"When I hit it in the water (twice) it was the only time ever I've felt on the golf course that I'd let myself down, let my friends, family and fans down," he said.
"I felt the Open was over (for me). I felt like I had choked."
But by the time he had dropped his ball in front of the Barry Burn and chipped and putted for a six, he was back on track believing.
"I think I went from in the zone, to out of the zone, to back in it again!" he continued. "Which is an incredible rarity in sport, I think."
Harrington went on to win the play-off against Garcia, making the solid five he needed at 18 the second time around.
"The 18th is a hole that keeps you awake at night," he said. "The 16th is a big strong hole but if I hit a good tee shot I'll make a three, if I hit a bad tee shot then maybe a four but it doesn't have the fear factor of the 18th.
"Even my sand wedge from 112 yards in the play-off, that's a shot you get nervous on. Because plenty of balls have hit that green and gone out of bounds."
Harrington believes that Carnoustie is the prime ball-strikers course and that a couple of big names will fancy their chances.
"Rory (McIlroy) likes a true ball-striking competition, but some conditions would suit him better than others and I'm not sure he wants a 15-mile and hour wind," he continued.
"Someone like Dustin Johnson has matured his outlook on links courses and learned how to play them.
"Tiger (Woods) has got the game and the experience and he seems to be in good form. He's had the pressure of the Masters and will have played the US Open so by the time it comes to the Open, it will be business as usual for him.
"He likes the golf course, all ball-strikers like this course. So he could be a contender and mentally he won't be under so much pressure."