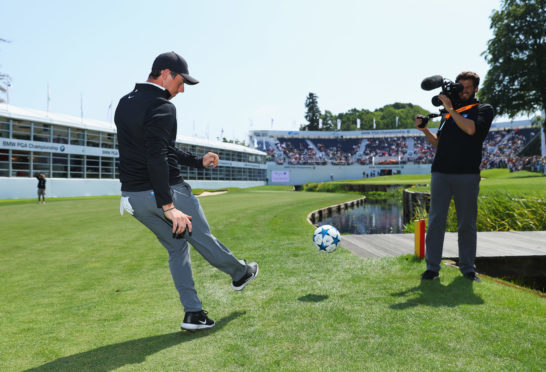 Unshackled, unwired and unleashed on Wentworth's West Course is what Rory McIlroy wants to be as he returns to try and recapture both the BMW PGA Championship and the "freewheeling" style that led to best summer of his life.
Rory's 2014 win at Wentworth sparked a run of form that swept up two major championships, the Open at Hoylake and just a couple of weeks later, the PGA at Valhalla. At the time it seemed nothing could stop the young Northern Irishman.
But four years on, Valhalla is still the last of his four major titles. Others even younger than he, like Justin Thomas and Jordan Spieth, have grabbed the initiative. While still widely regarded, at his best, as the biggest talent in the game, he's actually only the third European at the moment in the world rankings, behind both Jon Rahm and Justin Rose.
McIlroy has not been a washout this season; he won at the prestigious Arnold Palmer Invitational in familiar, dominating style, he played his way into the final group at the Masters before flat-lining on Sunday. Mixed in, however, has been some pretty modest stuff by his lofty standards.
"I guess the good has been very good and the bad has been worse than I would want it to be," he said on arriving at Wentworth for the first Rolex Series event of the year. "It's been a little more inconsistent than I would like.
"Starting out in the Middle East, the win at Bay Hill, getting myself into position at Augusta – they were all great tournaments and great weeks, but then I just want the weeks where I'm not feeling so good about my game to still have a chance, or at least be thereabouts, going into the last round."
Recovering the spark he had in 2014 is an aim, although one is sure he doesn't want to repeat all the circumstances of that week, when he had just pulled out of his impending marriage to the tennis star Caroline Wozniacki.
"I felt like my game was trending in the right direction in 2014, but didn't quite have the win," he recalled, confirming he felt the same way about this year. "I mean, I didn't expect to win, I was seven shots behind going into the final round.
"Freewheeling" in the popular phrase, he shot 66, hauled in a fading Thomas Bjorn (of all people) to win, and the rest of that summer was a blur of brilliance.
"It did snowball from there and I got on to a nice little bit of a hot streak, and I'd love to be able to do something like that again," he said.
"I've got a busy summer coming up, there's a lot of big tournaments to play in. We've still got three major championships and a Ryder Cup, and everything else."
That feeling he had that summer was like being a kid playing again, he went on.
"I think about that a lot because when I started my career, if you had known then what you would achieve going forward, you wouldn't care, would you?
"You would just go out and play golf and hit shots. I'd love to go out and play with that mind‑set all the time, but we're wired as human beings to be a bit more careful ‑ stay away from the water, don't hit it in that bunker.
"It's a constant battle with yourself out on the course to try and get away from that and free wheel.
"I'd love to go out and play that way every single time, but I don't think that's possible.
"I'd like to get to the point where the majority of the time, you can play that way."
At least Wentworth now allows him to play that way, and he believes some range work back in Florida has set him up perfectly for this week.
"I had a practise session before I got on to the plane on Sunday night that was really good, I was like, okay, that feels much better," he continued.
"Then I came and hit balls on Monday and played yesterday and played today, and it's feeling a more comfortable as the days go on.
"(The Course) let's guys be more aggressive off the tee now if you want to be. There's still very much a premium on hitting the ball in the fairway and good ball-striking, that will always win out around this place.
"I think over the past few years here, I always felt the longer hitters were handcuffed and there were a lot of 4-irons off tees and a lot of positional play. Guys now can think about using their length as an advantage."
McIlroy starts his campaign at 12.30, playing with defending champion Alex Noren and new Ryder Cup vice-captain Lee Westwood.