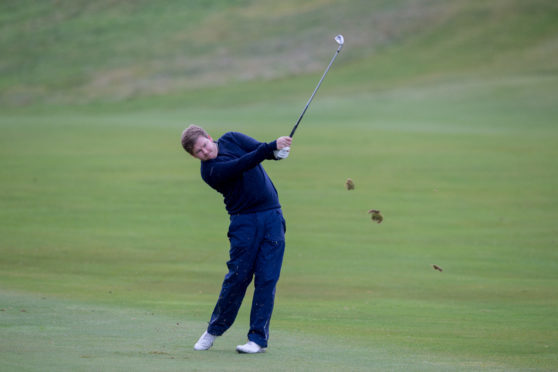 Paul O'Hara is instantly identifiable on the Wentworth driving range, but only because he's the only player not wearing a cap. The swing does not look out of place one bit.
The PGA Scotland order of merit champion is in the field because he was runner-up in the club professional end of season play-offs, but although many think he has the game to do well in this company, the 31-year-old is content with his lot.
"This is a long way from where I started but it's justified my decision to take a step back and go down the PGA pro route," said O'Hara, whose elder brother Steven was a tour player for a number of years and used Paul as caddie at Wentworth a few times.
"Airports are nice if you're going on holiday. The last three years I've just enjoyed my golf, I got my hunger back and if you have that you can really build.
"When I was bouncing about the mini tours in Europe and struggling a bit I wasn't enjoying it. Playing in Scotland just suits me, I can get home at night.
"I work in the winter and play golf in the summer, I'd get fed up with full-time golf. I like the balance."
It's a different world for him, however, having to get his three rounds of practice in before Wednesday's celebrity pro-am, and finding a spot on the range is not easy either.
"It's a nightmare, it's mobbed," said O'Hara, who warmed up with a win on the EuroPro Tour last week. "I've been playing well for a while now so I wasn't too surprised by that win to be honest.
"This is a huge opportunity, obviously. It's just my second tour event and I'm a much better player than I was last year, my mind set is much better too."
There are eight Scots in the field at Wentworth, with O'Hara and Gavin Hay from Nairn Dunbar representing from the club pro ranks.
Stephen Gallacher, David Drysdale – both coming off good weeks in the short event in Belgium last week – Scott Jamieson, Richie Ramsay and especially Marc Warren, who lost out in a play-off to Matteo Manassero in 2013, have all had their moments around the West Course in the past.
The rookie is Blairgowrie's Bradley Neil, who is getting his first taste of the BMW PGA Championship atmosphere.
The 22-year-old is still finding his feet on the tour after qualifying from the Challenge Tour in November, but this week and next offer a huge opportunity for the former Amateur champion.
Bradley is into both the first two Rolex Series events here and in Italy with their inflated prizefunds of $7 million, with around $12,700 (£9500) guaranteed for just making the cut – nearly as much as O'Hara got for winning on the EuroPro Tour last week.