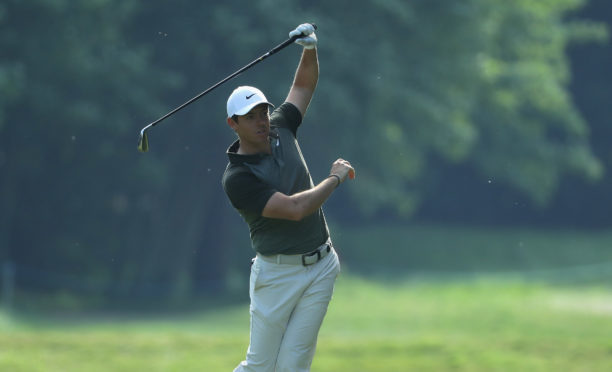 David Begg, who while not only being the lead football commentator on BBC Radio Scotland for many years was also the press officer for The Open Championship, used to like a phrase illustrating how privileged we all are covering golf.
Golf journos, both writers and photographers, uniquely "got on the pitch", said David. Unlike any other sport, we are right there with the players, even the superstars.
Fans too are closer at golf to the players than in any other sport. Usually just a rope suspended between metal stakes separates the paying spectator from their heroes.
You can almost reach out and touch, but like us journos know, I wouldn't advise it if you want to stay on the premises any length of time.
Seriously, this has huge benefits for the game. Our great players are accessible. They sign more autographs than any other sportsmen and kids' faces light up with joy as Rory McIlroy hands them his ball as he walks from green to tee.
Also, we journalists (and TV too obviously) get close enough to get real insight into the mechanics of the game. The better on-course TV reporters – Dottie Pepper in the US, Sky's Wayne "Radar" Riley, Ken Brown in the days he was prancing about during live play – do an outstanding job.
But there are drawbacks as well, as we saw at Wentworth last week in two instances involving McIlroy.
On Thursday Rory was distracted in his backswing when a photographer – one of the most experienced snappers there is, in fact – mistimed his frame. The photographer concerned apologised profusely afterwards and Rory took it with his usual good grace.
These things occasionally happen with the very best professionals, so imagine what it's like with the galleries now all amateur photographers and videographers thanks to phone technology.
There's supposed to be a general ban on this happening during tournament days, but it's unenforceable, and the crowds are too close to not be a regular distraction. Late on in the day one or two are fuelled by drink to be an intentional distraction, just at the time when there are fewer marshals and security people out there. But we also saw on Saturday at Wentworth that there's also a growing safety issue.
McIlroy hit two spectators and a marshal with shots during his Saturday round. The first occurred on the sixth after Rory attempted an ambitious recovery from a tough lie, the ball ricocheted off a branch and struck a young woman, painfully, on the wrist.
Unavoidable? By McIlroy certainly, he had no way of giving warning. But the gallery there were far too close, having performed that curious ritual after Rory's initially wayward shot of sprinting towards his ball and then standing right next to where it landed, to be in position to be right there when he came to play his recovery shot.
For all the crowd control expertise of his caddie Harry Diamond and the marshals, too many people were still far too close to Rory when he came to hit the recovery shot.
The other two instances, however, were quite different. Both Rory and playing partner for the day Sam Horsfield hit second shots on 17 that hooked well left, scattering a seated gallery there. Rory's hit a marshal but not with any great force.
Neither player shouted a warning "fore" as golf's etiquette demands. Rory said later that he couldn't see people up there, but that's a stretch – everyone knew there were spectators in that direction and there should have been a shout.
Rory had slightly better grounds – but only slightly – for his excuse for not shouting a warning when another wayward shot struck a woman on the head drawing blood at the 18th, claiming he didn't think from his vantage the ball would reach the spectators.
There's been a clear trend by many top players – not all – to not shouting warnings for errant shots. Too often an arm pointing sideways is regarded as sufficient, which it most certainly is not, as many spectators cannot directly see the initial impact.
There's even the suggestion that players don't shout on purpose, knowing their chances of a better lie are greater if a wayward shot rebounds off a spectator.
That is appalling if true. Clearly the onus in golf's etiquette is on the player who has hit the shot and presumably knows their own powers to shout a clear warning to vulnerable spectators. Ideally, they all would.
But we have a significant safety issue here, and if players for whatever reason aren't shouting as they should, somebody's still got to do it. At Wentworth there are a host of people about on the tees and fairways – players, caddies, scorers, scoreboard carriers, marshals.
Most tee marshals these days even signal the direction of the ball – a shout of fore shouldn't be beyond their capabilities if they can see it headed towards spectators. The closeness of spectators to the action is one of golf's treasures. It shouldn't be so dangerous.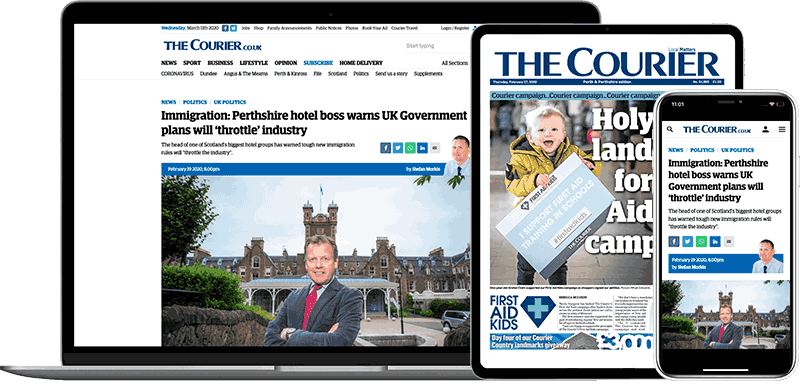 Help support quality local journalism … become a digital subscriber to The Courier
For as little as £5.99 a month you can access all of our content, including Premium articles.
Subscribe