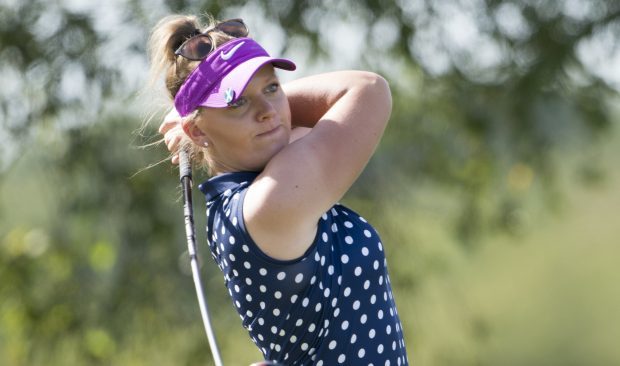 Chloe Goadby finally ended her matchplay jinx at the Scottish Women's Championship while defending champion Connie Jaffrey made a shock early exit  at the last 16 stage at Golf House Club Elie.
In more glorious conditions St Regulus' Goadby, top seed from qualifying for the second year in succession, finally got past the first matchplay stage after two defeats in the round of 32 in successive years, and then fought her way through a tough second round tie to reach the last eight.
However Troon's Jaffrey, champion at Royal Aberdeen last year, suffered a 4 and 3 defeat to Hazlehead's Jasmine Mackintosh 4 and 3, and that after the young Aberdonian needed six extra holes to win her game in the first round.
Other favourites to exit on the first day of matchplay included last year's beaten finalist and 2015 champion Clara Young in the first round, while Hazel MacGarvie and British Girls' Under-16 champion Hannah Darling both went out at the last 16 stage.
For Goadby the transition from strokeplay to matchplay had proved a problem the last two years, but she overcame those issues in a first round win over Margo Gardner and then was pushed all the way by the impressive Louise Duncan before winning by two holes.
"Coming into the matchplay has been a problem, so I was just trying to make pars, stay steady and get a result," said the Stirling University student. "But this afternoon against Louise was so tight it demanded good golf.
"There's so many birdies to be made out here, it's a great course for the championship to be on, and we threw a lot at each other."
Goadby had to dig deep couple of times, a deft curling chip at the 10th securing a birdie that sparked her momentum and then a superb 205-yard hybrid from a tricky lie on the 17th to within 15 feet protecting her one-stroke advantage.
"The 17th is a tough hole and that was one of my best shots of week," she said. "I was actually laughing I was so surprised it went so well off that bad lie."
Having just finished her third year at Stirling, Chloe feels that she's still learning under coach dean Robertson.
"Dean's been a great help in improving my thinking around a golf course," she said. "He's helped my visualise and see shots that I would never have taken on before.
"He's done a great job pushing me out of my comfort zone to try new things and more often than not they come off for me, and my confidence increases as a result."
Goadby now takes on 2014 champion Gabrielle MacDonald, who also reached the final in 2016.
"I have great memories of this event from those two years," said the former St Andrews University student. "I've played Chloe plenty times in squad games but never in a competitive match so I'm looking forward to it."
Jennifer Saxton's win over Hannah Darling wasn't an outright shock as the Muckhart player reached the semi-finals last year, and she'll now play Hannah McCook, who needed an extra hole to beat Lorna McClymont in a match where the better ball was 12-under-par.
The 21-year-old Saxton lost her first ball off the first tee in her second round game, but rebounded for a half and took control over the final holes to beat Darling 2 and 1.
There was another surprise in the last 16 with Tara MacTaggart defeating the in-form Hazel MacGarvie on extra holes, but the real surprise was Mackintosh's comfortable 4 and 3 win over Jaffrey.
The 18-year-old from Hazelhead was two down with two to play in her first round game against Molly Richmond but won on the sixth extra hole, and then raced out to a four-up lead in the afternoon and Jaffrey was unable to respond.
Mackintosh now faces 2016 champion Ailsa Summers, the Carnoustie Ladies member also standing four-up at one point on Joanna Free but having to hole a tricky four footer on the final green to close the match out by one hole.
Scottish Women's Championship First round: Chloe Goadby (St Regulus) bt Margo Gardner (Linlithgow) 4&2; Louise Duncan (West Kilbride) bt Clara Young (North Berwick) 3&2; Karen Marshall (Baberton) bt Kimberley Beveridge (Aboyne) one hole; Gabrielle MacDonald (Craigielaw) bt Carmen Griffiths (Aboyne) 3&2; Hannah Darling (Broomieknowe) bt Maria Cowan (Wigtownshire County) 4&3; Jennifer Saxton (Muckhart) bt Caitlin Boa (Royal Dornoch) one hole; Hannah McCook (Grantown-on-Spey) bt Sheena Wood (Aberdeen Ladies) 4&3; Lorna McClymont (Milngavie) bt Susan Wood (Drumpellier) 2&1; Katie Wright (Stranraer) bt Gillian Paton (St Regulus) one hole; Gemma Batty (West Linton) bt Linda Allan (Glenbervie) 3&1; Tara Mactaggart (Minto) bt Kate McIntosh (Broomieknowe) 5&4; Hazel MacGarvie (Ladies Golf Club Troon) bt Evanna Hynd (Elmwood Golfing Society) 2&1; Joanne Free (Gullane) bt Jennifer Rankine (Haggs Castle) 3&1; Ailsa Summers (Carnoustie Ladies) bt Emma Hale (Ladies Golf Club Troon) 7&6; Jasmine Mackintosh (Hazlehead) bt Molly Richmond (Strathaven) at 24th; Connie Jaffrey (Ladies Golf Club Troon) bt Mirren Fraser (Powfoot) 5&4.
Second round: Goadby bt Duncan 2 holes; MacDonald bt Marshall 3 and 2; Saxton by Darling 2 and 1; McCook bt McClymont at the 19th; Batty bt Wright 2 and 1; MacTaggart bt MacGarvie at the 20th; Summers bt Free 1 hole; Mackintosh bt Jaffrey 4 and 3.