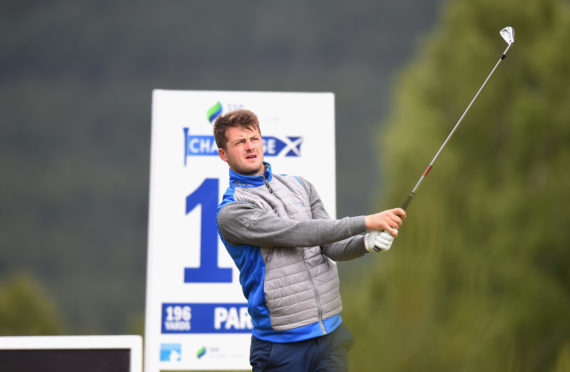 David Law's day started with a 5am alarm call, a short 10-minute run to get the juices flowing, followed by a five-under 66 that stood up all day at the SSE Scottish Hydro Challenge.
The 27-year-old former twice winner of the Scottish Amateur struck the first blow of the 10th anniversary of the tournament based at Macdonald Hotels' Spey Valley course and as winds strengthened from the north no-one could challenge the Aberdonian's early clubhouse lead.
Welshman Stuart Manley, coming off a second place followed by a win in his last two events, kept his form going lying just a shot behind alongside another recent winner on the Challenge Tour, Portugal's Pedro Figueiredo. But nearly all the scoring was done by the first wave of starters who had a five to six hole window before the winds got up and stayed all day.
Law hasn't had a top ten on the Challenge Tour for over a year, and has never quite prospered at Spey Valley with only one cut made in six attempts, but his early call proved perfect for him.
"It was nice to be first out when it was a little calmer," he said. "I noticed around the fifth or sixth hole the wind was really kicking up a bit.
"Especially at the end it was quite gusty, I hit a couple of shots in the wind I didn't really commit to it all that well, but to be bogey free on a day like that was good."
Law led at the halfway point in the KPMG Trophy in Belgium two or three weeks ago, a good reminder to him of better times.
"I played really well the first two days in Belgium, then putted poorly on the weekend (to finish 13th)," he said. "I hadn't been leading a golf tournament out here for over two years, so it was unfamiliar in that respect, but it was good to be up there again.
Law's career path was thrown last year by off-course tragedy, when he and his wife's first child was still-born.
"It was quite a tough year, and I really wasn't interested (in golf) that much. Without using that as an excuse at all, the whole year was tough.
"It's just been good to get going again, and really give it a go this year."
Manley had his own issues over the winter, a skin cancer scare that while not life-threatening, put him out of action after an operation.
"It meant I got not practice during the winter, because I was unable to swing a club for 10 weeks," said the 39-year-old former Walker Cup player, who shot 67. "It's funny because I don't feel I'm hitting it that well right now, but for some reason that makes me more focused and my recovery game and course management is good enough to get me through."
Figueiredo, who won the Belgium event two weeks ago, also had no bogeys to share second on four-under.
Scots Duncan Stewart and Liam Johnston are on two-under, while Robert MacIntyre had a "good double" on 17 after he though he'd lost two balls off the tee to finish on one-under. Grant Forrest battled back from three-over after four holes to finish with a par round of 71.
Ireland's Gavin Moynihan and Nathan Kimsey of England were the only men in the second wave to make much headway against the wind, both with rounds of 69.