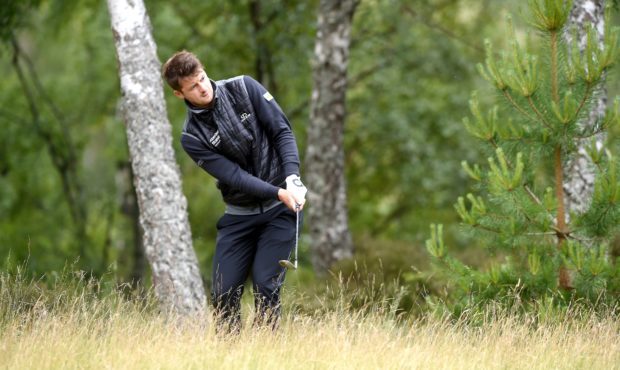 David Law likes his position going into the weekend of the SSE Scottish Hydro Challenge, even if he didn't close the deal when in a similar spot against the same man two weeks ago.
The Aberdonian was tied after 36 holes against Stuart Manley of Wales in the KPMG Trophy in Belgium and the two are locked again at the top of the leaderboard at Macdonald Hotels' Spey Valley Course at Aviemore at the halfway point.
Law's two-under 69 means he has a one-shot advantage on the field at seven-under and is ready to put what he learned two weeks ago into practice.
"I hadn't been leading for a while on the tour, and Blegium didn't go as well as I'd hoped, but I'm going to draw on that this weekend," he said.
"The idea is to keep the foot down, keep making birdies. The forecast is better and conditions will be good so you need to keep pushing."
Law negotiated the tricky start to his second round, playing the 11th and 12th – largely regarded as the toughest on the course – first but coming out of them in par after a birdie at the 11th.
"It's a tough place to start, and it's hard to follow up a good round with another," he said. "My iron play was not as good, but driving was and it's so important to drive it well here, you can make birdies if you do that.
"I feel I'm playing well, even though I half-expected to come to the course today (for his lunchtime start) and find someone had gone low. I'm surprised no-one has got to eight-under but I knew if I played well I'd be in good shape going into the weekend."
Law has won a professional event – the Northern Open – as an amateur and a couple of third tier tournaments but this would be his best yet.
"If you say to any of us (Scots on the Challenge Tour) that you could win one out here, this one would be it," he said. "It would be massive, but there's a way to go yet."
Wales' Manley, who didn't close the deal in Belgium either but won last week in France, seemed like he would be the man to get to eight-under as Law predicted, but he dropped a shot at the eighth – his 16th – as he seemed poised to at least share the lead.
He fell back into a share of second with Poland's Adrian Meronk, one of only two players from his country with a world ranking. The tall 25-year-old is as old as the Polish Golf Federation and the first course in his homeland was opened just five days after he was born. Portugal's Pedro Figueiredo, the winner in Belgium, is also on six-under.
"There are only 20,000 golfers in a country of 40 million, so it's not exactly a popular sport," he said after his 66. "It's growing slowly and it's a hard sell in Poland, but hopefully I can be the first one to be a success."
Soderburg seemed set on at least equalling double US Open champion  Brooks Koepka's course record but settled for a 64, while another Scot Duncan Stewart – from nearby Grantown-on-Spey – came charging up with a 68 to add to his opening 69 and lie just two off the lead.
Best round of the day from the home contingent was the 67 from Chris Doak – former winner of the Northern Open at the venue – which pushed him up to par for the tournament.