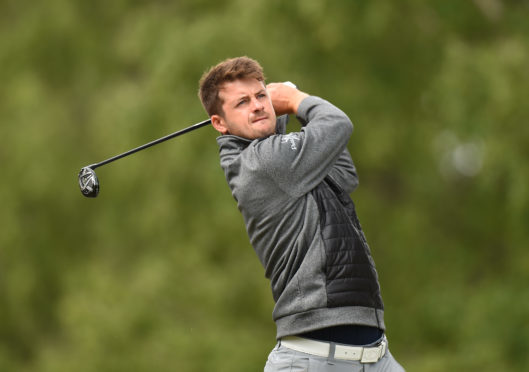 David Law produced a blazing performance in the sunshine at Spey Valley and cruised to victory in his 100th event on the European Challenge Tour by a two-shot margin in the SSE Scottish Hydro Challenge.
The 27-year-old from Aberdeen shot a four-under 67 to emerge from the pack of contenders on a glorious afternoon in the Highlands and claim his maiden title on the European Tour's satellite circuit. He finished on an 11-under aggregate of 273, two ahead of Denmark's Joachim B. Hansen.
Most significantly, the €40,000 (£35,141) winner's cheque means Law jumps into the Top 10 of the Challenge Tour rankings in clear sight of one of the 15 cards for promotion to the big tour at the season's end.
Law is the second Scot to win on the Challenge Tour this year and the first to win the Scottish Hydro Challenge since George Murray in 2010.
Twice the Scottish Amateur champion, it's taken five years and 100 events for Law to win on this level.
Mentored by former Open champion and fellow Aberdonian Paul Lawrie, a family tragedy last year – David and partner Natasha lost their baby son stillborn – severely threw him and he admitted that as recently as six weeks ago he felt he had completely lost his way.
Two weeks ago in Belgium he led at halfway only to falter at the weekend, but this time despite losing the 36-hole lead on Saturday a strong fightback on the front nine got him within range for Saturday.
"I didn't think I'd be here," he said emotionally, choking back tears after his win. "About six weeks ago my head was all over the place and I was playing pretty rubbish.
"In five years out here I've never won and I've never been that close to winning to be honest. I had a couple of chances down the years but to do it here in Scotland with everybody that matters to me here is just amazing.
"There's more pressure this week as it's your home event but there's also more support and that's huge. Everyone was rooting me on and I felt that carrying me through.
"Now I'm lost for words. It was really, really good today."
Law had rallied on Saturday with four birdies in his last six holes to stay one behind going into the final day, and he moved into a share of the lead with Portugal's Pedro Figueiredo with his second birdie of the day at the seventh.
That became a three-way tie with England's Jack Singh Brar and a host of other contenders close by around the turn, but Law's birdie at the 11th and another at the long 13th – a hole he birdied all four days – opened up a crucial gap as others faltered on the back nine.
The tournament was effectively Law's when he drained a 20-foot birdie putt on the short 16th to open up a three shot lead, and although the fast finishing Hansen picked up three birdies in his last six holes Law "played smart" with two pars on the final two holes to clinch victory.
"It was really good all day," said Law, who had Lawrie walking all 18 holes with him, albeit at a discreet distance.
"Paul sent me a text on Saturday saying 'do you mind if I come up and watch?' and I said 'absolutely, it would be great'," added Law. "He can analyse everything, good or bad and we'll still talk about all of the things I did and what I did here."
Lawrie was thrilled for his young protégé, who he brought under his Foundation wing as a schoolboy.
"Davie's been at this level for a while, to be fair. He's probably said he's had a few chances and not taken them, but to go out and play like that today; I thought he was magnificent all day," said Lawrie..
"Kicking on, that's his next goal. I feel he's (big) tour level in terms of talent but he now has to kick on and prove that, get a really good card and kick on.
"He won't just think this win is great, and that's it. He's level headed, a really good lad, and he works really hard."
Lawrie also felt the emotion of seeing his young friend win at last.
"It means as much as when you do it yourself when you see the boys coming through," he said. "That's our (Foundation's) first Challenge Tour winner. It doesn't get any better that that, in fact it's quite emotional.
"He's a great lad and it's easy to help people who are like that. He's wants it desperately so all we can do is help him."
Another Scot, Duncan Stewart, finished with a 72 in a tie for 14th, with Robert MacIntyre (69) Grant Forrest (70) and Chris Doak (72) all tied 23rd.
Forrest, second last week in France, remains inside the top 10 of the Challenge Tour rankings with Liam Johnston, who won in Spain earlier in the year, inside the top 20.