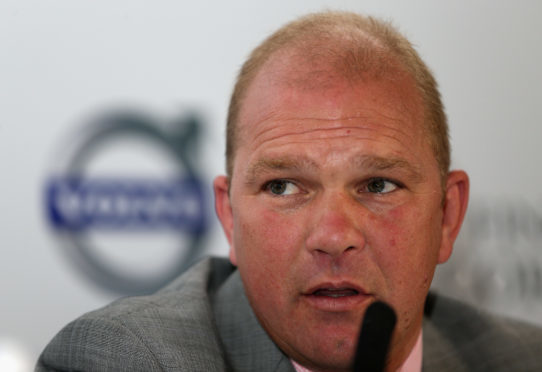 Colin Montgomerie sees his old manager and best friend Guy Kinnings as a lock for the next figurehead of the European Tour.
Kinnings, who was Monty's agent at IMG throughout the Scot's great years in the 1990s and early 2000s, has been appointed as Deputy Chief Executive and will take over the crucial role as Ryder Cup Director with the European Tour after this September's clashes with the USA in Paris.
The 55-year-old has been IMG's senior vice president and director of golf, but he joined the agency at the same time Montgomerie was starting out as a professional, and the pair were a fixture over nearly three decades together.
"I'm still having to work so Guy maybe was a rubbish manager," joked Monty. "No, it's a huge move for him and I'm really happy for him.
"We're still very close. We joined IMG at the same time 30 years ago and went through it all together, he was my best man, I'm godfather to his daughter.
"He's the right  man for that job. He was certainly thought about as a possible successor to George O'Grady as chief executive before Keith Pelley took over, and in time I think you'll probably find Guy taking over the role.
"He's very respected and the tour have moved quickly and rightly to get someone of his calibre."
In the meantime, Monty sees Pelley and Kinnings as the perfect team for the Tour.
"Guy's got the contact, the business aptitude and everything that the tour will require going for him," he said. "He's taking over the Ryder Cup role as well and that's an obvious move. It's now one of the biggest competitions in sport and he's been involved at every one over the last 20 years so he knows exactly what goes on.
"He has a good rapport with the PGA Tour, the PGA of America and everyone back home."
Montgomerie was taking time out before playing in the US Senior Open this week to promote the Open and Senior Open back home this July, part of his new sponsorship arrangement with Loch Lomond whiskies, the official spirit of The Open.
Monty as a whisky ambassador seems unlikely to those who knew him in his younger days on tour, but it's maybe a good sign of a more relaxed and mature man.
"My enjoyment (in playing) is the highest it's ever been," he said. "There's not so much pressure on me now to fight to set the family up.
"I'm more relaxed and enjoying my golf more. And as you've heard me say many times when you enjoy something you're usually quite good at it, and so I'm playing as well as ever I think.
"I know modern technology's helped me, don't get me wrong, the balls and clubs and what have you, but if I'd played like this in the 90s I'd have done as well as I did then."