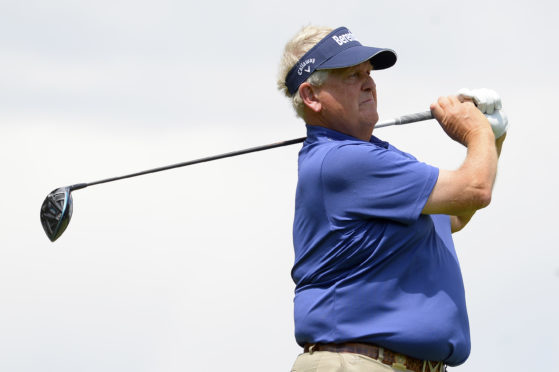 Never being one to avoid tempting fate, Colin Montgomerie is perfectly plain about what his goal for this current season is.
"When it was announced eighteen months ago that we were going to play the Senior Open on the Old Course at St Andrews, that's been what I'm working towards," he says.
"That's my season, that's the whole goal, to prepare properly for that event. They're all coming over from America and all looking forward to it, everyone wants to play and do well, especially me as the top Senior Scot, I suppose, at this time.
"It would be fantastic to do well. That's the plan of attack, really."
Monty will try to distill 30 years of Old Course experiences into a major championship win there, but he willingly admits that it's not been a simple process and the possibility of "doing something stupid" always remains there.
"It's taken a while to know my way around and I think in 2005, when I finished second in the Open to Tiger and won the Dunhill Links, I finally put that to bed," he said. "It took all four rounds in 1990, my Open debut, all four rounds in 1995 and 2000 and finally 2005 to find out how to get round there and actually score."
The Scot, 55 last week, has been reunited with his long-time caddie in Fifer Alastair McLean, who brings his own Old Course expertise.
"Alastair is there to stop me missing it up, really," he said. "It's very much a team effort to get round the Old Course and between us we know it as well as anyone.
"The first three days at St Andrews for me will be about getting in position, that is, do nothing stupid. Keep the ball where it should be, if the pin is at the front, don't be short, just common sense things.
"In the Seniors game, the idea is come off the course not having done anything silly, and that where's Alastair comes in, he'll stop me from doing something stupid!"
Monty believes there are three key holes on the Old Course he particularly needs to be careful.
"The first hole, straight off the bat, how many people have put it in the burn at the first hole?", he said. "It's a crazy stupid mistake but people still do it and if you don't get it up and down you've immediately made six.
"The next hole that's a potential disaster for me is 14, the par five, and that drive's becoming tighter and tighter, and you've got a big decision to make on the second shot as well.
"Of course you can't leave out 17 when anything can happen at any time, and no-one is safe with even a two-shot lead with two to go. Those are the three holes that I particularly worry about, they're the ones I'm thinking about already."
Five years into his Senor career, Monty is enjoying his golf like never before, but also working harder.
"I've had to practice as much as I ever had," he said. "We played in Denmark in a Senior event which I won, and I went to the range after my first round and it was like a 1990s European Tour event, Gordon Brand Jr, Peter Baker, Barry Lane and a few of the guys.
"They're saying, "Monty we've never seen you on the range before, what the hell's going on?" and I say, `Actually, lads, I do this most days now after my rounds in the US now'.
"The standards are such that I can't stand still. As soon as you drop standards there's new guys coming in and you're going to get overtaken.
"I playing against the likes of Steve Stricker who is competing in PGA Tour events and majors. Darren Clarke is coming into the Seniors this year, Jim Furyk and Ernie Els next year. The more the merrier as far as I'm concerned, it's great for Seniors golf, but the standard is so high.
"They all get a shock at how good the standard is when they come on the Seniors Tour. I was no different."
Monty won't try to qualify for the Open at Carnoustie this year – the US Senior Open is this weekend and final qualifying is on Monday – but he's fine with that.
"I'd love to play in both but on reflection I'd rather stay fresh for St Andrews than play a course like Carnoustie the week before," he said. "I have more of a chance of winning at St Andrews for sure.
"We all hope that (defending champion) Bernhard Langer plays all four days at Carnoustie and the weekend is rotten weather, and he's a wee bit tired for the following week!".