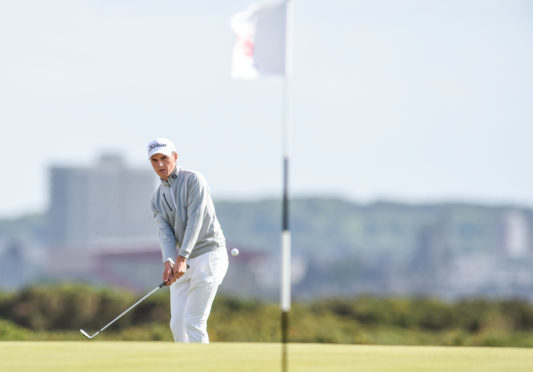 Sam Locke was barely born when the last North Easterner qualified for an Open Championship at Carnoustie but he's well aware of what happened after that.
The 19-year-old from Stonehaven, current Scottish Amateur champion and the son of PGA pro Andrew, booked his place in the stellar field for the 147th Open by winning the Final Qualifying event at The Renaissance Club with a superb seven-under total in breezy but beautiful conditions.
Locke was one shot better than fellow Scot Grant Forrest, who comes through qualifying for the second time having made it in 2013. England's Thomas Curtis, from Harrogate in Yorkshire, was the third qualifier at Renaissance on five-under, with another Scot, Scott Henry, just edged out.
Paul Lawrie was present at the course for the unsuccessful attempt by his son Craig to qualify and get to Carnoustie, but there was consoling news for the 1999 champion on the trip home that Locke, one of his Foundation players, had come through.
Lawrie famously came through Final Qualifying at Downfield prior to the 1999 Open before going on to his career-defining victory, but Locke is simply happy to be there.
Locke also works at the Lawrie Golf Centre coffee shop – where his Dad is also a teaching pro – and is expected to be back at barista duties this morning.
"I hope Marian (Lawrie's wife) is going to give me the week off," he joked after leading just the three qualifiers from a field of 72 on the East Lothian course.
"I've always wanted to play in The Open, to qualify for it at my first attempt, I'm obviously delighted. I played there about a month ago in an R&A patrons event and shot level par – I'd take that again!"
Locke was in a strong position even before he holed out from a greenside bunker on the short par four fifth – his 14th – to seize the lead from Forrest playing two groups in front. He was able to coast to the win in relative comfort after that.
"I was very solid tee-to-green today," he said. "And I holed a couple of putts, had a couple of things go my way – like the bunker shot going in for me.
"I probably would have been going to Carnoustie anyway to watch, my family have all bought tickets already and were on at me to get mine, but I guess I won't need to now."
Sam's Dad is his primary coach but Lawrie has been a long-time mentor and backer.
"I've had a lot of help from Paul. I've been supported by him for a number of years and he's been helping me a lot with my course management, as well," he added.
"It's brilliant to have a guy like that to turn to – and I'll definitely be asking him about Carnoustie.
"He might come down and walk a practice round with me, possibly. We'll see what he says."
Forrest, currently ninth of the Challenge Tour rankings, coasted through comfortably with rounds of 67 and 69. His first trip to the Open was as a 20-year-old amateur to Muirfield – literally over the wall from his family home – but he's well versed with Carnoustie as well.
"I got to the final of the Amateur there in 2015 and I played it a lot that week," he said. "It's one of my favourites courses.
"I feel I'll be much better equipped now at the Open than I was five years ago. Then I was more about taking in the experience seeing that environment. This year, I feel like I could do something.
"When you turn up as an amateur it's all new to you, big crowds and big attention. It's more just being in the environment and being comfortable in that, that's huge.
"Playing there and knowing you deserve to be there and you're good enough to be there; that's the biggest thing now."
Forrest's sole focus for the season is one of the Top 15 slots from the Challenge Tour for a European Tour card, and as a result he's missing the Scottish Open at Gullane next week to focus on an event in Italy.
"Carnoustie is mostly a bonus but 10 per cent of the points count on the Challenge Tour as well, that's a new addition this year."
Two players through from Final Qualifying boosted the Scottish competing contingent at Carnoustie to five, with former c hampion Sandy Lyle and tour player Scott Jamieson having exemptions while Russell Knox came through from his high finish at the French Open at the weekend.
The all-time low of Scots competitors in the Open is four, at Hoylake in 2006.
Curtis, a 30-year-old who spent a lot of his time on mini tours in the US, came through with a five-under total in third place. His previous biggest win was in a Par 3 event in Bermuda he entered when on his honeymoon.
Elsewhere former Us Open champion Graeme McDowell withdrew from the FQ competition at St Annes Old Links when he failed to be re-united in time with his clubs, which went missing in transit from the French Open at the weekend.
Three Englishmen, former Scottish Hydro Challenge winner Jack Senior, Marcus Armitage and James Robinson were the three qualifiers on the Lancashire coast.
Another former US Open champion, South African Retief Goosen, qualified third at Prince's in Kent, behind Icelander Haraldur Magnus and Tom Lewis, who led the Open as an amateur after the first round at Royal St George's in 2011.
Former Dunhill Links champion Oliver Wilson was one of the qualifiers from the FQ competition at Notts Golf Club.