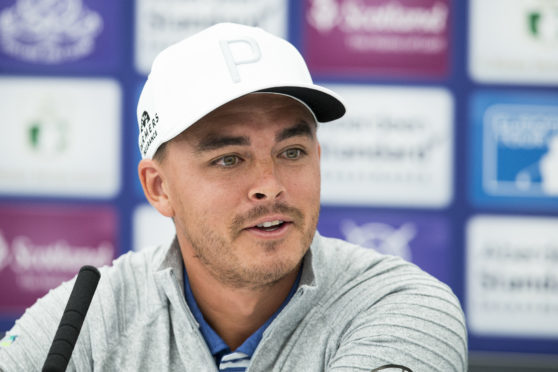 Rickie Fowler and Patrick Reed are at Gullane to give their all in the Aberdeen Asset Management Scottish Open, and both regard themselves as "international" players…but we really know what they're "overseas" this next two weeks.
The 2015 Scottish Open champion at Gullane and the Masters champion are trying to tune up to links golf for Carnoustie, and both of them made flying visits to the Open Championship venue this week.
Fowler played North Berwick on Monday to get rid of some of the jetlag torpor, then hopped over to Carnoustie to familiarise himself with a course he knew only from a golf simulator.
"It's like playing a video game but you get to hit the shot," he said. "Obviously there are big differences when you see it in person but it's cool to step up and at least recognise what you're looking at.
"It's a little help, just to help you not be completely surprised with what you find."
Carnoustie was "a little mellow" in terms of wind speed but "firm and fast", he reported.
Fowler is also keen to do well at Gullane, however, where the club have named a room in the clubhouse after him.
"That's pretty cool," he said. "I have a couple of drinks named after me at bars where I went to college, but I don't know of anything else."
Reed said that Carnoustie was "the firmest course I've ever played" and he was prepared for a real challenge.
"Ball-striking is a premium, and putting the ball in the right spot is key because you can play those holes 5,000 different ways.
"It's going to come down to who can manage the good breaks and bad breaks. It's going to be one of the most complete tests with all different kind of winds.
"You're going to get all different kind of club selections, shots you're hitting into the green, and it can drive you nuts mentally."
Reed – tied second, first and fourth in his last three majors – has not brought the Green Jacket with him this trip.
"If I'd lost it something overseas, it would not be good," he said. "When I wear it out, I love the energy that it brings, people are friendly and want to see it.
"But I usually just wear it around the house. Just when I'm getting ready to play golf. Nothing crazy!"