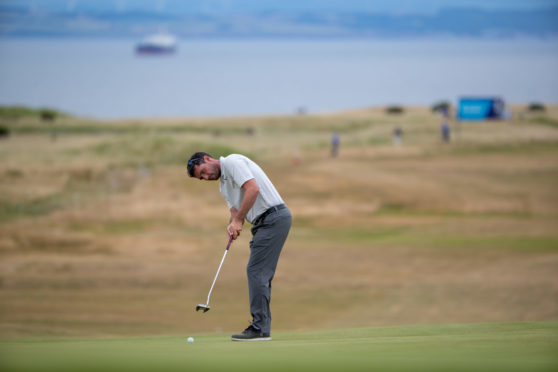 The temptation to play through the pain is almost as bad as the pain itself for Peter Whiteford, but many more days like the first at the Aberdeen Standard Investments Scottish Open might lead him to reconsider his apparent retirement from tournament golf.
The 37-year-old Fifer qualified for Gullane at the weekend to play in his 200th European Tour event and first big one since 2016, having opted not to battle an arthritic hip condition that wore him down the latter part of a seven-year career on the circuit.
His opening five-under 65 left him tied with Masters champion Patrick Reed, two behind US invitee Luke List who shot a course-record equalling seven-under 63. The 33-year-old from Seattle, exempt from the Open but without a win on the PGA Tour as yet, could even afford two bogeys as he snatched the outright lead in one of the last groups of the day.
Just behind List is a five-man jam at six-under – former Scottish winner Rickie Fowler and Lee Westwood among them while threats like Tyrrell Hatton, Ian Poulter and Danny Willett are not far away.
Good company indeed for an ailing Whiteford, wondering whether he can become a part-time player at this level, or maybe even undergo expensive surgery to cure a problem roughly similar to the one that plagued Andy Murray in the last two years.
But having a young family means the safer option is to stay as an assistant professional in training at Linlithgow Golf Club, possibly dipping in and out of pro golf. It's a heady thing when he's in there, though.
"Any professional athlete who stops misses the buzz, the adrenaline and all the rest that comes with it," he said. "That's the bit I found hard to deal with when I finished playing full-time.
"I would love to be back out here playing, only last year I felt it wasn't enough to practice less and play fewer events, that was for better players than me, so I knocked it on the head.
"But you never know, if this week goes great, I wouldn't rule anything out."
Surgery like Murray had is an option, but it's expensive, not guaranteed to work and the road back is a long one, as the tennis great has discovered.
"I don't want to do it just to get on the Challenge Tour," continued Whiteford. "I could possibly do it, maybe if I were to have a phenomenal week here. Or I could play less and practice less, but I never thought I was good enough to be one of those players.
The problem is pain starts if he plays too much, and he feels himself waiting for that sharp jab as he swings, with attendant ill-effects on how he hits through the ball.
"I'll not hit balls today now because I'm trying to manage it," he said. "I loved every minute of it out there today and I just hope that I can keep it going."
List has little experience of competitive play on links, just a Palmer Cup at Prestwick in 2006 when his US team "got whacked pretty good by Team Europe".
"But it was a great trip, I stayed on with my family for a few days and got to play Troon, Turnberry and Muirfield," he said.
"That was my first taste of links golf and I haven't been back since so it's nice to be back here and look forward to the rest of this week and Carnoustie for my first Open."
List is into The Open on his FedEx Cup performances this year, although a playoff loss to Justin Thomas in the Honda Classic is his best result. He was one of only three invitees into this event.
Conditions couldn't have been more accommodating at Gullane, with little wind, the fairways not running as fast as they looked and the greens soft and welcoming. More than 120 players were par or better, and while the organisers don't want a massively tough setup with the Open at Carnoustie coming up, they surely want it to be a little more challenging than this.
Winds are forecast to get up and the greens are unlikely to see much water over the next few days, which should make things less accommodating and weed out a crowded leaderboard.
It seemed at different points in the day that several players could tear up the course record, especially Reed who surged out in 29 but didn't have a single birdie on the back nine and bogeyed the long 16th.
Fowler eagled the short par four sixth – he'd done it in practice as well – but didn't have any birdies after the 13th when it seemed he had the course record in his sights.
Westwood, Robert Rock and the young rookie Swede Jens Dantorp didn't drop a shot in their 64s. The latter two are gunning for a place at Carnoustie if they can hang on for one of the three remaining places.