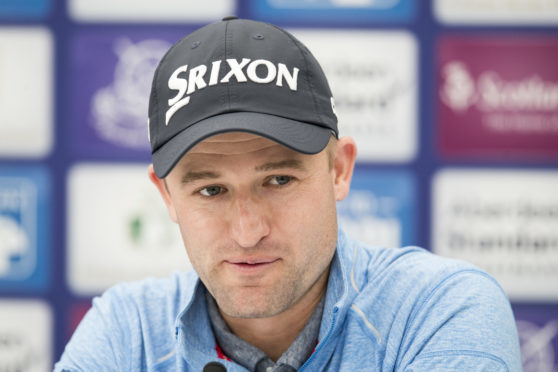 It could be a whole new way of playing tournament golf – just over 12 minutes of concentration required per round and spent the rest with your head in the proverbial clouds.
Can't see it catching on, to be honest, but for Russell Knox it worked gloriously at Gullane as the Irish Open champion began to feel the gruelling effects of his charge over the last few weeks.
Knox had said that he was going to "crash and burn" through exhaustion at some point, and he felt it happened yesterday. Yet he still managed a three-under 67 to be inside the top 12 on seven-under going into the weekend.
"In that respect it was probably my best round of the year," he said. "After about three holes I felt like I'd got hit by a bus and I couldn't focus all day. My whole body aches from head to toe.
"I'd said at the start of the week that at some point I would crash and burn, and that might have just happened. So I was proud of myself the way I hung in there."
He did it by wilfully going "away with the fairies" between shots.
"I tried to just completely check out after I'd hit – I just went away with the fairies – then when it's my time to hit I'd flick the switch and get into it as much as I could," he explained.
"You can't concentrate for five hours out there feeling like this, but if you can concentrate for 10 seconds standing over the ball hopefully 67 times or less then maybe I can pull through."
What did he think about between shots?
"Everything from cheeseburgers to lasagne to whether I'm going to nap for two hours or maybe three after the round," he said. "Whatever gets you through it."
He was headed to the physio and a nap after completing his morning round, but expecting to be refreshed for the third round.
"I feel confident for the weekend," he said. "Obviously I'm in decent position but will still need two massive rounds to move up, especially if the weather is like this.
"I'll take it one shot at a time and see where it gets me."
Knox's friend Duncan Stewart was right behind him, making a blistering start for five birdies in the first six holes but a late bogey left him with a mere 64 to lie on six-under.
Stewart is hoping for a strong enough finish to convince him to try and get more starts on the main tour rather than the Challenge Tour after losing his full playing rights, but he's ruling himself out of any more advice to Knox, his friend since junior days.
"I know he's tired," he said. "I almost texted him after France to say you should maybe pull out of Ireland to conserve energy but now I'm glad I didn't!
"He'll be there next week. Hopefully we can have a practice round at Carnoustie…that's would be a good plan, if I can qualify here."
Stewart was one of the three through final qualifying for Gullane and another, Jamie McLeary, shot a second successive two-under score to make the cut. Stephen Gallacher, despite a bogey at the last, shot a 66 to finish on four-under.
For Peter Whiteford, however, thoughts of a revival his tour career went on the backburner as he followed his opening 65 with a disappointing 74 to miss the cut.
Bradley Neil looked like he was going to make the weekend with birdies on 11 and 13 taking him to four-under, but bogeys on 14 and 17 followed and he missed by a shot, along with Richie Ramsay and Martin Laird on the same mark.