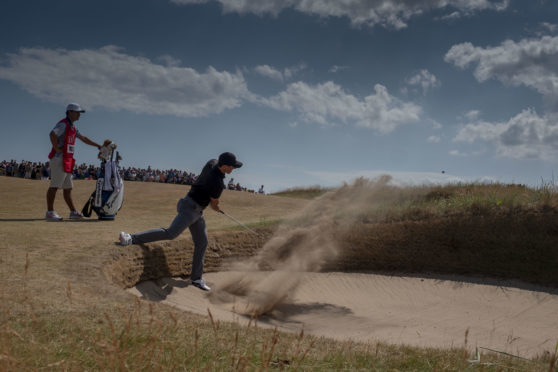 There was no firm and conclusive strategy on how to take on a burned brown Carnoustie on the first day of The Open, with the leading golfing theorists split on how it should be done.
Master strategist Tiger Woods (well, by reputation he's a master at least) played under the course just as he did at Hoylake in 2006, irons off the tees, trusting in long iron approaches.
However six missed greens in regulation – five of them par fours – illustrated that this was at least a questionable plan for the three-time champion.
He was wearing visible patches after suffering from stiffness in his neck and upper back, although that was "no big deal" he said, caused by sleeping with a bad pillow.
"It's not the first time I've been bandaged up, I've been doing this for years with the back," he pointed out.
"I thought I played a pretty solid round, unfortunately I didn't birdie either of the par fives and I hit eight-iron into both of them," he continued. "I think I played better than the score indicates.
"The difference to Hoylake is that it's flat there, and here there's a lot of definition on the fairways. You end up on some burned surfaces and it rolls into difficult spots, so it's quite a challenge."
He said the wind direction from South-South-East dictated his policy of irons-only.
"If the wind comes from a different direction then I can be more aggressive," he said. "It's one of the challenges of this golf course that the wind changes direction so much."
Rory McIlroy, Jon Rahm and Dustin Johnson tried a wholly different approach, trying to smash the living daylights out of the course and use as much of the apparently endless run as possible.
Others played a cannier game, trying to do a bit of both. In the end the best test results of the day came down to leader Kevin Kisner's outrageous 22 putts more than anything he did off the tee boxes.
Jordan Spieth reckoned that the huge number of options available just led to confusion and second guessing. Golf's primary theorist of the day, Bryson DeChambeau, looked among the most confused as he struggled to a 75.
Of the bombers, McIlroy mostly got away with his aggressive approach, Rahm declared his method to be a success, Johnson floundered and limped home with a five-over 76, the World Number One maybe out of the tournament already.
Rory admitted he rode his luck a little to his 69.
"I didn't see the fairway much, but it's very playable off the fairway," he reasoned. "If you play aggressive here, you're might make some more bogeys but you'll get more looks at birdies too."
In addition, he added, he didn't actually drive it all that well.
"I definitely think that's the worst I'm going to drive it this week," he said. "Tomorrow I'll have the same strategy, but I'll hopefully hit a few more fairways.
"Jon (Rahm) shot two-under as well, didn't he? He was probably even more aggressive than me."
The big hitting Spaniard certainly was, but he wasn't reckless.
"Did it work, you tell me?" he said. "I didn't overuse the driver, more I had an understanding of when I could hit it.
"Some holes the rough is so thin and if you take driver, you have a wedge in. You actually have an easier shot."
Both McIlroy and Rahm played outstandingly down the back nine when wind conditions were getting up. Rory actually missed a couple of chances to go even lower, especially a 10-footer on the final green.
Rain is expected this morning to make this grand experiment of links golf even more confusing.