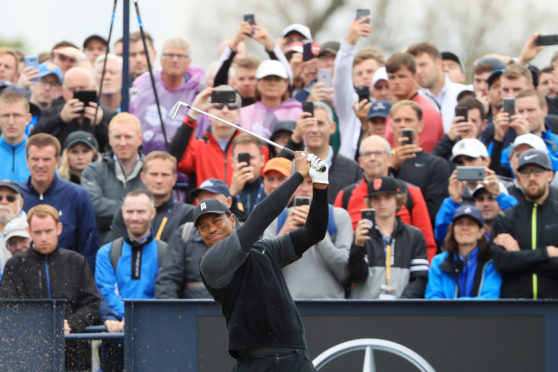 Tantalisingly, like on Thursday, it felt that it was just there, waiting to happen…and it didn't.
Tiger Woods is at level par, his best start to a major championship since Hoylake in 2014. But two 71s seem like cold kale, and at times frustration resulted.
Like on the 14th, when finally managed a birdie at a par five at the fourth attempt. However it came from a tap-in after 15 foot putt for eagle lipped out, mere consolation, and he cursed under his breath at what felt like another missed chance instead of a step forward.
Tiger has played at the worst end of the draw, and in his "sector" only Brooks Koepka has played better than he – although Woods could argue he's been much more consistent than the US champion.
It seems that every time something big is about to happen, and then something odd happens – like a mis-hit off a slope of rough on the second which went straight into the galleries, or at least into their umbrellas.
That was the first of back-to-back bogeys, which he corrected with successive birdies immediately. But every time there was a step forward there seemed to be a step back.
"I played a little bit better yesterday," he said at the end of it all. "I finally birdied the par five, so that's a positive.
"Right now I'm six back, and by day's end, I think I'll be more than that. It will be a pretty packed leaderboard, but I'm certainly right there in it."
His frustrations are not quite mirrored in the galleries, which remain as loyal as ever.
"You know, it's incredible," he agreed. "I've had most of my success, obviously, twice over at St. Andrews.
"I've played well in Scotland, but I haven't played in The Open Championship for a couple of years. It's fantastic to have the support we've had.
"For as many people that came out in the rain today to support us – nine is one of the furthest points on the golf course, and they walked all the way around cheering for us. Certainly, it's very appreciated."
Some of us wonder when, if he continues to hang on the verge of really doing something outstanding but not going over, the avid galleries might start to lose interest. By his demeanour, however, it seems possible that his own frustrations might reach breaking point long before that.