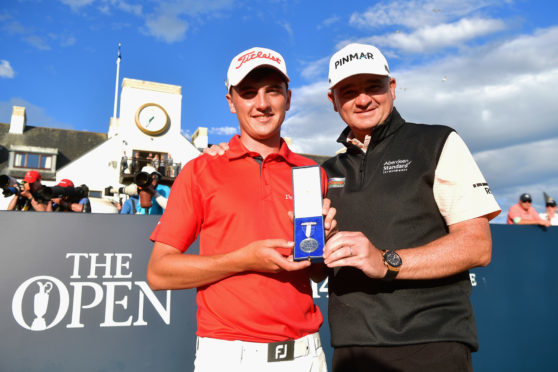 Sam Locke has turned professional with immediate effect less than 24 hours after winning the Silver Medal at the Open Championship at Carnoustie.
The Stonehaven player, still only 19, secured the title as the only amateur finisher in the 147th Open on Sunday, joining such luminaries as Tiger Woods, Rory McIlroy, Sergio Garcia and Justin Rose as previous Silver Medal winners.
He was the first Scot to take the honour in 13 years, but the son of PGA pro Andrew Locke and protégé of former Open champon Paul Lawrie has wasted no time in declaring he will enter the paid ranks.
"It's something I've always wanted to do," he said. "It has been a genuine goal of mine to play golf for a living for some time now.
"My dad, who caddied for me this week is a PGA Professional at The Paul Lawrie Golf Centre and obviously I have close ties to Paul, so I have an understanding of what it takes to be successful in the pro game.
"My experiences over the last week or so, since I won the Open qualifier at Renaissance and throughout last week have allowed me to see things from a different perspective."
Sam was working as a coffee barista at the Paul Lawrie Centre to finance his golf activities as an amateur, while being supported by the 1999 Open champion's foundation. He will continue to get support from both the centre and foundation.
He was also due to defend his the Scottish Amateur Championship title he won at Prestwick last year at Blairgowrie Golf Club next week, but instead will turn his attention towards preparing for his professional debut over the coming weeks.
Lawrie said that Sam's performance in the Open had underlined his belief he was ready to make the step up from the amateur ranks.
Lawrie said: "Winning the Silver Medal was hugely impressive and whilst this is just the beginning of the journey for Sam I certainly think he's ready to make the transition and I'll be on-hand to give him any advice he feels he may need along the way."