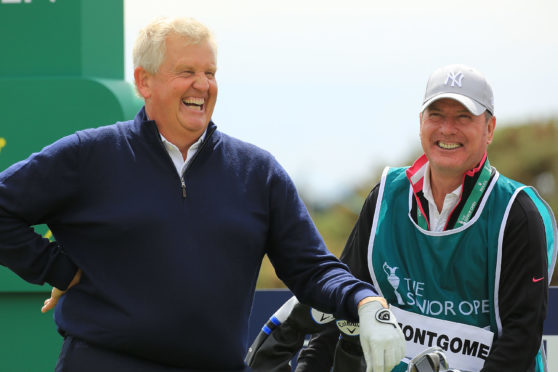 Colin Montgomerie knows that "this is it now" for him, and as a result his resolve this week is redoubled.
No, the Scot isn't about to jack it all in – yet – but he knows that the Senior Open is now his pinnacle, and he doesn't know whether this championship will ever come back to St Andrews.
"I might not play in an Open Championship again, without having to qualify, so this is it, isn't it?" he said. "If you're not playing in The Open, well, you'd love to win the Senior Open.
"It was interesting that Freddie Couples, when he won this championship a few years back, he said that it was his No. 1 after the Masters.
"Winning the Senior Open means a lot to me, and it means a little bit more because it's at St. Andrews. I mean, we might not be back here, so this is a one shot."
The problem? There's a lot of other quality players who feel exactly the same.
"I'm speaking to people on the Champions Tour and they have all said: Of course I'm coming over, it's St. Andrews," he continued. "Kenny Perry doesn't travel really at all, but he says `of course I'm coming to St. Andrews'.
"It's the largest entry we've ever had at a senior event anywhere because it's St. Andrews and let's hope we can do something, like The Open, where the Senior Open can come here once every five years or something, wouldn't that be fantastic?"
Monty has been coming to St Andrews for 40 years now, and only recently feels like he's got the hang of it, and he feels that with a wind – as forecast all week – it's still competitive despite the spate of low scoring in recent events.
"They tried here, they put a tee on the Himalayas putting green, stretched 13, 14 and of course 17, put it back 20, 30 yards," he said.
"Without a breeze, these courses are open to very low scoring. The advantage here you have is that you can hide the pins.
"There's only two courses on The Open rota that I feel don't need the breeze to protect themselves, Birkdale and Carnoustie."
And once Carnoustie was mentioned he was off, Monty in usual Wednesday form with a view on everything in in the game.
Like Tiger: "He's been in a position I think coming on half a dozen times now where he's been in position and hasn't finished it off.
"He got in the position where he was leading at the eighth tee, things were going well. Suddenly, from (being) in a zone, things started going wrong. He started shouting at the ball; started being more tense; started being more anxious.
"You feel that the tension. He's not immune to that. Can he win a major? Yes, obviously. He was leading after 64 holes for goodness sake, or damn close. I think he'll learn from that experience, his biggest test yet since he's come back."
Or the Ryder Cup: "Very, very confident. It's amazing what an Open victory does to a team mentality, and not just (Molinari). Thomas (Bjorn) is probably looking at the best team that we've had assembled for, well, almost ever.
"The new boys are not rookies anymore, they're world players. Alex Noren , Jon Rahm, Tommy Fleetwood, all world players. We haven't had that before. Our rookies had to be hidden and, you know, protected, fathered, really, through that.
"It's looking extremely good for Thomas. The mentality of a European breaking that run of American winners in the majors That will give confidence to the rest of the lot, as well."
Francesco Molinari: "Flawless. Not to drop a shot on that course in the last 37 holes, on that course, that's incredible golf.
"Probably one of the great displays, because ten people could have won that Open. You know, he was a real rookie (ta the Ryder Cup) eight years ago.
"Now, now, all I'm hearing from McIlroy, Rose and everybody else, the stalwarts of the team is: "Can I play with Molinari? Can I play with Frankie, please, Thomas, because he's that good and doesn't miss a shot."