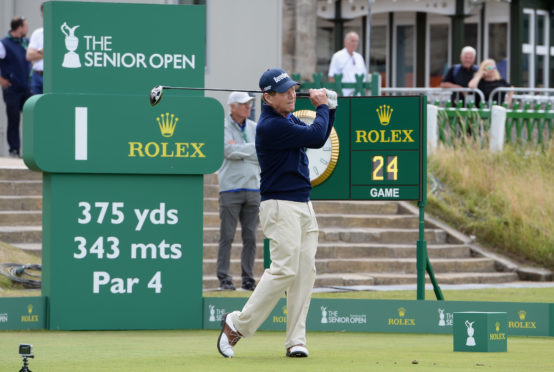 Tom Watson had a long pause after he answered the first half of the question of whether he felt his career was missing something in that he had never won on the Old Course.
"I always remember what Jack (Nicklaus) said, `Your career is not complete unless you've won an Open Championship at St. Andrews.'
"In a sense, he's right. This is the oldest venue in golf. It would have been nice to have that feather in my cap.
"But I can't complain," he added with a twinkle in his eye. "I've got a few of them."
Despite the fact it wouldn't give a title to him – not yet anyway, he likes his form coming into this week's Senior Open and won the pro-am – St Andrews is Tom's favourite venue in golf.
"We go over to the cemetery to see Tom Junior's grave site and (enjoy) the historical part of it, St. Andrews University, being honoured there several years ago with Arnold Palmer," he recalled. "That was a very special event, and walking by that evoked some really strong memories.
"I've seen the town change since I first started here. In 1978 there wasn't much here in the town. The restaurants, the various things, it was pretty closed down at night. Not a lot going on. Now there's a lot going on here, and it's fun.
"St. Andrews is my favourite venue because the town's right here on the 18th hole. And of course at ten o'clock at night back in 2015 they all came out of the pubs to see some old has-been finish up his Open Championship career here."
He's had two farewells on the Swilcan Bridge, he adds, and hopes that a third this week is not the last of all.
"Life goes on," he said. "It may very well be my last competitive round here. I don't know whether they will come back here with the Senior British Open or not.
"I know if I feel like I'm capable, I would play in it again here. I don't plan on hanging them up yet. "But this game is diabolical. Yesterday, you never want to admit it, but I was pretty happy the way I was playing. I give myself a chance here.
"But you know just as quickly, it can take you away from you. It can take it right out of your gut.
"You make decisions now a little bit more tempered. `Okay, let's see what my real abilities are to be able to play this game'. That's why I hung it up at the Masters. I couldn't play the golf course. It's just too long."
St Andrews, with the run on burned fairways, gives him a chance, he feels, but also because he believes the course is easier for other reasons.
"It's been easier because they have taken all that gorse out," he pointed out. "The first time I saw it was 1978 and they had a lot of gorse on the Old Course.
"They have taken most of it out. You had to worry about the gorse — to the right of No. 4, back in the old days, I would hit it over the mound in the left there and I would hit it far enough to get it in the fairway but I can't do that from the tee we're playing.
"We're only playing two shorter tees now than we did in The Open Championship in 2015. We're playing from the back tees on every hole and that makes No. 2 really tough for everybody. Makes No. 4 really tough for everybody."