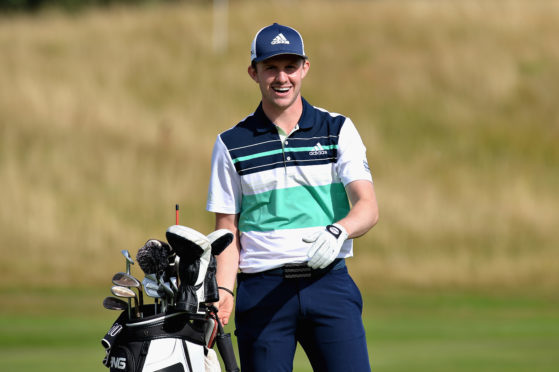 Connor Syme and Liam Johnston go way back to putting competitions on the practice green at Dumfries and County Golf Club when they weren't yet in their teens, so they were an obvious combination for the European Team Championships at Gleneagles.
Back then, they weren't even thinking about professional golf and playing on the European Tour.
"When we were younger it was just about who was going to win the ball that day," recalled Liam. "We've had putting competitions since were 10 or 11 years old, when Connor's Dad was the head pro at Dumfries and County."
Connor is now on the European Tour, while Liam is on the Challenge Tour and both have some success, Syme a second place in Austria and a thrilling 62 in the Scottish Open at Gullane while Liam won on one of his first starts on the junior circuit.
But they're both looking forward to playing at home and for Great Britain, Connor having done that already in the Walker Cup.
"We had loads of match-play golf as amateurs, so it's not new to us at all, although a slightly different format, better-ball, this week," said Connor. "But it looks a fun format, so we are both looking forward to it and being part of it."
The format sees the young Scots teamed up as Great Britain 3, playing in Group B and their opening game is against the Welsh/English duo of Rhys Enoch – who played all our rounds at the Open three weeks ago – and Charlie Ford.
"It's so cool to be representing Great Britain," said Liam. "It'd be great to look back on in years to come if you were to win a medal."
There are 32 teams representing 16 nations competing in the event – sanctioned by the European Tour and Ladies European Tour but under the umbrella of the Glasgow 2018 European Championships – split into four groups, and the first three days features round-robin fourball matches on the PGA Centenary Course.
On Saturday the competition becomes strokeplay for a day with mixed teams from each nation competing against each other for medals. On Sunday the competition reverts to matchplay and single-gender, with the group winners playing off in semi-finals and finals to determine the medallists in men's and women's competitions.
For the first time, mens and women's teams are playing for equal prize money. As well as Syme and Johnston, home fans can cheer on Solheim Cup captain Catriona Matthew, who will be partnered by England's Holly Clyburn, and Aberdeen's Michelle Thomson, who will play with Meghan Maclaren, also of England.
Wednesday games
Group A
8.00 am: GB W1 (Georgia Hall and Laura Davies) v Spain (Noemi Jimenez and Sylvia Banon)
8.15: Germany W2 (Isi Gabsa and Leticia Ras-Anderica) v Belgium (Chloe Leuquin and Manon de Roey)
8.30: GB M1 (Callum Sinkwin and Lee Slattery) v Spain 2 (Santiago Tarrio Ben and David Borda)
8.45: Sweden M1 (Per Langfors and Johan Edfors) v Sweden 2 (Daniel Jennevret and Oscar Floren)
Group B
9.00: France W1 (Celine Herbin and Astrid Vayson de Pradenne) v Germany W1 (Olivia Cowan and Karolin Lampert)
9.15: France W2 (Justine Dreher and Manon Molle) v Sweden W2 (Johanna Gustavsson and Julia Erigsson)
9.30: GB M2 (Rhys Enoch and Charlie Ford) v GB M3 (Connor Syme and Liam Johnston)
9.45: Italy M2 (Francesco Laporta and Allesandro Tadini) v Ireland (Michael Hoey and Neil O'Briain)
Group C
10.00: Iceland W (Olafia Kristinsdottir and Valdis Thora Jonsdottir) v GB W3 (Meghan Maclaren and Michele Thomson)
10.15: Finland (Ursula Wikstrom and Noota Komulainen) v Austria (Christine Wolf and Sarah Schober)
10.30: Spain M1 (Pedro Oriol and Scott Fernandez) v Portugal (Jose-Felipe Lima and Ricardo Santos)
10.45: Poland (Adrian Meronk and Mateusz Gradecki) v Denmark (Martin Ovesen and Niklas Norgaard Moller).
Group D
11.00: GB W2 (Catriona Matthew and Holly Clyburn) v Sweden W1 (Emma Nilsson and Lina Boqvist)
11.15: Norway W (Marianne Skapnoord and Marita Engzelius) v Sweden W3 (Cajsa Persson and Linda Wessberg)
11.30: Italy M1 (Lorenzo Gagli and Guido Migilozzi) v Norway M (Jarand Ekeland Arnoy and Kristian Korgh Johannesen)
11.45: Iceland M (Birgir Hafthorsson and Axel Boasson) v Belgium M (Christopher Mivis and Lars Buijs)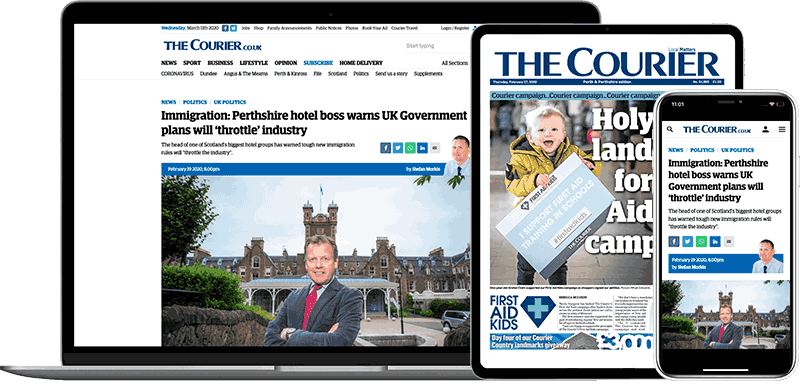 Help support quality local journalism … become a digital subscriber to The Courier
For as little as £5.99 a month you can access all of our content, including Premium articles.
Subscribe