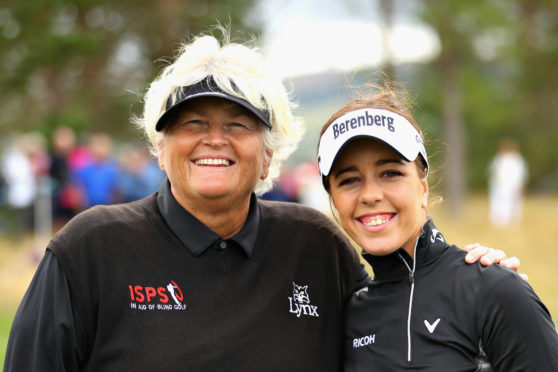 Great Britain ended the first day of the European Team Championships with a 90 per cent success rate, which in any other discipline in Glasgow 2018 would be cause for celebratory cartwheels.
However, golf, even in this unfamiliar format, is different. At Gleneagles, four wins and a half on the first day amounts only to a strong start and medals are still a long way away.
The two queens of British golf, Dame Laura Davies and Captain Catriona Matthew, both played excellently guiding their younger partners – even if one of them was the new British Open champion Georgia Hall – to handsome victories.
The only British duo out of six competing to lose on the day lost to another British team – the all-Scottish team of Connor Syme and Liam Johnston defeating Rhys Enoch and Charlie Ford. Michele Thomson made it a clean sweep for the Scots combining with Meghan Maclaren to beat an Icelandic duo.
However it was impossible – if still unfair – not to compare this event with the last elite golf tournament played on the PGA Centenary Course. The memories of crowds seven or eight deep lining the first hole at sunrise for the Ryder Cup four years ago couldn't help but come flooding back.
The only thing the new event has more than the Ryder Cup, it appears, is volunteers, with scores of people in purple uniforms at every turn.
Matthew will be back here in just over a year skippering Europe in the Solheim Cup (with a few more spectators one imagines) but she thought all was well for a new event.
"I don't know what I expected, to be honest," she said after partnering Holly Clyburn to a 4 and 2 victory over Sweden's Lina Boqvist and Emma Nilsson.
"The whole set up is great. The event will grow and grow, it's always difficult the first year, but I was pretty pleased."
Catriona had a captain's eye on the course – "very tricky downwind and crosswind when the greens are firm" – before she and Clyburn had "a little chat" on the 10th tee, explained the 27-year-old, an old hand at team golf herself from a glittering amateur career.
"It wasn't a captain's chat!" said Holly. "It was just we'd had nine holes of warming up and it was time to put the foot on the gas." The pair won the next three holes to put decisive distance between them and their opponents.
Syme and Johnston dovetailed perfectly despite a slow start to down Enoch and Ford, the Drumoig man's run on the high holes before the turn moving the game in their favour.
Johnston had holed a good putt on the sixth green to keep them one down and Syme birdied the next three to take them into control, and they cruised to a 4 and 3 victory.
Connor was at the Ryder Cup at Gleneagles and that and caddying for his Dad were his only experiences of the PGA Centenary Course before this week.
"Obviously there weren't quite as many people on the first tee today, but it was good to reminisce on some of the shots that were hit that week," he said.
"For example you realise just how good Jamie Donaldson's winning shot on Sunday was on the 15th. It's only when you are playing the hole that you realise how difficult it was."
They'll play the Irish duo of Michael Hoey and Niall O'Briain in their second match knowing a win will give them an excellent chance of playing in Sunday's semi-finals.
Thomson and Maclaren romped home 5 and 4 in their game, but it was Laura Davies who did most of the donkey work in the opening game of the day, partnering Georgia Hall to a 5 and 4 victory over Spain's Noemi Jimenez and Silvia Banon.
The pair were nine-under par, Hall contributing a couple of early birdies before Davies' old Gleneagles expertise – she's won strokeplay and matchplay events here – took over.
"When one of us was slightly out of it, the other was right in amongst it," said Davies. "We didn't really give them too many chances."
"I won a match-play tournament (the WPGA International Matchplay) here in 2001, beating Janice Moodie in the final. I love playing this format, it's always great fun.
"This course is better than I remember it, but it's 16 years older now."
Georgia diplomatically described the atmosphere as "a little bit tranquil" after her win at Lytham, but she didn't mind.
"It's quieter, but it's nice, and it's a new week," she said. "It was lovely being announced as British Open champion, and Laura being announced as the US Seniors champion."