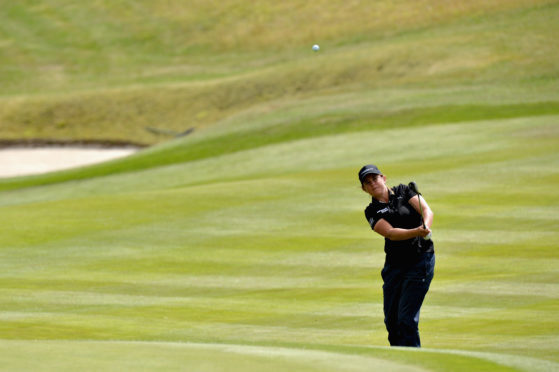 The "underdog" girls from Great Britain are into the semi-finals of the European Team Championship at Gleneagles as all three men's teams crashed out on a day of soggy confusion on the PGA Centenary Course.
The first truly decent crowds of the week were met by heavy rains – almost predictably – and they were out in some numbers following Laura Davies and Georgia Hall blasting their way into the Sunday play, although not quite in the manner the pair expected.
After three days dovetailing perfectly at fourballs, the qualifiers now must switch to foursomes not just for today's mixed team event but also for Sunday's semi-finals and finals.
"Why would they do that?" asked a nonplussed Davies, who clearly expected to carry on regardless at fourballs after she and Hall won their third group game out of three, having not yet been troubled to hit off the 17th tee.
The reasoning for switching to the quicker foursomes format is that Sunday's play has to fit within the wider schedule of the multi-sport championships, and a potential five hours of fourballs was going to get in the way of other things, specifically the athletics finale in Berlin.  Five hours, given the pace of play of some teams – not the GB ones – was maybe not even a generous estimate.
Less expected into the last four of the women's competition were Michele Thomson and Meghan Maclaren, the self-proclaimed "under-the-radar" team, although admitting they might have  played their way out of that role.
Thomson played the shot of the day on the 18th in their contest Ursula Wikstrom and Noora Komulainen, a tricky pitch from 40 yards across the undulating green to within a foot when the half the GB pair needed to progress seemed as if it might be slipping away.
"I saw a couple of girls come up short so I thought I'd need to fly it most of the way there and let it roll down," she said. "It was probably one of the best shots I've ever played, and the putt was maybe the biggest of my professional career so far."
Thomson was training to be a policewoman when she decided to give pro golf one more try, and yesterday vindicated that decision.
"I missed the feelings I got out there when I was pounding the beat," she said. "You don't get many chances to win a gold medal when you're in the police." The 30-year-old is now guaranteed a €15,000 cheque, three times her winnings on the Ladies European Tour this year.
But those were to be the last successes for Great Britain on a day when they had realistic hopes of getting five of the eight semi-finalists and ended up with just two.
Catriona Matthew ran out of saving putts despite five birdies to her name in the defeat in partnership with Holly Clyburn at Sweden's Cajsa Persson and Linda Wessberg, who go forward into the semi-finals to meet Davies and Hall.
In the final match of the day Connor Syme and Liam Johnston needed just a halved match on countback against Italy's Alessandro Tadini and Francesco Laporta, but despite a two-up lead at the turn the Scots pair came to rue losing the 15th to a par which took them one down with three to play.
They managed to squeeze a half in fours out of the 16th after Laporta hit the pin with his third, but both Scots missed birdie chances at 17. Laporta and Syme played similar second shots into the bunker on the right of the green and identical bunker shots to two feet, but the half was all the Italians needed to progress.
Neither of the other two GB men's teams was able to progress either, the GB2 duo of Rhys Enoch and Charlie Ford losing for the third match in succession while the top ranked team of Callum Shinkwin and Lee Slattery went down to the Swedes in Group A.
Today's play sees the format switch, with teams of four split into mixed pairings playing strokeplay foursomes over 18 holes. The "underdog" team of Maclaren and Thomson, partnered with and Johnston and Syme might be worth a wager or two in this discipline as well.
Day three results
Group C: Iceland W (Kristinsdottir/Jonsdottir) halved with Austria W (Wolf/Schrober); Great Britain W3 (Maclaren/Thomson) halved with Finland (Wikstrom/Komulainen); Denmark (Ovesen/Moller) bt Spain M1 (Oriol/Fernandez) 4 and 3; Portugal (Lima/Santos) bt Poland (Meronk/Gradecki) 5 and 3.
Qualifiers: Great Britain W3, Spain M1.
Group D: Sweden 3 (Persson/Wessberg) bt Great Britain W2 (Matthew/Clyburn) 2 holes; Norway (Skarpnord/Engzelius) bt Sweden W1 (Nilsson/Boqvist) 2 and 1; Italy M1 (Gagli/Migliozzi) bt Belgium (Mivis/Buijls) 4 and 3; Iceland M (Hafthorsson/Boasson) bt Norway M (Arnoy/Johannessen) 1 hole.
Qualifiers: Sweden W3, Iceland M.
Group A: Great Britain W1 (Davies/Hall) bt Belgium (Leurquin/de Roey) 4 and 2; Germany W2 (Gabsa/Ras-Anderica) bt Spain W (Jimenez/Banon) 2 holes; Sweden M2 (Jennevret/Floren) bt Great Britain M1 (Shinkwin/Slattery) 3 and 2; Spain M2 (Tarrio Ben/Borda) bt Sweden M1 (Langfors/Edfors) 3 and 2.
Qualifiers: Great Britain W1, Spain M2.
Group B: Sweden W2 (Gustavsson/Engstrom) bt France W1 (Herbin/de Pradenne) 4 and 3; France W2 (Dreher/Molle) bt Germany W1 (Cowan/Lampert) 1 hole; Ireland M (Hoey/O'Briain) bt Great Britain M2 (Enoch/Ford) 4 and 3; Italy M2 (Laporta/Tadini) bt Great Britain M3 (Syme/Johnston) 1 hole.
Qualifiers: France W2, Italy M2.
Today's mixed foursomes strokeplay schedule:
12.00: Austria (Schober/Gaster) Belgium (Leuquin/Buijls)
12.11: Austria (Wolf/Neumayer) Sweden 2 (Gustavsson/Floren)
12.22: Sweden 2 (Engstrom/Jennevret) Italy (Luna/Migliozzi)
12.33: Sweden 1 (Nilsson/Edfors) Belgium (de Roey/Mivis)
12.44: Sweden 1 (Boqvist/Langfors) Norway (Skarpnord/Johannessen)
12.55: Great Britain 3 (Maclaren/Johnston) Iceland (Jonsdottir/Hafthorsson)
1.06: Great Britain 3 (Thomson/Syme) Norway (Engzeluis/Arnoy)
1.17: Great Britain 2 (Mathew/Ford) Spain (Banon/Oriol)
1.28: Great Britain 2 (Clyburn/Enoch) Spain (Jimenez/Fernandez)
1.39: Great Britain 1 (Davies/Shinkwin) Iceland (Kristinsdottir/Boasson)
1.50: Great Britain 1 (Hall/Slattery) v Italy (Avanzo/Gagli)