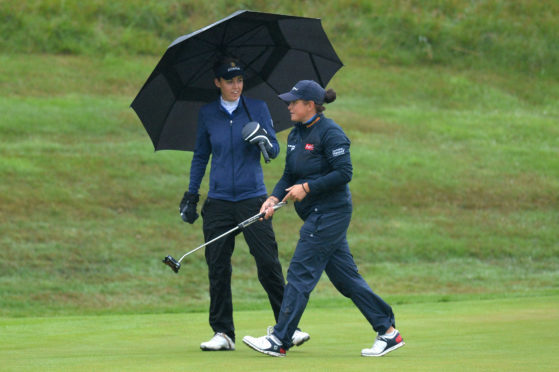 Michele Thomson and Meghan Maclaren started their week at Gleneagles as the self-proclaimed "under-the-radar" Great Britain team but left the European Team Championships as the only home team with two medals.
The 30-year-old from Aberdeen and the 24-year-old English girl – quarter-Scottish as she was quick to point out – followed up winning silver medals in the mixed team event on Saturday with bronze medals in the women's team event yesterday, outlasting major champions Laura Davies and Georgia Hall in brutal weather conditions to win their last match 3 and 1.
And while the two underdogs –Thomson is ranked 310th and Maclaren 273rd in the women's world rankings – win a handsome £31,235 each for their weekend's work, it's the precious metals put around their necks that they really care about.
That figure amounts to just over half of Thomson's previous career earnings as a professional, a career interrupted by her joining the police for a while before returning to the game last season.
"I'm thrilled and to be part of such an amazing event at Gleneagles – one of the best courses we have ever played – has been great," said Thomson.
"It was hard going but we ground it out as a team, on a course that was playing so long this afternoon.
"It was a privilege to be out there with two major champions in Laura and Georgia. The medals are so important, and that's the main thing for us."
Thomson and Maclaren were bitterly disappointed with their semi-final performance during the morning's play, going down 5 and 4 to France's Manon Molle and Justine Dreher.
"You say it our faces how shattered we were because we really felt we had a good chance of the gold medals," said Maclaren. "But we had confidence in each other and we knew we could bounce back this afternoon."
They were two down after six and still one down at the turn to the top-ranked GB duo, but a concession at the short par four 12th brought them level and they won the 14th, 15th and 17th – two of them in birdie – through the driving rain to close out the match.
"Financially, you can't deny it is a great opportunity for us but to be part of the European Championships and add to the medal tally is so cool," said Maclaren.
"We were gutted this morning about missing out on a gold medal chance, not losing money. I'm not going to be telling everyone how much money we won, I'll be telling them I have two medals to show for the week."
Heavy rain hammered the finals and bronze medal matches and Davies admitted the conditions took their toll.
"It was 35 holes of torture basically," she said. "I'm struggling to fathom out why we couldn't have just played fourballs all the way through. It seemed fun up until (Saturday) but foursomes was hard work in that weather."
Davies reckoned a semi-final in fourballs played on Saturday instead of the mixed event would have been a better format, but she didn't have much support for that.
The Saturday mixed foursomes got decent crowds – the best of the week – and generated some genuine excitement before Iceland clinched gold by a stroke from the GB 3 team featuring Thomson and Maclaren and the all-Scots male duo of Connor Syme and Liam Johnston.
But the weather – possibly the worst golfing day of the entire summer – put a general dampener on yesterday's play, although both finals had dramatic finishes.
Iceland's Axel Boasson and Birgir Hafthorsson, looking to add the men's gold to their mixed gold medal,  lost four holes in succession around the turn to Spain's Scott Fernandez and Pedro Oriol and looked spent at three down with three to play.
But they won 16 in birdie and the 17th in par to force it up the last, only for a wild drive into the trees to mean the Spanish were able to defend their remaining one-up lead and clinch gold.
The women's final was hard going with only one birdie returned in the dire weather until the death.
Although ranked third of the Swedish teams, Cajsa Persson and Linda Wessberg gelled well all week until the gruelling conditions seemed to hit them with seven bogeys in eight holes coming down the back nine.
However they'd build a strong lead of three-up after nine and seemed to have done just enough to hold on, only for Molle's dramatic birdie putt on the last to force extra holes.
There was a nervy half in fours at the 19th before the French made a mess of the short 10th, playing as the second extra hole, and Persson and Wessberg didn't even have to play their second shot before the gold was conceded.
Sunday results: Women's Semi-finals – Sweden 3 (Casja Persson and Linda Wessberg) bt Great Britain 1 (Laura Davies and Georgia Hall) 1 hole; France 2 (Manon Molle and Justine Dreher) bt Great Britain 3 (Meghan Maclaren and Michele Thomson) 5 and 4.
Final: Sweden 3 bt France 2 at the 20th.
Bronze Medal Match: Great Britain 3 bt Great Britain 1 2 and 1.
Men's semi-finals – Iceland (Axel Boasson and Birgir Hafthorsson) bt Spain 2 (Santiago Ben Tarrio and David Borda) 2 and 1; Spain 1 (Scott Fernandez and Pedro Oriol) bt Italy (Francesco Laporta and Alessandro Tadini) 2 holes.
Final: Spain 1 bt Iceland 1 hole.
Bronze Medal Match: Italy bt Spain 2 5 and 3.