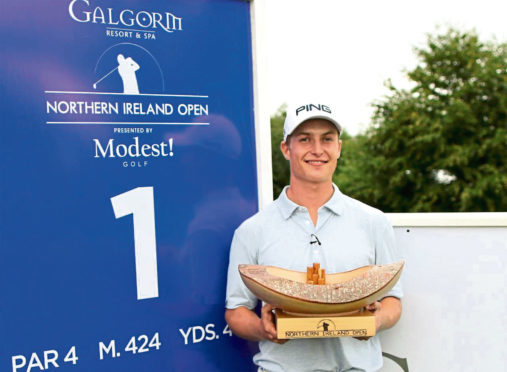 Let's be optimistic and get the encouraging bit about Scottish professional golf in 2018 out of the way first. You know I'll go into the dark eventually, but bear with me.
Happily it seems the decade-long twilight zone – a spell in which the Home of Golf seems to have produced next to no competitive European Tour-standard professionals – could well be over.
There's clearly new blood on the way. Connor Syme and Bradley Neil are slowly finding their feet in their rookie Euro Tour seasons.
Bradley, a Challenge Tour graduate, has had some real growing pains but after a month's break to regroup at home recorded his best result of the season so far in Sweden at the weekend.
Connor, who came through Q School, also looked to be a little lost in the early part of the season but has now made five of his last seven cuts after his breakthrough second place in Austria in June.
He's -17 for his last nine rounds – with only one over par – and is just inside the top 110 who will retain cards for 2019. The next six events are crucial, but two of them are Portugal and the Dunhill, where he made a huge impression on invites last year.
On the Challenge Tour, there was a third Scottish victory this season with Callum Hill, formerly of Muckhart, Kinross and New Mexico, coming from four shots back to win the Northern Ireland Open.
This was Hill's fifth start on an invitation after six years of relative obscurity at a minor college in the US. He came to attention coming through all the qualifying – no mean feat – to play four rounds in the US Open in June.
Callum then came home, signed on with Bounce, the Scottish management group run by the ebullient Iain Stoddart, and they got him some Challenge Tour starts. Re-acclimatisation to Europe took only a month, it seems.
Hill's win means there are now seven Scots in the Challenge Tour rankings' top 45, the number who get into the season ending Grand Final at Ras Al Khaimah.
Two of them, David Law and Grant Forrest, are currently in the top 15 of the rankings that secures European Tour cards for 2019. You'd hope at least one other Scot can get inside that group.
Developing talents like Ewen Ferguson, Liam Johnston, Jack McDonald and Robert MacIntyre are also featuring on Challenge Tour leaderboards. Johnston won earlier this year and MacIntyre was runner-up in a play-off in Finland just a week ago.
So far, so encouraging. But there's definitely not any reason for waving flags from the rooftops.
Thank whatever deity you pray to for Russell Knox's Irish Open win, because at the moment it's masking the poorest European Tour season for Scotland probably in history.
Knox, of course, is permanently and voluntarily exiled in Florida, and his European Tour sojourn was just four events – second, first, T49 and T80, worth £1.6 million, thank you very much. Not a bad month's work.
Take Russell out as a special case (which he unquestionably is, he's never been a full-time Euro Tour player) and 2018 is a near disaster.
The best placed Scot on tour currently is Stephen Gallacher at 90th, and that heavily bolstered by his tie for 9th in the Scottish Open at Gullane last month.
Syme is next best, then David Drysdale at 126th, Scott Jamieson 128th, Richie Ramsay 130th and Marc Warren 141st. Paul Lawrie has not played since April and won't play again in 2018 as he attempts to solve his long-standing foot and back issues.
These six have been our core of representatives on tour for the decade no new talent has been coming through, with nearly 100 seasons of experience and 18 tour titles between them.
Eight of those wins and 26 of the seasons are Lawrie's, and at 49, even without the injury, Paul's coming to the end of his time on Tour anyway.
Gallacher and Drysdale are the wrong side of 40, but still with plenty left in the tank, you'd hope. The other three should really be in their prime. None of them should be struggling for top 100 in the Race to Dubai.
There's still plenty time, of course, and the staple Scots tour-card-saver, the money-spinning Dunhill, is a month away. But this main tour season clearly illustrates what the lost decade has meant for Scottish pro golf.
Perhaps there was another illustration in events in Northern Ireland, amidst the delight for Callum Hill.
His 64 and four birdies in the last five holes was incredible, but he won also because Scott Henry, a fellow Scot, had an incredible collapse. Three shots clear with three to play, he finished 6-5-6, dropping four strokes to lose by one.
Henry was one of our many "can't fail" prospects during the lost decade. He's a proper athlete in the modern form and has considerable talent. But it's never quite happened for him, so far at least; one modest year on the big tour, one Challenge Tour win some years back.
It's a reminder – and there have been others, well-documented here before – that there are no can't-fails or sure things.
There's more hope on the horizon. But at the moment, hope's all it can be.