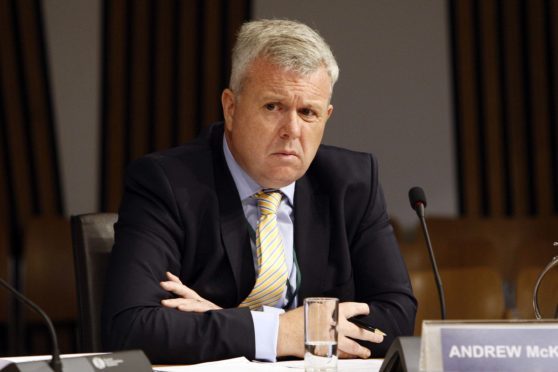 The goodwill and desire from all quarters to improve the fortunes of all aspects of golf in Scotland is so strong that any difficulties the sport faces are surmountable, believes Scottish Golf chief executive Andrew McKinlay.
The former depute CEO at the SFA now has his feet under the table at his new post – which he still believes is "the best in Scottish sport" – after canvassing the views of as many stakeholders as he could, and they've not been shy with advice.
"The number of people I have spoken to that have the solution for everything in golf is incredible," he said. "There's just so many people who want to get involved.
"There's a lot of work to do. We are in an interesting place at the moment. But there's no doubt that there is a huge opportunity to do something really special.
"Everyone wants things to improve. I found in Scottish Golf and in the wider golf community, people are already doing a lot of great things – some clubs, the Foundations run by Paul Lawrie and Stephen Gallacher especially – but it's fragmented and quite scatter-gun in approach.
"We don't want to compete with them, but we need to do is come in and show a bit of leadership and try to bring things together."
Before Scottish Golf can do that, it needs to stop fighting itself, he agreed. As far as he is concerned, the message of the AGM in April to reject a proposed rise in the membership levy – although new proposals for a rise from areas and counties who voted down the plan are now being tabled – was "the people have spoken, and we go with it."
"Our budgets are tailored that that decision," he continued. "I've been to a number of the Areas that voted 'no' at the AGM and they had different reasons for doing it, but I found them all very welcoming and all keen to listen," he added.
"When I've been explaining to them about what I see the future being, they've been very positive and I take the sense that they want to work with us, not against us.
"I think they all realise we are in a difficult place, as are many other sports. We absolutely need to move on from the arguing between us and our members otherwise we are just going to eat ourselves up.
"I'm new in and you need to get trust and respect. From my discussions and meetings I'm getting good vibes, I've had a good feeling this summer that things are starting to change and we're going in a better direction."
Scottish Golf's absolute priority, he stressed, has to be the grassroots of the game.
"It has to be because if you don't get that right and get people into the game then having a nice performance arm becomes irrelevant," he said.
"That's always going to be the focus, helping clubs and getting more people back to the game, particularly women and young people, and that's what the membership would expect.
"Our second main focus is helping clubs that are struggling. There are too many clubs at the moment that don't know the services we provide. That's our fault, we need to be more specialist than generalist in that respect.
"The last main of strand of what we are looking at, is finding a way to bring more money into the game. We are too reliant at the moment on the members' money and on public funding.
"We need to shift that balance. People maybe thought that was a case of going out and getting more sponsors. We are looking more at models of trying to bring in money through the pay-to-play golfers."
The pathway for young talent through the elite amateur ranks to the professional game needed further examination.
"It's an interesting one for us because you have some of our membership saying 'that has nothing to do with you' while you will have others saying, 'you can't take an amateur right through then just let them go'.
"Clare Queen is now the permanent head of performance and one of her roles is to look at that whole pathway. We need to refresh that pathway and look at what we have been doing and what has worked and what hasn't worked.
"That goes right back to the grass-roots level in terms of how we are getting kids into the game. What we've been doing recently working with Bounce Sport Management has been broadly successful for our young players now on the Challenge Tour.
"But it's about weighing up the view of the membership about what we should and shouldn't be doing. Our primary focus must be on them."