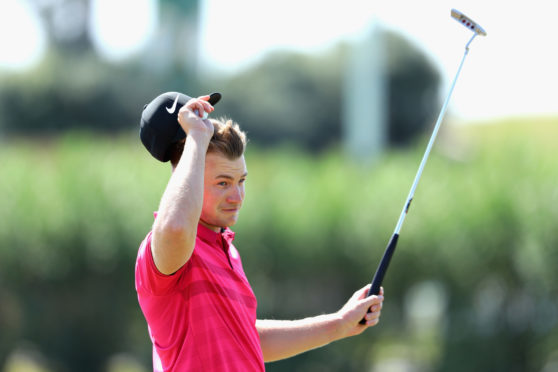 Oliver Fisher's 59 will always be part of history as the first to be shot on the European Tour but while it's a milestone, in today's golfing world it's become more of a pebble than a boulder.
The main surprise – and definite oddity – is that it's taken so long. 29 previous 60s, the last being Brandon Stone's at Gullane in the Scottish Open this July, had been recorded before Fisher went one better on the par 71 Dom Pedro Victoria course in Vilamoura during the Portugal Masters.
One of those 60s was shot by Scotland's  Scott Jamieson at the same course five years ago. There have been a legion of near misses in three decades before Fisher, once considered one of the best prospects of his generation as an amateur, finally crossed the line.
But 59s occur reasonably often these days elsewhere. On the PGA Tour, there have been as many as ten – two of them by next week's US Ryder Cup captain Jim Furyk, who even went one better in 2016 with a 58 in the Travelers Championship.
All but three of the PGA Tour's 59s have been recorded since 2010. There's been three in the last two seasons, the most recent Brandt Snedeker's in August at the Wyndham Championship.
Modern equipment – specifically the distance that the ball travels – has reduced many more formidable courses than the Victoria at Vilamoura to a shooting range for today's more athletic, powerful professionals.
For Fisher, it's an unexpected high point of a career that promised much but has delivered less than had been hoped. He has one career victory, the Czech Open in 2011. In his amateur days he was considered England's best prospect since Justin Rose and was a contemporary of Rory McIlroy.
Still only 30, the Essex pro maybe hasn't even reached his peak, and he'll always been the first man to break 60 in Europe.
Only it's definitely not as shocking, or as remarkable as it would have been 10-15 years ago. It's just the first, and probably of many.