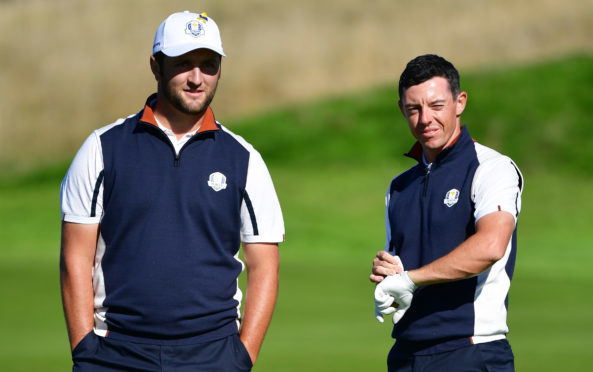 Do you try to control the passion for the Ryder Cup from the Spanish, or do you just let it go? It seems Thomas Bjorn isn't going to put any restrictions at all on Sergio Garcia and Jon Rahm.
Pairing the Spaniards has always been a no-brainer. Seve and Jose Rivero all those years ago, Seve and Jose Maria for all those years, even Sergio and Rafa Cabrella Bello coming from nowhere for a half on Saturday morning at Hazeltine.
Maybe controlling the formidable Rahm is a pointless task anyway. The powerfully-built Basque is walking on air just being here at the age of 23.
"It's a lot of emotions running through me right now, but obviously it's an incredible sense of accomplishment just to be here; a great sense of pride and humility at the same time because we know how much it takes to be in this situation, and I couldn't be any happier to be sharing this with my teammates," he said.
"I can play with anybody. Representing Spain, I've played with many different players, energetic players, calm players, people that are like me, people that are different from me and I've had success with all of them.
"I'm a pretty easy-going person.   Rory, we've played a lot together, I think we know each other's game very well and we have a very similar game plan in mind.
"I think I will be paired with an experienced player. Somebody, either Stenson, Sergio, Rory, Rosey, Poulter, Fran (Molinari), somebody who knows what's going on and who can most likely keep me under control on a Friday morning.
"I feel like I'm going to have electricity coming out of me, so you can imagine I might tee off with somebody who is a little more calm than me, which is not hard to do."
Garcia might be that man, and there might not be a great deal of calm out there.
"It's always been a dream of mine to share the stage with Sergio," continued Rahm. "He's been in my shoes. He played The Ryder Cup when he was 18, 19 years old, so he was even younger than I was.
"But he understands me as a fellow Spaniard, as both fiery players, I think he understands me more than anybody else. Whether we play together or not, he's going to be able to help me out most out of anybody in the world."
Later Bjorn was asked if maybe Rahm needed calmed down already, even on Wednesday.
"You can't get too excited," scolded the captain. "Jon just wants to be on the golf course.
"Remember where he's from. He's got that history, his country, with this event. There's no doubt that we wouldn't be in the situation we're in today in Europe if it wasn't for Seve.
"The Spanish players keep carrying that torch, and Ollie coming behind him and then Sergio, and Jon's now seeing himself as the next person in line to carry that on.
"If I had that from my country and in my career, those people to look up to frm my country and having the possibility to be the next one in line, I'll be pretty excited. We've all seen him and what a prospect he is, why wouldn't he be excited about this?"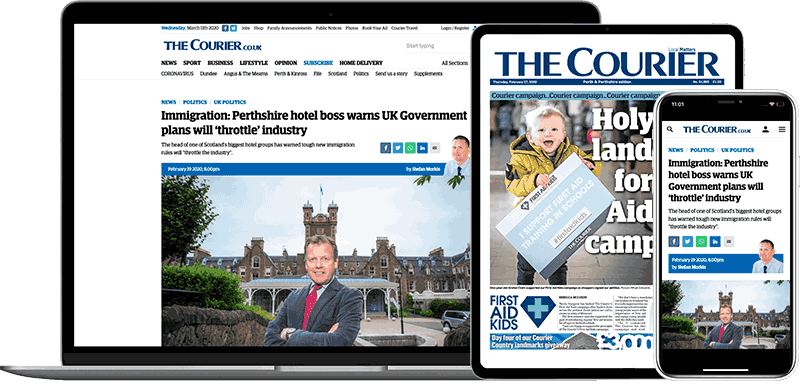 Help support quality local journalism … become a digital subscriber to The Courier
For as little as £5.99 a month you can access all of our content, including Premium articles.
Subscribe