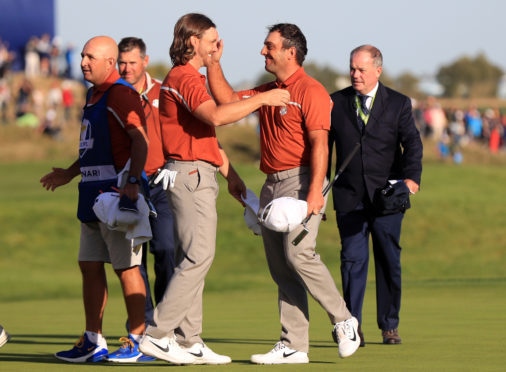 Inspired by the unbeaten "Moli-Wood" pairing of Open champion Francesco Molinari and Tommy Fleetwood, Europe will take a commanding four-point lead into the final day singles at the 42nd Ryder Cup after a another dominating day at Le Golf National near Paris.
Molinari and the rookie Fleetwood became the first European duo to play together in the first four sessions and win all their games when they routed a demoralised Tiger Woods and Bryson DeChambeau 5 and 4 in the afternoon foursomes.
With a 3-1 win in the morning fourballs, the sharing of the second set of foursomes 2-2 leaves Europe 10-6 ahead – famously the Saturday night scoreline at Brookline in 1999 and Medinah in 2012, when it was overturned, and at 2006 at the K Club, when it was not.
Thomas Bjorn's strategy was clearly to keep the foot on the pedal on the second day, although sending out the same foursomes pairs may have stretched the endurance of Rory McIlroy, who has played all four sessions and is 2-2, and both Sergio Garcia (2-1) and Ian Poulter (1-2), who have played three.
He had no doubts about Molinari and Fleetwood, who enter the annals as Europe's most successful combination in any one Ryder Cup, and have a shot tomorrow to be the first players in this format since Larry Nelson in 1979 to go 5-0.
Bjorn also had cause to thank his old reliables Justin Rose and Henrik Stenson, who held off Johnson and Brooks Koepka for a key win.
US captain Jim Furyk switched around his foursomes pairings and at least got a half in the afternoon, and what state would the US be in without Jordan Spieth and Justin Thomas, who have won three points from their four outings.
World No 1 Dustin Johnson, in contrast, has played all four sessions and lost three, Tiger Woods is 0-3, Patrick Reed 0-2 and Phil Mickelson wasn't even trusted to play at all yesterday.
Justin Rose and Henrik Stenson beat Dustin Johnson and Brooks Koepka 2 and 1.
Euripe's old reliable pairing was re-united after being rested in the morning and they had a real dogfight with America's "Bash Brothers", finally paired by Jim Furyk when many in the US suspected they were a natural combination.
They had an early lead but Johnson's wayward driving cost them with a concession of the fourth, and slowly the European duo started to grind them down. Seven successive pars followed from the veterans to stand two-up before Johnson and Koepka rallied with only their second birdie of the afternoon at the 12th.
The Europeans won 13 but at the tricky 15th Koepka's brilliant approach reduced the deficit to one down with three to play.
But Stenson stepped up to the mark with a par putt on 16 and then another from 12 feet on 17, while Koepka missed his par chance to allow Europe to claim the point.
Sergio Garcia and Alex Noren lost to Bubba Watson and Webb Simpson 3 and 2.
These two pairings had a complete about-face from their performance in the Friday foursomes, with Noren's waywardness on the front nine the main culprit for the European duo to slide behind early.
Watson and Simpson had been awful on Friday and both had never won a foursomes game in the Ryder Cup before, but after an embarrassing half in triple-bogey sixes on the windy second hole, they asserted control by winning the sixth, seventh and eighth to go to four-up.
Garcia was unable to raise his game to the levels of yesterday afternoon or the morning session and despite a bogey at 15, the US duo were able to secure the point at the short 16th.
Francesco Molinari and Tommy Fleetwood beat Tiger Woods and Bryson DeChambeau 5 and 4.
Tiger Woods will see Molinari and Fleetwood in his Ryder Cup nightmares for a while as the pair combined for the third time to beat him, and again it wasn't really close against Europe's 100 per cent pairing.
Put together with DeChambeau, the Americans lost the first to birdie, the third to a par five and the 6th to a par four as the rookie struggled early on.
However it was Woods' putting on quickening greens that proved the Achilles' heel in the middle of the round, missing chances for halves around the turn which saw the European pair go 5 up after nine holes.
Tiger did hole a couple for birdies to get back to three-down, but Fleetwood's birdie putt at 12 re-established the advantage and there was no way back, Molinari's birdie at 14 closing it out.
Ian Poulter and Rory McIlroy lost to Jordan Spieth and Justin Thomas 4 and 3
Spieth and Thomas started in the same fashion as they had on Friday afternoon, but once the pair kicked in to a groove in foursomes they were able to pull away from a flat McIlroy and Poulter.
Pars were good enough to get Europe two-up after two holes but an ugly triple meant the fourth was lost to a bogey, and there weren't any birdies after that for the etam who sparked so well on Friday.
Spieth and Thomas only got back to level par again at the 11th, but Thomas' birdie putt there gave them a three-up lead and when McIlroy and Poulter finally got a birdie on the long 14th, it was just for a half to keep the game going after Spieth's long putt.
A half in birdies at the 15th secured the point for the USA to at least give them some hope going into Sunday's play.