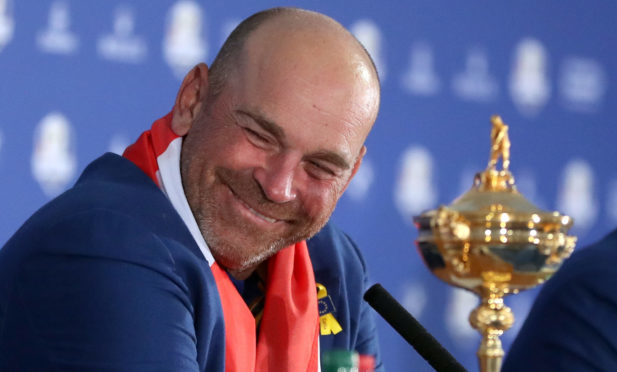 Thomas Bjorn will sport a new embellishment as a result of a forfeit to his European team that won the Ryder Cup – a tattoo, featuring the 17 ½ – 10 ½ winning scoreline at Le Golf National.
"It's going to be in a place where only (girlfriend) Grace can see it," he said of the extra motivation to the team, as the ultimate European Tour man celebrated his greatest achievement.
The Dane, as long-time chairman of the policy-making Tournament Committee, is as invested in the European Tour as any player who has ever played on it, and as a result his captaincy was geared to leaving no stone unturned in preparation.
But even if all his backroom work was perfect, he still knew he had to have the right players, and compiling the team was what he was most proud of.
"This has been so exciting because the way that the 12 of them have just joined up together as a team, looked after each other and been there for each other and been there for each other throughout the whole week," he said. "It made captaincy pretty easy.
"There was a little moment in the middle of it all today where I was getting a little bit worried, but then everybody stood up and did their bit. You know, I can't describe how I feel about these 12. They have been amazing from day one, and I'm just so proud of them."
Every player contributed something, he pointed out.
"Some play five matches and some play two matches, but they all contribute," he said.
"I've played in my Ryder Cups, and I don't care how many matches I play in as long as we win and I think that's what we all feel that way now.
"We got it right this week. We never, ever looked towards their team. We were about us as a team and what we do.
"This is the best team room I've ever been in. It was calm. It was determined. It was focused. It was fun. It was everything that The Ryder Cup should be about for a European Team."
Bjorn's biggest success might have been his most questioned decision, his four wildcards, used on four veterans at the expense of younger talent.
"Well, I'm not very good at adding up but I'm sure if I put these numbers together, they make the difference in the score," he said, which was exactly right – his picks won 9 ½ points to the USA wildcards' mere two.
"I couldn't have dreamt of what these guys brought on the golf course.But in the team room, you know, they bring the experience, they bring the understanding.
"It's those guys that last night sit and make sure that everybody's in the right frame of mind and they are ready to go out and play because they have done it so many times before.
"Sometimes when you have some great new guys coming through where you've got to balance it out with experience.
"When you take on the captaincy, you can never dream of a score line like this. You know it's going to be close, but you can't dream of a score line like this.
"That's down to all 12 players, but I'm extremely proud of those four guys that got picked, because it's by no means easy to be picked. There's pressure on you if you're going to be picked, and they stood up, all of them this week, and showed what they are worth.
"Sergio (Garcia) and Ian (Poulter) are the heartbeat of what we do; Henrik (Stenson) brings all the calmness, and then Paul (Casey), you know, you can only say, welcome back."
And this team offers more success for Europe in the future, he predicted.
"It's no secret we get together about this and we always have done," he said.
"This was just a very, very solid team, and all of these guys are quality golfers. They are putting their stamp on the world scene, and there are a couple on this team that are right on the way to the top of the game over the next few years, and they will be massive parts of these European teams in the future.
"It's a great group that believes in themselves, and they carry the torch on for what the European Ryder Cup teams is all about. They understand the history. They understand what we're about, and that's why they will be great going forward."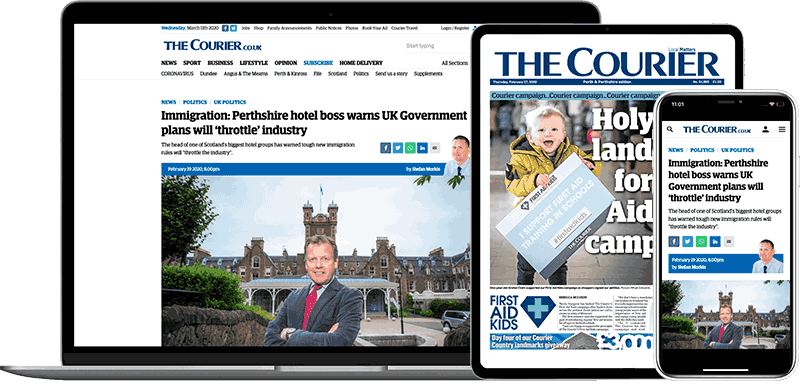 Help support quality local journalism … become a digital subscriber to The Courier
For as little as £5.99 a month you can access all of our content, including Premium articles.
Subscribe