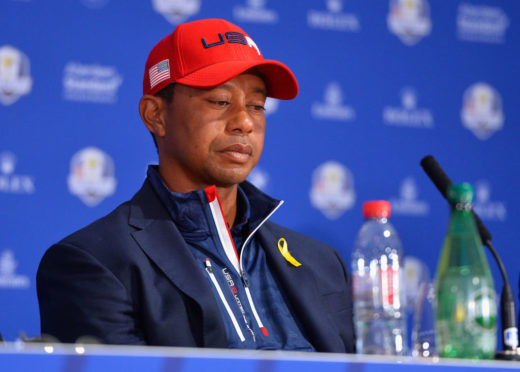 They still just don't get it. Not even after the repeated humiliations of 25 years.
The US Ryder Cup team left Paris swiftly after their 17 1/2 to 10 1/2 shellacking by Thomas Bjorn's Europe. A handful visited the European team party as it rocked into the early hours.
But the recriminations had already started. There was no Phil Mickelson mutiny this time; the wily old needler had been a passenger all weekend and was suitably chastened, although his comments were strangely familiar as those by Tom Watson he found so offensive in the aftermath of Gleneagles.
Instead it was Captain America Patrick Reed, who had played like he should have been demoted to private or maybe shipped out entirely on a honourable discharge, who broke ranks in a telephone call to the New York Times.
Reed said Jordan Spieth had not wanted to play with him, thereby breaking up a successful partnership at Gleneagles and Hazeltine. Spieth instead wanted his childhood friend Justin Thomas as his partner.
To Reed's mind, this was actually breaking up two successful partnerships, he and Spieth's, and Thomas' with Rickie Fowler from the President's Cup last year.
Spieth and Thomas, of course, returned a 3-1 record as a partnership, comfortably the best tandem on Team USA. Meanwhile Reed lost twice with Tiger Woods and his Captain America image took a pummelling.
This appears to be what has infuriated him most. "For somebody as successful in the Ryder Cup as I am, I don't think it's smart to sit me twice," whined Reed.
For Reed, Spieth got preferential treatment from Furyk in what the Masters champion regards as the "buddy system". Oblivious to how his persona comes across as the exact same thing, the Masters champion thinks that Spieth didn't check his ego at the door of the team room, in common with a sign posted there by captain Jim Furyk.
"They still do that much better than us," Reed said of the Europeans.
From whatever angle you look at this, it doesn't look good for the US. You could argue that both Spieth (privately) and Reed (publicly) are making personal demands instead of working for the team ethic.
Spieth at least had the excuse that he played half-decently for three sessions to Reed's one (singles, of course). Reed's point of view would have been unquestionably stronger had he not played like a drain coming into the event and all the way through to Sunday.
Thomas Bjorn was diplomatic when asked about this clear splinter in the US team yesterday. But he did make the point that even European teams have to reject combinations because the players don't like each other (one thinks of Sergio Garcia and Padraig Harrington in the past).
He also added, however, that past combinations didn't always translate to future Ryder Cups, and his actions of selection – notably with Francesco Molinari and Tommy Fleetwood, and with Justin Rose and Henrik Stenson – showed how much value there was in personal as well as professional partnerships.
The difference is that the Europeans get the team dynamic, and the USA clearly still don't. Tiger Woods returned to the team last week to record an 0-4 record, looking as unengaged and uncomfortable in the Ryder Cup as he ever has.
Woods can't even bring himself to wear the team uniform – I don't blame him entirely for this as the US team clothier dresses them in the worst possible combinations of the world's most successful colour scheme, red, white and blue.
But Woods wore his waterproof trousers over his team uniform on both Saturday and Sunday when the temperature was edging towards 20 degrees. It's a small thing but indicative that he is tolerated as a special case and isn't a real team player.
It's not just the team. The US media encouraged the old hubristic attitude over the last two years that the Hazeltine win and the so-called TASKFORCE! was ushering in period of domination.
Even in a defeat just a point short of the all-time record, some were still sticking to this. One chronic attention-seeker even tweeted "the wrong team won" for a mea culpa on an article predicting a Paris rout for the USA and years of more to follow rendering the Ryder Cup a no-contest.
Even after the Team Europe Era T2G highlighted last week – it's still going, by the way – they still don't rate our tour or our players.
US writers still assume they have the 12 best players in the world. Patrick Reed still thinks all he has to do is play five times and his Captain America cape will cow Europeans into submission.
Dustin Johnson "pities" anyone who plays again him when he teams up with Brooks Kopeka. They lost the only time they were paired, of course.
No doubt when the US win at Whistling Straits – home advantage means everything at Ryder Cups now – we'll get it all again.
That's fine. There's never been a better point winner for Europe than American hubris. Long may it continue.