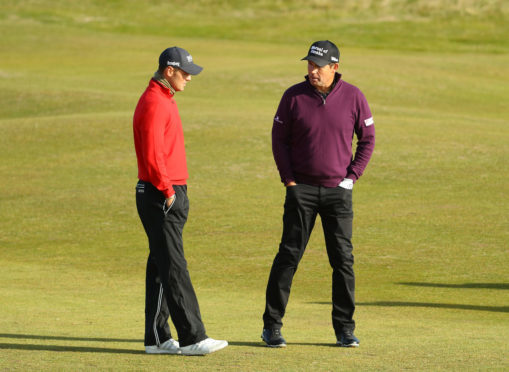 Padraig Harrington hasn't wasted any time in throwing his hat into the ring for the captaincy of Team Europe in the next Ryder Cup in Whistling Straits in 2020.
The three-time major champion played in six Ryder Cups, the last as wildcard pick of Colin Montgomerie in 2010. The 47-year-old has been a vice-captain in the last three editions, and is widely regarded as the favourite to lead Europe to Wisconsin in two years' time.
Outgoing captain Thomas Bjorn asked last week for "some time to relax" before he and immediate past captains Paul McGinley and Darren Clarke met to consider the next man to lead Europe, but Harrington, in St Andrews for the Alfred Dunhill Links Championship, made it clear he wants the job.
"I honestly think it fits really well not only for me and for everybody that I seek the captaincy of the next European Ryder Cup team," he confirmed.
"I know there is a committee who choose the next captain and they will go about the process of seeking nominees and then put those names to a vote but I do believe the European Team would like continuity, and that is why I will benefit.
"I have been a vice-captain now for the past three Ryder Cups and given the success of this recent team, I am sure they would be very happy to know that either myself or one of the other Versailles vice-captains – if any of those other vice-captains want the job – would present the best chance of maintaining that continuity."
Europe has established the precedent of future captains serving in an assistant role, and McGinley's first selection of Harrington at Gleneagles as a vice-captain was clearly to get his long-time friend in the queue.
"I know from being with the team last week that they like the whole structure of the support they receive from the captain and the vice-captains," continued Harrington.
"What is clearly happening now is that the vice-captains are be groomed to be future captains and not so much as it was years ago when the vice-captains were generally ex-captains."
Harrington won his third major title, the PGA Championship in 2008, in the USA and has long been a regular player on the regular PGA Tour, winning three times in addition to his majors.
"I would like to think I am popular in the States and that would also make me a good captaincy candidate because of the venue being not too far from Chicago where there is a large Irish community," he added.
Harrington is also in the perfect age range for a captaincy, with perhaps his younger rivals for the job, Luke Donald and Lee Westwood, both with some scope for waiting for their chance in future editions.