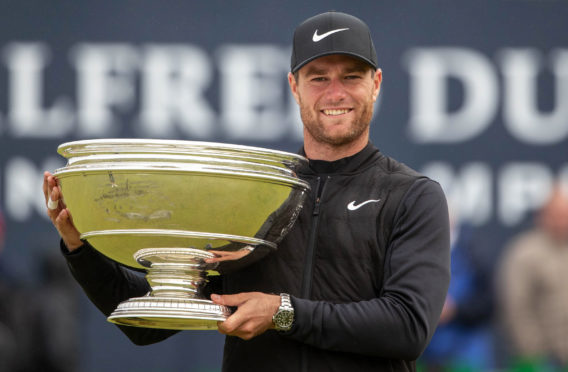 Lucas Bjerregaard wasn't going to be denied his triumphant walk up the Old Course's 18th at St Andrews despite the weather-defying re-structuring of the schedule on the final day of the Alfred Dunhill Links Championship, and it turned out to be even more memorable than he'd hoped.
The rumbling we heard all afternoon was maybe Old Tom Morris whirling in his grave in the cathedral churchyard at the thought of a shotgun start to a tournament on the Old Course, employed to get everyone back to base in time to beat a severe weather front  (Storm Alfie, perhaps?) coming in from the west.
It meant Bjerregaard started his final round playing the 18th with the men he was chasing, Ryder Cup heroes Tyrrell Hatton and Tommy Fleetwood, simultaneously going down the first.
Five hours later, both Hatton and Fleetwood missed makeable birdie putts on the last which would have tied the Dane, who had carefully three-putted the 17th to clinch a one stroke victory. His final round 67 in tricky conditions completed a fifteen-under aggregate of 273, for his second career victory almost exactly a year on from his first, in Portugal last year.
He opted to walk up the 18th anyway and it was a rare procession, taking the applause of the remaining crowd knowing he didn't have to hit a ball and the £600,000 first prize was already secure.
"I enjoyed that walk up 18, and probably even more, because it's not like I needed a birdie or anything," he said. "It was on one hand nice to start with 18 this morning because it's a good birdie chance and a good way to get going.
"But normally playing 17, it's good to know that you have 18 to come which is a good birdie chance, so if you bogey 17, you can get it back on 18. I didn't really have that.
"But in the end I could walk up there in peace knowing that it was all over. So I really took all of that in and enjoyed it."
The Dane wasn't even thinking about winning two hours earlier, admitting he'd been looking at the scoreboards and seeing Hatton, trying to hold on to the massive Dunhill trophy for the third year in succession, five clear after a spurt of four birdies on the front nine.
"I was looking at all the boards and it didn't really look like I had much of a chance to be fair," he said. "It looked like Tyrrell was going to run away with it.
"I just kept going about my business, and we always knew the back nine was going to play tough.
"So I thought if I could throw in a few birdies there, I would still have a chance. I didn't rush it. I didn't try to make birdies. I didn't force them and they just slowly came and that one on 16 was really nice."
Bjerregaard obviously took some inspiration from last week's successes by two of his countrymen, Thomas Bjorn and Thorbjorn Olesen.
"Thomas was kind enough to invite me down on the Saturday and show me around a little," he said. "I'd be lying if I said I didn't go home inspired a bit after that. I definitely want to play on that team some day."
That 25-foot birdie putt on 16 was a real dagger to the heart of Hatton, who after five successive rounds of bending the Old Course to his will in this tournament, suddenly hit the buffers.
Still four ahead when he reached the turn, he drove into a fairway bunker and dropped a shot, another quickly following as he ran into trouble of the eleventh.
When he dropped two more at 15 and 16, the door was open – for Fleetwood it seemed at first, but Tommy was having no better luck against the strengthening cross wind on the back nine.
Both finally had a chance at the last, but Fleetwood burned the hole from eight feet and Hatton from 12 feet, and they both ended up a shot light.
"My momentum completely went I think after the tee shot on 10," said Hatton. "For some reason, I just couldn't seem to do anything right.
"It didn't quite happen for me on the back nine and I guess my putt on the last to get in the playoff sums it up, really. Just a massive gust of wind just knocks me off (balance).
"I'm pretty disappointed because I had a five-shot lead at one point. It was in my hands."
Hatton didn't feel his exertions at Le Golf National last week had caught up with him, and neither did Fleetwood.
"The way I hit it, the way I felt, as quite fresh and my motivation is still up," he said.
"I played some really good golf, and you know, just kind of fell just short. All in all, a great week, really, and I've played some really good stuff. Game is obviously in a good place.
Fleetwood's even ready to give it a real run into the winter, he added.
"Last week, simply by getting there, you've completed a massive goal and the next goal is to be on a winning Ryder Cup Team.
"That has been such a big thing for the year, and what a week it was, memories for a lifetime.
"But then you've still got six or seven events. We sat down on Tuesday, talked about resetting, what we need to do to win again and just get back on that.
"This is only week one, really. We've still got a bit to go."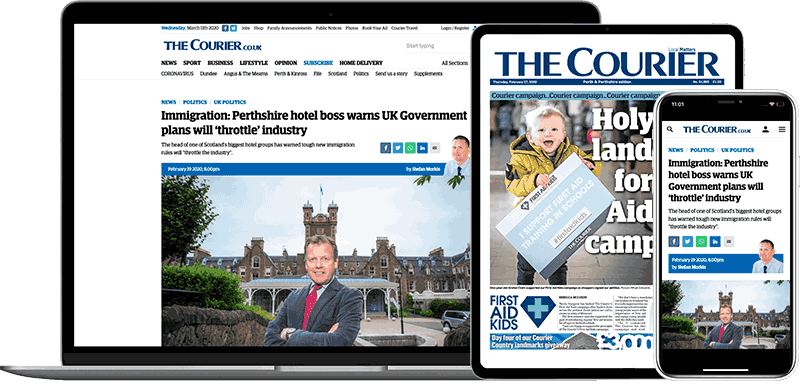 Help support quality local journalism … become a digital subscriber to The Courier
For as little as £5.99 a month you can access all of our content, including Premium articles.
Subscribe