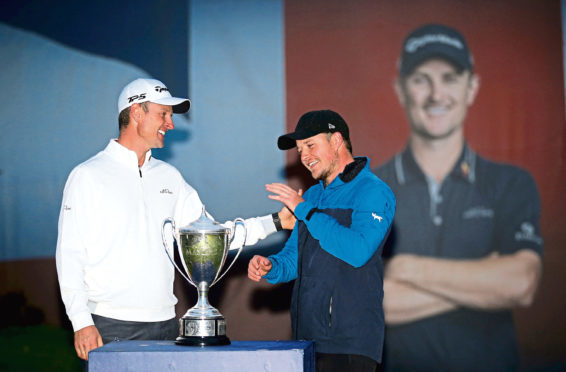 The British Masters, won in typically native weather by the admirable Eddie Pepperell at beautiful Walton Heath at the weekend, is a microcosm of the present state of the European Tour.
On the face of it, everything's thriving. With the Ryder Cup victory just two weeks ago – and being milked for all it's worth already – huge crowds turned out to see the Paris heroes.
England's premier golfer of the moment, Justin Rose, hosted the event as his contemporaries Ian Poulter, Luke Donald and Lee Westwood did over the last three years.
The new breed, led by Tommy Fleetwood but augmented by Pepperell, Matt Wallace, Jordan Smith and Tom Lewis were all over the leaderboards on one of England's heathland treasures, still brownish from a glorious summer.
Sky Sports, in their fourth and last year as named sponsors, had all their bells and whistles out to make it a proper show on the screen and at the course.
It all looked fabulous. But amazingly, the cupboard is bare.
There's no name sponsor to carry on the tournament beyond this year, although it seems the template of one of the top Englishmen hosting it can be continued indefinitely by their current production line of successful players.
Even after four years of this event, even with a golden generation of players regenerating, sponsorship from English sources for golf remains miniscule.
It seems likely England will revert to one tour event, sponsored by German car giants BMW, for next year.
In Scotland we're fortunate to have Aberdeen Standard Investments and SSE Hydro as long-term backers of our golf events. It's hard to believe there are no such companies willing to be associated with golf in England.
But the buoyancy of the British Masters hiding problems may even be true of the European Tour.
There's continuing murmurs that the Rolex Series of high-profile, high paying events has been largely propped up with the tour's own money, and after two years funds are starting to dwindle.
The Ryder Cup victory and success of Paris – although it seems the ordinary spectator experience wasn't as great as it appeared – will help for a while. But as a UK-based pan-European entity, Brexit is a disaster for the European Tour.
I'm not the only one to hear talk of a merger with the PGA Tour – it would almost certainly be a takeover – once again doing the rounds, ominously.
Eddie gives hope to us all
As we've mentioned before in T2G, Eddie Pepperell actually has a personality, has something to say on a variety of subjects and isn't afraid to say it. Which makes him rare among today's golfers.
Seek out his blog online for largely uncensored episodes of tour life, his eloquent thoughts and a healthy perspective.
It makes him a good story for us journos, and it's good to relate that he can play a bit as well. Two tour wins this year? Just a bit.
I'm indebted to my colleague James Corrigan for ekeing out of Pepperell that all this comes from him reading his first book, cover to cover, at the age of 19.
And it wasn't Hunger Games or the 50 Shades series, either. Okay, it was the autobiography of English rugby star Lawrence Dallaglio, but Eddie soon graduated to more stimulating stuff.
Reading books, and some of them were quite difficult ones, is enough to make you an intellectual in today's locker room. To have an epiphany like Eddie – he was not a gifted school student – is quite startling.
So as you look at your feckless teenager squinting at phone screens reading about Kardashian updates or playing Fortnite, remember Eddie and maybe casually leave a copy of Great Expectations lying around. There is hope.
Changing of the guard?
The situation of Scotland's Worst Ever European Tour season we highlighted in T2G a month back has fractionally improved as we enter the final counting event in Valderrama this week.
Stevie Gallacher, already safe from career earnings, has been the only one this year to decisively pull away from trouble in the last few weeks.
Scott Jamieson is 107th on the Race to Dubai – probably five or six places better than that once ineligible players are removed from the rankings, while the arch-survivor David Drysdale is 108th.
The top 110 retain their cards. As it stands, Richie Ramsay and Marc Warren, as well as rookies Connor Syme and Bradley Neil, are headed to Q School with one event left to save themselves from that ordeal.
On the Challenge Tour, meanwhile, it seems Grant Forrest, second in China at the weekend, has joined Liam Johnston and David Law in safely securing a Top 15 place and a big tour card for 2019.
Three more Scots – four if Scott Henry can get a good showing this week – will play the last two events on the schedule and can bid to join the secure trio.
Calum Hill is the next best placed, having not been out of the top 30 in six events over the last two months.
Four from the Challenge Tour in one season? This could be a real changing of the guard for elite professional Scottish golf coming in 2019.