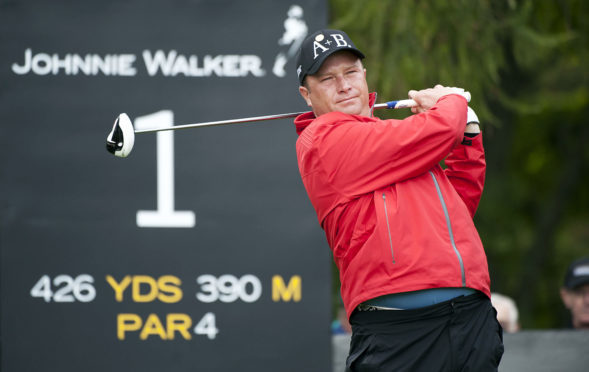 Greig Hutcheon thinks he might have a future in this maddening game after all as he held on for his third M&H Logisitics Scottish PGA Championship title ahead of both O'Hara brothers at Gleneagles yesterday.
The 45-year-old from Aberdeen, now representing the Paul Lawrie Golf Centre, shot a final round two-under 68 in tougher conditions over the King's Course to complete a 12-under aggregate of 268 for the £9000 first prize, one ahead of both former European Tour player Steven O'Hara and his younger brother Paul.
It was a vindication for Hutcheon, struggling with hip problems for over a year and the fear that nagging ailments would spell the end of his competitive chances in events like the national championship, which he previously won in 1999 and 2013.
"Maybe this wasn't my last chance after all," he said. "There are plenty of good players now and last year I had all those ailments and felt that my body was basically giving up.
"To come back and shoot 12-under for four days gives me a lot of hope. The hip has been better this year and If I keep doing the exercises I might still be playing at 50, who knows?"
Hutcheon and Paul O'Hara began the day tied on 10-under with four other players within four shots of the lead, but the stronger winds and trickier pins yesterday meant that it was basically a man-to-man fight, with the unexpected arrival of the elder O'Hara.
Now 38, and "feeling like a new man these days" the former European Tour player ploughed through the field with a five-under 65 to set the target at 269.
Hutcheon, meanwhile "felt like I was in control and kept it steady."
"Paul got unlucky on 14, he hit a perfect drive down the right and instead of kicking in as it normally does it just stuck up there," said Hutcheon. "He's had a bogey and I made a birdie and that was a two shot swing which helped me along."
The pair had played through the penultimate grouping on the first hole when Chris Currie lost a ball to drop out of contention, but the switch around on 14 gave Hutcheon the outright lead and he got breathing space at the 17th.
"We were a bit foolish there, missed the green left. The putt from the fringe there to the flag is so fast, Paul went six feet past and I went five feet past. He missed and I holed and that gave me a bit of breathing space."
O'Hara had another second place at this event, and cause to rue the 14th.
"It got stuck in thick rough and I had the worst lie possible," he said. "It's a birdie hole so a bogey felt like a double.
"I knocked on a 7-iron at the last to 25 feet and thought when the putt was halfway there it was in, but it missed on the left. I gave it a go."
He had predicted after three rounds that someone would come through the pack to challenge, and was not surprised it was his brother.
"I said before the event that he's the man to beat this week as he's been playing brilliantly the last wee while," continued Paul.
"It's great to see as he's had his struggles over the past few years and with me caddying for him during those years I saw those struggles first hand.
"He should be back on the European Tour. Even people at the British Masters last week were asking me what he's doing. They know he's one of the best ball strikers around."
Scores
Tartan Tour, M&H Logistics Scottish PGA Championship, King's course, Gleneagles, par 70
Final totals
268 G Hutcheon (Paul Lawrie Golf Centre) 68 64 68 68
269 S O'Hara (North Lanarkshire Leisure) 71 70 65 63, P O'Hara (North Lanarkshire Leisure) 68 66 66 69
270 P McKechnie (Braid Hills) 67 68 68 67, C Currie (Erskine) 67 69 65 69
273 G Fox (Clydeway) 68 71 65 69
274 A Forsyth (Mearns Castle) 72 68 70 64, G McBain (Newmachar) 66 67 69 72
275 G Hay (Mearns Castle) 71 68 72 64, N Fenwick (Dunbar) 67 69 72 67, J McLeary (Unattached) 67 69 69 70
276 C Lee (Craig Lee Golf Studio) 70 71 66 69
277 S Gray (Lanark) 69 71 71 66
279 G Brown (Montrose Golf Links) 70 73 70 66, J Steven (Pumpherston) 73 70 68 68
282 J McGhee (Swanston) 68 74 73 67, T Higson (Gleneagles) 69 67 76 70, M Patterson (Williamwood) 71 67 74 70, F McKenna (Caldwell) 69 74 69 70, C Kelly (Scotland for Golf) 62 76 72 72, A Oldcorn (Kings Acre) 69 70 71 72
283 G Wright (West Linton) 72 70 68 73
284 Z Saltman (Unattached) 71 69 75 69
285 G McDougall (Elie Links) 76 66 72 71, C Farrell (Cardross) 70 71 72 72
286 R Munro (Duddingston) 75 69 73 69, G Paxton (Ralston) 72 69 72 73
287 K Nicol (Dunes Golf Centre) 72 70 72 73
288 R Cameron (Unattached) 72 72 76 68
289 C Ronald (Carluke) 72 70 74 73
293 M Owenson (Gullane) 71 72 78 72
294 R Tinker (Piperdam Golf & Leisure Resort) 73 71 79 71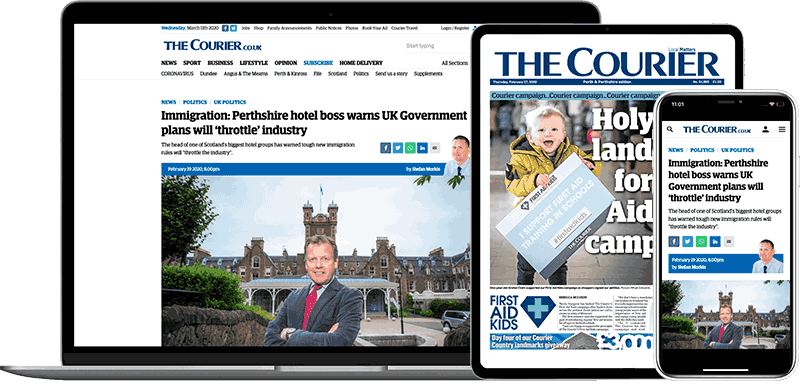 Help support quality local journalism … become a digital subscriber to The Courier
For as little as £5.99 a month you can access all of our content, including Premium articles.
Subscribe