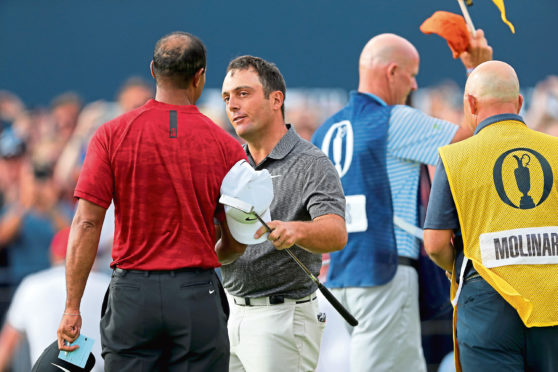 A fog of indecision has descended meaning that this week's festive offering – traditionally, T2G's Player of the Year column – is a feeble compromise.
Usually so decisive in these matters, I can't pick between three candidates for PoY. So I'm going to muse aimlessly for a while, read it back, and decide in the last paragraph.
`So what's new?', say regular readers, but if you can't wait, just head for the bottom right of the page and cut out the middle man.
Anyway it seems to me that three men have proper CVs to be considered the Player of the Year, they being, in alphabetical order, Brooks Koepka, Francesco Molinari and Tiger Woods.
Koepka won two majors in the season, only the fourth man to do that in the last 20 years. Every one of the others (Tiger did it four times) has been an unchallenged Player of the Year.
Meanwhile Francesco Molinari won one of the other majors (our one, the really good one), the BMW PGA, had possibly the most outrageous streak of form I've seen in years in mid-season, and then won five out of five matches at the Ryder Cup when he was pretty much spent with the effort achieving all that other stuff.
And he won the Race to Dubai title, and even a public vote for the Overseas Award at the BBC's Sports Personality Of The Year this weekend. A golfer winning at SPOTY? Wonders will never cease.
But of course, 2018 was actually almost a miracle for our third contender, Eldrick Tont "Tiger" Woods. Apparently finished – nearly crippled, it seems – with back woes in the summer of 2017, he came back to not only be competitive but to enthuse and revitalise our sport throughout this year.
I feel sort of bad for not giving T2G's POY to Brooks outright. He won two majors, an uncommon feat. How much more could he do?
Well, win three of course. But two is usually enough. Why not in Brooks' case?
I do not subscribe to the general antipathy in the media that seems to be reserved, in my view unfairly, for Koepka. Yes, he's sometimes sullen, reticent and a little self-obsessed. But that's hardly unique for an elite golfer in the modern age.
He gives nothing, or very little, away in interview situations. But Rickie Fowler is the world's worst for this and he's loved, mostly for wearing bright colours, it seems. Is Brooks hated for being beige?
Yes, he's not over-demonstrative and steadfastly unemotional in moments of triumph. This, of course, is not uncommon either. Compared to Hogan, Brooks nearly does the jazz hands.
Koepka is also widely ridiculed for having a thin skin about his perception he's overlooked.
But again, I think he's got a point here even if he didn't have such a visible chip on his shoulder. He hasn't got nearly the attention a dominant, double major winner would have.
If he doesn't get T2G's PoY, it's because the other two candidates had exceptional years, enough even to supercede two major titles.
Woods didn't even win one major, but you'd have to say that his comeback was the compelling narrative of 2018. He might have won at Carnoustie instead of Molinari (who he played with one the final day) and also at Bellerive in the PGA instead of Koepka.
Inbetween, he led us on a sometimes inspirational, often maddeningly frustrating path in a cluttered season where almost by the week he was threatening and falling just short.
Eventually, he won at the Tour Championship – in the old Tiger style, from the front, not being remotely challenged – and for many this is the story of the year.
I get that, even the idolatrous hype that has followed that makes him for some blinkered people the ONLY story at any given tournament.
But the real marvel for me is that recovery from what was – if we are to believe it, and there's little reason not to – where he was 12 months ago. To be honest, it seems astonishing he's even swinging a club in this company, much less challenging to win tournaments.
Molinari, on the face of it, might have the least compelling case. He had a great season, clearly the best in Europe.
But to me it's the most complete case. He won on both major tours, he won the flagship in Europe, he won the Open which was the year's best all-round test of golf, he rebuilt his game in mid-to-late career to become an elite player.
It might be lightning in a bottle. Like other veteran players who suddenly sparked – Mark O'Meara in 1998, Padraig Harrington in 2007-08 – 2018 could just be Frankie's annus mirabilis.
If so, more reason to make him PoY, in my book. And the most compelling reason of all, of course, was Paris.
Koepka and Woods were at the Ryder Cup as well, of course, the biggest event of the year bar none, and neither made any impact. Molinari, surely shattered after such a year – visibly so, in fact – won all five pressurised games.
Call me parochial if you like. For that achievement, on top of all his others, it's Chicco's year.