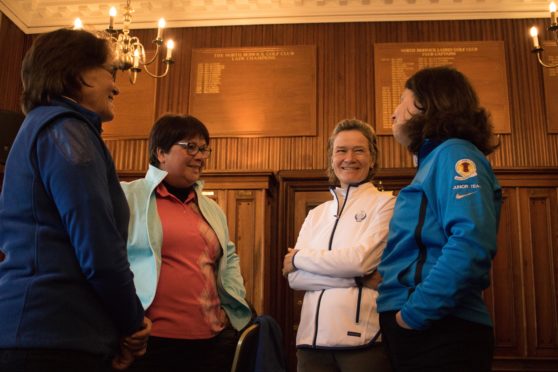 Solheim Cup "ambassadors" in many of Scotland's golf clubs to whip up the expectation of Europe's battle with the USA at Gleneagles this September will help recreate the atmosphere of the Ryder Cup in 2014.
Europe's captain Catriona Matthew, at her home club of North Berwick, yesterday launched the programme to be administered by Scottish Golf and aimed at maximising the attendance and anticipation at the matches on September 13 to 15.
Matthew, who signed off as a player in 2017's event in Des Moines with 22 points in nine appearances – a record second only to Dame Laura Davies and Annika Sorenstam – wants the same kind of atmosphere when she skippers the team that she saw as an amateur at Dalmahoy in 1992 and as a player on several occasions.
?️‍♀️ | @SolheimCupEuro Captain, Catriona Matthew supports launch of new Scottish Golf Solheim Cup Club Ambassador Programme.

Read more on what the new programme is all about, and how you can get involved here: https://t.co/IfOdmgNpXi pic.twitter.com/pR8HmQ96qm

— Scottish Golf (@ScottishGolf) January 23, 2019
Scottish Golf, in conjunction with VisitScotland and the Scottish Government, will go into a large number of clubs seeking ambassadors to promote and organise supporters for the event. Ambassadors will get free entry to the event and the chance to have Matthew visit their club.
"It's a great initiative just to rally up some support and make sure people are aware that the Solheim Cup is on," said Catriona, on a break before heading to the US to start her season schedule. "It would be great to get as many supporters as we can.
"The first one I was at was 1992 at Dalmahoy, I was still an amateur then and I went to watch. But the event has grown so much since then. I first played in it in 1998 and it's grown hugely. Des Moines was terrific, it was pretty much out in the middle of nowhere but was really good and the crowds were great.
"The edition I played at in Ireland at Killeen Castle had a great atmosphere. I think Gleneagles could be similar in lots of ways; it's a spectator friendly course as the Ryder Cup showed.
"The back nine especially you can cut in and watch a lot of golf. Around 15, 16 and 17, there could be quite a bit going on."
Matthew doesn't plan tinkering with the course because she feels the playing conditions are roughly similar for players on both women's tours, unlike the men's tours.
"For the Ryder Cup they put a few run-off areas in, which was great, It gives players more options for doing so many different things off the green.
"I think we'll leave that as it is. It's a course you need to do much too. You can tinker with various things but at the end of the day our players play pretty much the same courses and the same tournaments week-in, week-out.
"Gleneagles is a big attraction in itself. It's really central for everyone and it's well-known as a quality venue. People coming from aboard have probably heard of it, it ticks a lot of boxes."
This will be the third Scottish Solheim Cup – as well as 1992, there was the 2000 event at Loch Lomond, and both times Europe won. But one of the main aims of the government and governing bodies is to use the event to boost female participation in golf, which still languishes at around 14% of all golf club members.
"Anything that can inspire one or two players is going to be good," said Matthew. "If we get a couple more to take up golf and get on tour then that would be great.
"Hopefully we can get a few more to develop. I have two daughters myself and we are trying to get them into it but it's difficult; they've seen the game take me away from home a lot. They've both got really good swings but you can't push them.
"If they come to something like the Solheim Cup and see how exciting it can be then that can only be good.
"I think there there has been a shift in attitude in general toward women's sports in general, and in the last 10 years, there's been a big change, especially in this country.
"I never really had any problems in golf when I was growing up and playing here at North Berwick although I know others did. But it is changing for the better and with the times, and we need to keep pushing to get golf family friendly."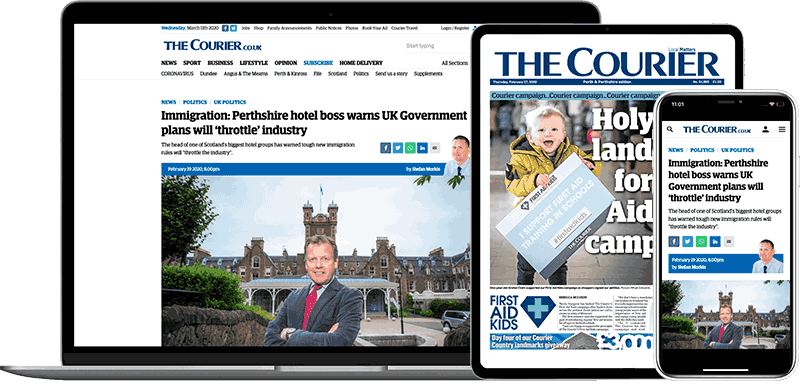 Help support quality local journalism … become a digital subscriber to The Courier
For as little as £5.99 a month you can access all of our content, including Premium articles.
Subscribe