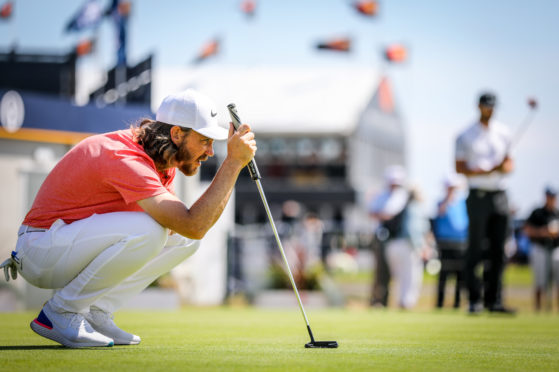 It's May, and the European Tour is this week finally being played…in Europe.
I know, it's an old joke, and never a good one anyway. Everyone with a passing fancy for the Tour knows that it's a global operation, prepared to cross time zones and borders and ignore human rights abuses…okay, I'll stop that for a bit.
With the Betfred British Masters this week at Hillside starting Thursday, this is the latest the European Tour has actually reached Europe in a calendar year.
Yes, this reflects that the Tour has a broader view of the world than its own backyard, but it's also because of challenges in golf in their base continent.
By now we'd usually have had an event on the Iberian peninsula somewhere. But Spain is no longer the spring godsend to the Tour it was in the 1980s and 1990s, and also April, May and June seem to have become a bit of a wasteland as far as tournament sponsors are concerned.
This is primarily due to the PGA Championship moving from sweaty August to breezy and (if the advance forecast is accurate) sodden wet May, in fact next week.
The world is smaller, yes. Tour players will show up in Southport this week direct from China, a change of venue unthinkable only 15 years ago. But for the elite players, convenience remains paramount.
Hillside this week is going to see Tommy Fleetwood, who is the tournament "host" in his home town. The three others in the World's Top 50 are defending champion Eddie Pepperell, Tyrrell Hatton and Matt Wallace, all no doubt mustard-keen to play on home soil.
It's not a poor field, by any measurement. But it's not a great one either, as it should be for a superb host course like Hillside, to some as good as Royal Birkdale right next door.
But why would elite players cross the Atlantic when there's a major to prepare for next week? Even Fleetwood, unanimously popular with his peers, couldn't convince the McIlroys or even BFF Francesco Molinari to come.
The BMW PGA Championship at Wentworth has already shifted from May to September, starting a trend.
Portugal had already moved later in the season. The Open de France has this year, the Spanish Open was recently confirmed for October.
Even the Irish Open is actively considering a move later in the schedule. Unable to prise the coveted week prior to the Open Championship from the Scottish Open, this year's tournament host Paul McGinley has suggested if their championship wants the best players, it needs to move to after the PGA Tour play-offs are complete in August.
This is definitely not all bad. The European Tour stands to get a lot more big names keen to stay competitive after the new early end to the PGA Tour season. Keith Pelley is right to say that Wentworth and the Dunhill, among others, could gain a significant boost in strength of field this year.
In addition, the actual courses will probably be better. Wentworth specifically was never really in ideal condition for May because it hadn't had enough growing time. It won't be an issue in September.
Yet it also can't help but but cement the European Tour's status as a second-class circuit to the PGA Tour, even amongst native players. Rory McIlroy's somewhat cavalier attitude to his European Tour membership this year is a case in point.
Pelley has done his best, pumping up prizefunds, shuffling the money at the season-ending DP World Championship to make it the biggest-paying event (to the winner), entering into some highly questionable but lucrative arrangements.
This week should be a celebration, the European Tour's "homecoming". The English North West golfing public never lets us down at The Open, and they should turn out for their "Tommy Lad". I can't wait to see Hillside, a course I've greatly enjoyed at many amateur events, being played by the pros.
But how good would it have been to have Thomas Bjorn re-unite his Ryder Cup team in West Lancashire?
Perhaps that's naive in today's world. The European Tour can thrive as a largely "autumnal" circuit, but no-one's under any illusions anymore about their place in the pecking order.
Hogan and Tiger DO compare
A couple of weeks I poured a certain amount of scorn on Tiger Woods' return being declared the greatest comeback of all time. Even allowing for the hugely different eras, it can't compare to Ben Hogan's return from the last rites being read over his broken body after a fearsome car accident to winning three majors in 1953.
I'm sure even Tiger agrees with this. But there's a lot in common between the pair, even more so now.
Rory McIlroy let slip last week how much physio and prep Woods now needs to be able to compete. Tiger is the most injured elite golfer in history, and they've all taken their toll.
It means Woods will now have to play sparingly and this is exactly what happened with Hogan, who only played six events in `53 (he won five) because it's all his injuries allowed him to play.
Hogan won six majors after his accident, though. That's still a high bar…