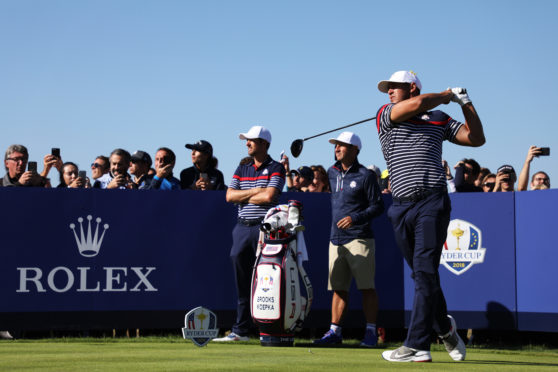 The rather unloved, sometimes even largely unnoticed PGA Championship has moved to May, and regular T2G readers will know we think this is an all-round good thing.
It must be, because serendiptidous good favour has fallen on the fourth major this week at Bethpage State Park's Black course. Just as it moves into a new slot, the PGA gets the full-on whack of restored Tiger fever.
Of course, it's still the fourth major of four, no matter where it's at in the calendar. But it carries a real sense of importance and occasion – in sport as a whole as well as just golf – for the first time since Woods was in his original pomp.
Whether Tiger can back up his Masters victory and send the sporting world into a hysterical frenzy is headline stuff this week. And on the face of it, there's a lot in his favour.
Momentum, for one. A certain sense that his aura, much diminished for a decade, might be back and doing strange things to the decision-making abilities of his opponents.
Familiarity, of course. Tiger has done well on the Black course before. And every voice in the raucous New York crowd is going to be for him and against any interloper.
Another element of the new schedule is that it allows Tiger to be almost Hoganesque in his choice of event.
It's perfectly feasible now that Woods could play just the majors in high season and still compete, if his body is as beaten up as some suggest.
This won't happen – for example I'd be surprised if he doesn't play Jack Nicklaus' Memorial Tournament between the PGA and the US Open – but it's an option.
This would be taking the old Nicklaus tactic of focusing on the major championships to extremes, but it's a strategy that makes sense for Tiger who may have limited time left.
But I don't think Tiger is favourite at Bethpage; not by a long way. The course just doesn't set up for him the way it did when he won the US Open there – which of course was 2002, a veritable age ago.
He was the big dog then, which allied to his other skills made him almost invincible at a course like the Black.
But equipment has changed, golfers' muscles are generally bigger, and there are 50 players now who gun it further – and straighter – than Woods does.
I always believed that if he did win a major again (full disclosure, I didn't think he would) it would be at Augusta. It was the familiarity advantage (a big thing with him) squared, and even then, employing his favourite (and importantly, absolutely reliable) cut shot last month, he was able to stay in play.
Just about, because he got in some fairly weird and wonderful places at times and was outrageously lucky on a couple of occasions. That's golf.
There's no scope for mistakes at all at Bethpage. There's no real "out" shot. Everyone's going to hit trouble at some point, of course, but length and strength is going to be a huge advantage.
So we're looking at the group of guys who are the big dogs and you can find them hanging around the top end of the world rankings – Dustin Johnson, Rory McIlroy, Jon Rahm, Jason Day, Bryson DeChambeau, Tony Finau…and of course, Brooks Koepka.
This year we have the new, outspoken Brooks. Just in the last few weeks he's scourged the Golf Channel pundit Brandell Chamblee, continued to complain he's not getting his due for winning three majors out of the last eight, and even getting in a little pre-PGA trash talk about Tiger.
"It's 1-1 right now," he said, referencing him outplaying Woods at Bellerive in the PGA last year before Woods outlasted him at Augusta. "Hopefully it'll be 2-1 next week."
Brooks is defending champion, of course. He's playing pretty well. Bethpage should be right in his wheelhouse, as our American cousins say.
But Koepka is also taking this "focus on the Majors" strategy to new levels. His last missed cut in a major was the 2013 Open at Muirfield, when he came through qualifying while still a Challenge Tour player.
Since he became a full-time major calibre player a year after Muirfield, he has three wins, nine top tens and 14 top 20 finishes in just 18 attempts.
His one actually disappointing performance in the majors recently – other than losing at Augusta, a tournament he should have probably won – was a T39 at Carnoustie, a course that should have been right up his alley.
But this is all pretty impressive, and only diminished because we measure absolutely everything, ludicrously, against the peak Tiger era from 2000 to 2004.
That was some era, unparalled and probably unapproachable. But what Koepka is putting together, and can underline with a victory this week, is that this can be his era. Not as great as Tiger's obviously, but still an era.
Tiger's return has been fantastic for golf. Augusta doesn't have to be lightning in a bottle, a brief and thrilling resurgence.
But it's a different world now. Guys are younger and hungrier. And getting the last four majors to tie Jack will probably be as tough as getting the first 14.