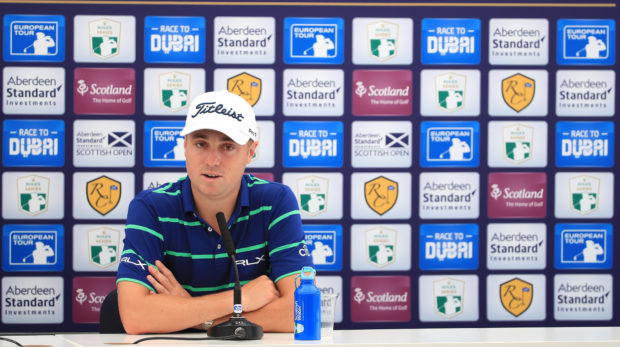 Justin Thomas has been looking for ways to get match-ready for next week's Open Championship, and he figured his method of coming to the Aberdeen Standard Investments Scottish Open beats Tiger Woods' solution.
Woods declared on social media that he was getting up at 1am to get himself locked into European time ahead of the trip to Royal Portrush. Thomas opted to come to Scotland, play North Berwick with his Dad (a club professional) to make sure he was properly exhausted and work off the jet-lag  before playing the Scottish.
"Who would get up at 1am? Not a normal or sane person," said the former PGA champion. "Tiger doesn't sleep already, and I know he's was on a family trip and I think it was Thailand, so he was probably already jet‑lagged.  He might be using that as an excuse to wake up at 1.
"You're never going to see me posting any videos at one o'clock in the morning, that's for sure.  I want to win a tournament.  I'm pretty sure I can get (the jet-lag) down in a couple days."
Instead, he, his father and and WGC matchplay champion Kevin Kisner came straight off the plane to North Berwick, played the famous old links and made sure they were properly drained before hitting the hay and waking up refreshed on British Summer Time.
Thomas loves to play links golf – "if I could only play one course the rest of my life it'd probably be a links course over here because it can change so much" – but admits he hasn't quite managed to translate that into results.
"I love it but I just obviously haven't figured it out totally," he admitted. "So this is why we felt like it was the best decision to come to the Scottish and to get at least one more tournament under our belt before next week."
Thomas plans to try and tap the knowledge of experienced Portrush "natives" like Brooks Koepka's caddie Ricky Elliot and Rory McIlroy about Portrush, but he realises there will be a long queue and not every secree is going to be shared.
"I'm going to try to play at least a practice round or two with Rory, maybe go around with Ricky. I want to be with guys that have been around there," he said.
"I'm sure they are in not going to share that much information, but they are at least nice enough people where they are going to help somewhat.
"I've heard a lot about it and that there's a lot more blind shots than maybe a couple courses I've played in the past, so I'll probably try to play each (practice) day.  I want to see each nine twice."
The Renaissance is not a links in the same style as the Open venues – many would say it's not a links at all – but there's valuable preparation here too, he believes.
"You have to play here with what the weather gives you," he said. "It seems like if it gets blowing out here, it's going to be very, very difficult: the nine holes I played yesterday, they weren't very short.
"I hit a lot of mid‑irons in and if you get some crosswinds, the fairways will be hard to hit and the rough looks pretty long.
"I've had bad conditions before and not really dealt with it. But as usual, you never know what you're going to get."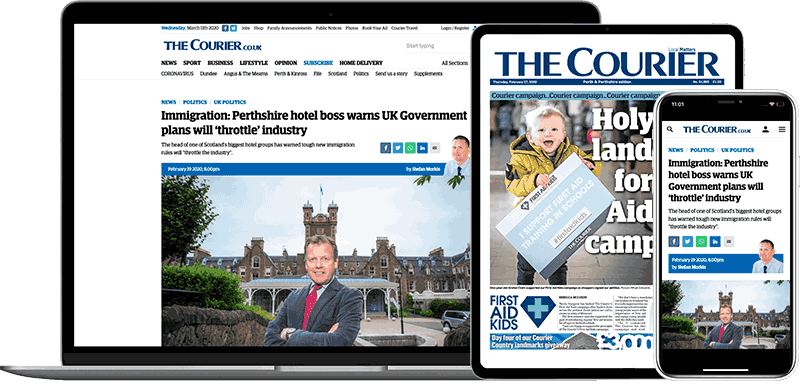 Help support quality local journalism … become a digital subscriber to The Courier
For as little as £5.99 a month you can access all of our content, including Premium articles.
Subscribe