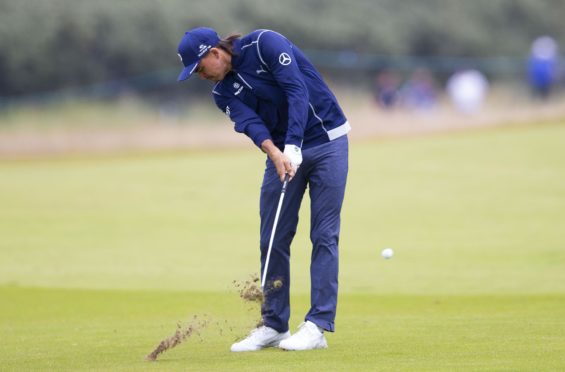 Rickie Fowler found the shinty stick to "have a little more drag on it" than the clubs he's used to, but he entered into the spirit of his 14-club Challenge at the Scottish Open with Robert MacIntyre and was a gracious loser.
"We drew 1-1 (balls on the green) and had a bunch of different playoff options, and Bob ended up winning," said the American, the 2015 Scottish Open champion along the road from the Renaissance at Gullane.
"It was a pretty heated battle. We were at third and it was not playing easy, it's a false front and balls were rolling off the green. I think we both hit a lot of shots better than just hitting one on the green ech.
"I had a couple of swings with the shinty stick and thought I hit it pretty good. We had a lot of fun, obviously he's a great player and I think we're going to enjoy the crowds playing together on the first two days this week."
MacIntyre only had one question he really needed to know from Fowler, it seems: "what's going on with the hair?"
"It's going to be coming off soon, anyway," he said of the mullet he's developed for charity. "There's been some time that's been put into this and I'm going to miss it when it's gone, but it can't say around forever.
"I have my wedding in October and I don't see that happening as a possible hairdo. We'll have it off by then."
Fowler has been a strong supporter of the Scottish in the last, and he feels an extra frisson as it's now preparation for the final major of the year.
"It's going to take a little time to get used to the schedule now, playing a big event every month from March, but I think it's pretty cool that the Open is the last major of the year now, and kind of fitting as well because of all the history that goes with it," he said.
"A lot can depend on the weather, but there's going to be a handful of guys that have spent some time at Royal Portrush and have played there more times than really any of the Americans.  Not many of our guys have seen it, so I don't think the odds are in our favour.
"I like the challenge that's ahead.  But I think the US guys are a little bit the underdogs as a lot of us haven't really seen Portrush."