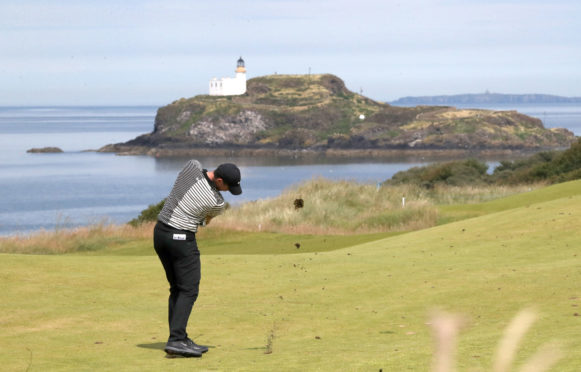 The partners of the Aberdeen Standard Investments Scottish Open make much play of their attachment to links as an attraction to top players looking for a seaside tune-up ahead of the Open, but the message seems to be getting mixed.
Dundonald three years ago got less than impressive reviews, and the Tom Doak-designed Renaissance does not seen to be impressing players in the know about links traditions either.
Former Open champion Henrik Stenson was surprisingly monosyllabic – not his usual mode – about it, and he was coming off a six-under 65 as the rain-slowed course allowed for wild scoring.
Was target golf (as it was for most of the morning)  good preparation for next week? "No," said the Swede. Would he prefer a more linksy test? "Yes," he added.
"It is a nice piece of land," he continued, sounding more like the normal Stenson. "The design is not what we are used to seeing when we are talking links.
"Dundonald was similar. If it starts blowing real hard and you want to knock it down you have ridges and slightly raised greens so it is hard to play the shots you would like to play (in readiness for Portrush)."
The rain of the last few days slowing the course hasn't helped either, he added, but with some social media showing Portrush's 18th fairway awash yesterday, it might turn out to be the same there.
Padraig Harrington, as close as one would get to a properly paid-up professor of the links on the tour at present, was a little more diplomatic.
"I like the venue and I like the golf course," said the Irishman. "It's nearly too nice a venue, maybe a trickier, more linksy golf course would offer better preparation for next week.
"I don't mind a softly, softly test but I'd probably want it slightly different.  I'm not having to play different shots.
"It's still links golf in the sense that the weather is the same but next week will be just a little bit smaller and tighter whereas this is just a bigger concept out there."
Justin Thomas, who has a little less experience on links but knows his onions, was in agreement.
"It's soft, as much rain as we've gotten but it's the modern style of links," he said. "It isn't near as linksy as a lot of courses over here.
"It's still a lot different than the style in America, today we didn't have really any wind, but you know, usually have a lot of wind and you have to flight the ball down and kind of get on the ground as quick as you can.
"But today, I didn't have to do that much. It was very, very benign out there, not much wind and the ball isn't really rolling out."
What makes this matter is that links is what is supposed to attract top names to the Scottish Open, but playing on these modern links doesn't give players the full experience they seem to desire.
With the Open venues blocked to the Scottish by the diktat of the R&A – although it seems perfectly okay for the Dunhill to be played on the Old Course and Carnoustie every year – there are a limited number of prospective venues.
Only Gullane and Royal Aberdeen in recent times have offered a proper, traditional links experience in the Scottish. The fear is, with Renaissance being quietly projected as the venue again next year, that the big names may opt to do their Open prep elsewhere.