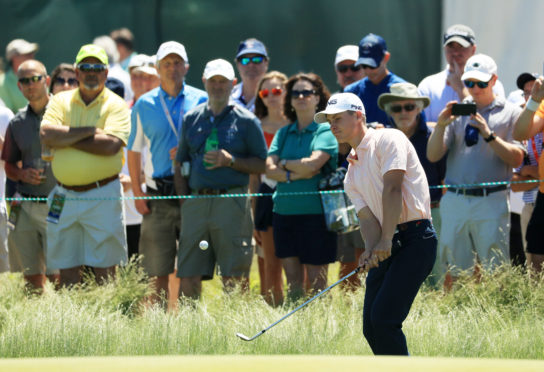 A year on from missing out on qualifying for the Aberdeen Standard Investments Scottish Open by a whisker, Perthshire's Calum Hill has completed his first year back in Europe by working his way into contention at The Renaissance.
In what is his European Tour debut proper – if you don't count the US Open he qualified for last year – the 24-year-old from Crook of Devon is just four off the halfway lead after yesterday's seven-under 64 shot him up to be the leading Scot going into the weekend.
This time last year Calum was barely re-establishing himself back in Europe after six years spent in the US mostly in Western New Mexico. Now he's rubbing shoulders with the European Tour's best in a frenzy of scoring on "a course I seem to like quite a bit".
Low scores are what he is used to, because there's no other way to play on the Challenge Tour if you want to win.
"Every week on the Challenge Tour it seems you have to get yourself to 20 (under) or better if you want to have a chance," he said. "Sometimes it's more, sometimes a bit less, occasionally it's a tougher course, but most of the time you have to keep driving, keep your foot on the gas.
"Every week the winner is a guy who's made lots of birdies and minimal mistakes. It's really good for setting you up with the mentality to shoot really low scores."
A tweak at his base at Gleneagles overnight to try and counter him hitting the ball slightly right worked wonders, and now Calum is within sight of one of the three precious places in the Open at Royal Portrush for players not already exempt.
"In an ideal world the best situation would be a spot next week, but it's the same as every week, go with the highest expectations and try to do your best," he said.
"The thought of the Open doesn't make a difference to the way I play. Just do as well as I can and if you end up having a picture taking holding that flag then you've done your job."
Having come so close to qualifying last year,  Hill made the top three at Longniddry at the weekend and he's continuing to build on the form that has served him well on the Challenge Tour, where he won in only his sixth start last year.
"It's just been brilliant to have some place to play, to have a number of good finishes and to be happy with just about all facets of my game," he added. "I'd expect to play well when that's happening.
"I'm frustrated at one or two holes but I made a few more putts today and it all adds up to a pretty good round."
Hill's performance took him past Richie Ramsay as leading Scot, with the Renaissance-based three-time tour winner still taking the view that if co-leader Bernd Weisberger can shoot 61 as he did in yesterday's benign morning conditions, then he and others can do it too today.
"You've got to think, if Bernd can do that, it sets the stall out," said Ramsay. "There will be a few guys thinking that if you can just make the cut then get out, fresh greens in the morning, throw a low round out there and maybe the wind gets up and you can vault.
"That's the great thing about playing links golf, Irish Open, Scottish Open, The Open, you can get out early, post a low number and you know the field can come back to you."
Scott Jamieson also passed Ramsay with a 64 to get to eight-under, and the other Scot to make the cut was Grant Forrest, who added a 68 to his first round 67.
However the incredible scoring – the cut at six-under being the lowest on tour this year took care of a number of other Scots in their home championship.
No question that the most disappointed was new young star Robert MacIntyre, who went cold on the greens and eventually missed the cut right on the mark at four-under.
"I just made too many stupid mistakes and it has cost me," said the crestfallen 22-year-old. "The way I've been playing, I should have made this cut no bother.
"This is golf, these things happen. But this was the Scottish Open and a home crowd, I really wanted to push on. It's a sore one."
Paul Lawrie is not shocked at the scoring and it's made him think that he doesn't have a place on the main tour anymore.
"This field is quality, and there are four or five holes here that are basically giveaways," he said, after a two-under 69 got him back to level par for the championship, but well shy of the cut.
"With the ground so soft, the course in not tough unless you drive it in the rough like I did on the first day.
"It's not overly tough but I didn't think that the cut would be at three-under. It makes me not sure that I can compete here week-in week-out anymore.
"The Scottish Open and the Open are two weeks you don't want to miss, but I would be surprised if I play anymore (on the main tour) the rest of the year. I'll stick to the Staysure Tour and whatever Champions Tour starts I can get."